We love this flavorful couscous. It's fruity and nutty and spicy at the same time. It's also made sweet from the sauce of yogurt and honey. It's a perfect combination of flavors and it's easy to make using instant couscous.
If you have never cooked with Argan oil, you're in for a real treat. This is a delicate nutty flavored oil that you're going to want to use in your cooking on a regular basis.

However, Argan oil isn't limited to culinary uses. This excerpt is from the NY Times Travel Section November 2007 "The real find, however, is argan oil, made from the nuts of the argan tree, which grows almost exclusively in this region. The oil, which is said to have restorative and age-defying effects, has become one of the latest miracle ingredients in the beauty industry. High in vitamin E and essential fatty acids, it is believed to help all sorts of skin conditions: dry skin, acne, psoriasis, eczema, wrinkles. Moroccans slather it on their skin, hair, nails and even their babies. They eat it, too — drizzling it over salads and couscous, or using it to make amlou, a tahini like spread of the oil, almonds and honey."

This recipe was found in the New York Times.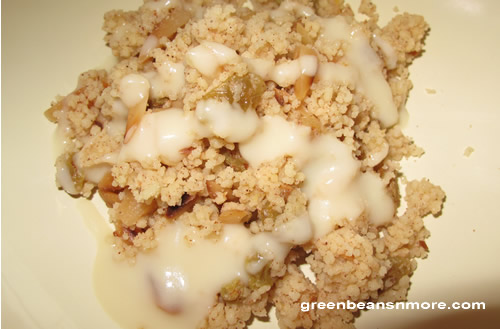 Sweet Moroccan Couscous with Raisins, Almonds and Argan Oil

Time: 30 minutes
3 tablespoons toasted argan oil
1 cup slivered almonds
1 cup golden raisins
Juice and grated zest of 1 lemon
2 teaspoons cinnamon
Pinch of salt
1 1/2 cups instant couscous
1 1/4 cups plain yogurt
1/2 cup plus 1 1/2 tablespoons honey.
Place 1/2 tablespoon argan oil in skillet over medium heat. Add almonds, and cook, stirring, until almonds turn golden. Transfer to bowl. Add raisins, lemon zest and cinnamon to bowl, and mix well.
Bring 1 1/2 cups water with pinch of salt and 1 1/2 tablespoons argan oil to boil in heavy saucepan. Stir in couscous, cover and remove from heat. Allow to sit 7 minutes to absorb liquid. Fluff with fork, and transfer to large bowl, mixing with fork or fingertips to break up any lumps. Reserve 1/3 cup of almond and raisin mixture and fold rest in with couscous.
Beat 2/3 cup yogurt with 1/2 cup honey until smooth. Add lemon juice. Pour over couscous mixture, and fold in until grains are evenly moistened.
Coat 5-to-6-cup bowl or mold with 1/2 tablespoon argan oil. Pack couscous mixture into mold, and smooth top. Set aside at room temperature until ready to serve.
To serve, beat remaining yogurt with remaining honey and 1/2 tablespoon argan oil. Unmold couscous onto serving dish. Top with reserved raisins and almonds. Serve with yogurt and honey sauce on the side. Yield: 6 to 8 servings.

Click here to print this recipe


---
Dessert Recipes


Cake & Frosting Recipes
Chocolate Buttercream Frosting Recipe
Chocolate Pound Cake
Crumb Cake
Persian Love Cake
Pound Cake Recipe (Cold Oven)
Red Velvet Cake & Butter Cream Icing
Ultra Lemon Bundt Cake
Yellow Cake Recipe from Eve's Restaurant


Cookie Recipes
Greek Almond Cookies (Kourabiethes)
Mrs. Field's Chocolate Chip Cookies
Orange Saffron Butter Cookies
Pumpkin Whoopie Pies with Cream Cheese Filling


Cupcake Recipes
Miscellaneous Dessert Recipes

Chocolate Truffle Loaf with Raspberry Sauce
Sweet Moroccan Couscous
Sweet Stuffed Dates


Pie Recipes
Moroccan Recipes

Mashed Eggplant & Tomato Salad (zaalouk)
Mint Chutney Recipe
Moroccan BBQ Sauce
Moroccan Chicken B'stila
Moroccan Couscous Salad
Moroccan Garlic Beef with Cracked Green Olives
Moroccan Honey Spiced Eggplant Dip
Moroccan Tomato & Green Pepper Salad (taktouka)
Moroccan Yogurt Dip (spiced labneh)
Sweet Moroccan Couscous (raisins, almonds, argan oil)
Tomatoes Stuffed with Roast Peppers, Tuna, Caper & Olives Chef Claudia Roden
Tasty & Easy Green Bean Recipes


Armenian Green Beans with Ground Meat and Tomatoes (Fassoulia)
Blanched Green Beans
Cream of Green Bean Soup (Company's Coming)
Fried Green Beans
Dilly Green Beans Recipe - Canning Recipe
Ginger Garlic Green Beans
Greek Green Beans
Greek Potatoes and Green Beans
Green Bean Soup (Company's Coming)
Green Beans a'la Waterman's
Green Beans Almondine
Green Beans Almondine (with a hint of lemon)
Green Beans Almondine (with an Asian flair)
Green Beans Almondine (with mushrooms)
Green Beans and Prosciutto Pasta Salad
Green Bean Casserole (Campbell's)
Green Bean Casserole (Cook's Illustrated)
Green Beans, Endive & Boston Lettuce Salad
Green Beans in Sour Cream & Tomato Sauce
Green Beans Provençal, Chef Simone Beck
Green Beans Provençal, Cooking Light
Green Bean Salad, Dill, Parsley & Savory
Green Bean Salad, Feta & Pecans
Green Bean Salad, Soy Glazed Almonds, Cilantro
Green Beans with Coconut
Green Beans with Ginger Butter
Green Beans with Onion Paste (Madhur Jaffrey)
Green Beans with Roman Mustard
Green Beans with Shallots
Italian Green Beans (St. Anna Beans)
Lemon Green Bean & Celery Salad
Oven Roasted Green Beans
Pears with Green Beans & Bacon
Persian Green Beans & Rice (Lubia Polo)
Sautéed Green Beans with Hazelnut Crumbs
Sesame & Portobello Green Beans
Sicilian Green Bean & Fennel Salad (Cooking Light)
Stir-Fried Green Beans with Pork & Chilies
Sweet & Sour Green Beans
Thai Green Beans (Cooking Light)
Three Bean Salad Recipe
White Bean, Green Bean & Red Bell Pepper Salad