Our very favorite green bean recipe.

One of our favorite seafood restaurants is in Rock Hall, Maryland. It's called Waterman's and they make the most delicious green beans we've ever had.

We tried and tried to figure out the seasoning, but we couldn't. OK, we easily tasted the chicken stock, but there was something else, something we couldn't quite put our fingers on.

Well, believe it or not, that something else is garlic, yes, garlic, and LOTS of it. I have experimented with this recipe many times over this past several summers. It's one of those rare recipes where you really need to simmer the beans for a long, long time.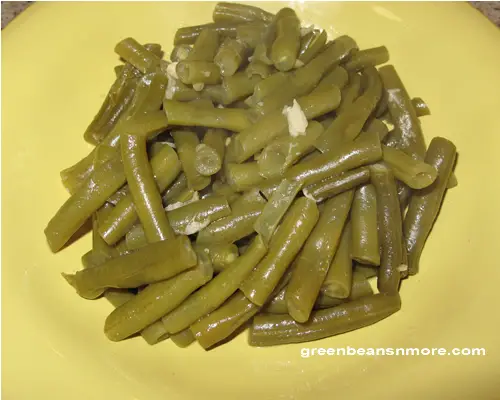 Green Beans a'la Waterman's
I start with 2 pounds of green beans that I rinse and trim. I use low sodium chicken stock, a 32 oz. carton. Add 1/2 stick of unsalted butter. Add between 6 to 8 whole peeled garlic cloves into the stock and bring it to a boil. Remember, garlic gets sweet as it cooks. Put in the cleaned and trimmed green beans. Add a bit of salt and pepper. Stir occasionally and add water as needed to keep the beans just covered. Simmer them up to 2 hours but at least one hour. The longer they cook the better. I think the secret is that the longer it cooks the more mellow the garlic becomes and the more the flavors meld together.
Before serving I add more salt and pepper, if it's needed. They're yummy, or as my husband calls them "guest worthy." This recipe works really well with more mature green beans.
Anytime I cook green beans now I do so in low sodium chicken stock. I think it adds a wonderful depth of flavor, even without the garlic.


Click here to print this recipe



---
Tasty & Easy Green Bean Recipes


Armenian Green Beans with Ground Meat and Tomatoes (Fassoulia)
Blanched Green Beans
Cream of Green Bean Soup (Company's Coming)
Fried Green Beans
Dilly Green Beans Recipe - Canning Recipe
Ginger Garlic Green Beans
Greek Green Beans
Greek Potatoes and Green Beans
Green Bean Soup (Company's Coming)
Green Beans a'la Waterman's
Green Beans Almondine
Green Beans Almondine (with a hint of lemon)
Green Beans Almondine (with an Asian flair)
Green Beans Almondine (with mushrooms)
Green Beans and Prosciutto Pasta Salad
Green Bean Casserole (Campbell's)
Green Bean Casserole (Cook's Illustrated)
Green Beans, Endive & Boston Lettuce Salad
Green Beans in Sour Cream & Tomato Sauce
Green Beans Provençal, Chef Simone Beck
Green Beans Provençal, Cooking Light
Green Bean Salad, Dill, Parsley & Savory
Green Bean Salad, Feta & Pecans
Green Bean Salad, Soy Glazed Almonds, Cilantro
Green Beans with Coconut
Green Beans with Ginger Butter
Green Beans with Onion Paste (Madhur Jaffrey)
Green Beans with Roman Mustard
Green Beans with Shallots
Italian Green Beans (St. Anna Beans)
Lemon Green Bean & Celery Salad
Oven Roasted Green Beans
Pears with Green Beans & Bacon
Persian Green Beans & Rice (Lubia Polo)
Sautéed Green Beans with Hazelnut Crumbs
Sesame & Portobello Green Beans
Sicilian Green Bean & Fennel Salad (Cooking Light)
Stir-Fried Green Beans with Pork & Chilies
Sweet & Sour Green Beans
Thai Green Beans (Cooking Light)
Three Bean Salad Recipe
White Bean, Green Bean & Red Bell Pepper Salad