Four takes on the classic Green Beans Almondine.

There is certainly no shortage of recipes for Green Beans Almondine. It's a classic dish that's easy and elegant.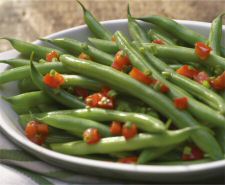 We've given you four different versions here. Our first version is the classic recipe. The second recipe calls for the addition of a bit of lemon for a French twist, the third add's tamari or soy for an Asian flavor, and the fourth recipe calls for the addition of one of our favorite veggies to pair with green beans, mushrooms.
** We've also given you a few tips about cooking and ingredients .


Classic Green Beans Almondine

1 1/2 lbs. green beans
4 oz. almonds
2 tbsp. butter
Salt and pepper
Saute almonds in butter until lightly browned; do not burn. Steam the green beans. Toss with almonds and season with salt and pepper before serving.


Green Beans Almondine (with a hit of lemon)
1 lb. green beans
2 tbsp. butter
2 tbsp. slivered almonds
1 tsp. lemon juice
Cut beans French style and boil until tender. Combine butter and almonds over low heat until golden. Remove from heat and add lemon juice. Pour over drained beans.
**We'd suggest that you never use anything other than FRESH lemon juice. We also think we'd consider using a bit less juice and adding a bit of lemon zest. Don't forget salt and pepper to taste.


Green Beans Almondine (with an Asian flair)
2 lbs. fresh green beans
2-4 cloves garlic
5-10 almonds, sliced
2 tbsp. olive oil
Tamari or soy sauce to taste
Wash green beans. Cut off ends. Slice or cut the way you prefer. Steam until just done. Saute garlic in olive oil. Add almonds. Toss green beans in this mixture to coat. Add tamari or soy sauce to taste and serve.
**Soy vs tamari: Soy is best for everyday cooking such as stir frying or seasoning vegetables, as it harmonizes and enhances without overpowering. Tamari, with its stronger flavor, is traditionally used to season longer cooking food such as soups, stews, and baked dishes.


Green Beans Almondine (with mushrooms)
1 lb. fresh or frozen green beans
1/2 lb. sliced mushrooms
4 tbsp. butter
1/2 tsp. seasoned salt
1/4 c. slivered almonds
Prepare beans for cooking. Simmer in small amount of water for 10 minutes. In skillet, saute mushrooms in butter until brown. Add salt and almonds. Add beans to skillet. Toss well, simmer 4 minutes. Correct seasoning to taste.
**The secret to having mushrooms "brown" is not adding salt while cooking them. When you add salt the mushrooms give off water and don't brown, so hold off on adding salt until you finish the dish.

1 lb. of trimmed green beans cooked yields about 2 cups (raw 3 cups). Depending on the size of your servings it will serve 2 (1 cup servings) or 4 (1/2 cup servings)

Click here to print these recipes


---
Tasty & Easy Green Bean Recipes


Armenian Green Beans with Ground Meat and Tomatoes (Fassoulia)
Blanched Green Beans
Cream of Green Bean Soup (Company's Coming)
Fried Green Beans
Dilly Green Beans Recipe - Canning Recipe
Ginger Garlic Green Beans
Greek Green Beans
Greek Potatoes and Green Beans
Green Bean Soup (Company's Coming)
Green Beans a'la Waterman's
Green Beans Almondine
Green Beans Almondine (with a hint of lemon)
Green Beans Almondine (with an Asian flair)
Green Beans Almondine (with mushrooms)
Green Beans and Prosciutto Pasta Salad
Green Bean Casserole (Campbell's)
Green Bean Casserole (Cook's Illustrated)
Green Beans, Endive & Boston Lettuce Salad
Green Beans in Sour Cream & Tomato Sauce
Green Beans Provençal, Chef Simone Beck
Green Beans Provençal, Cooking Light
Green Bean Salad, Dill, Parsley & Savory
Green Bean Salad, Feta & Pecans
Green Bean Salad, Soy Glazed Almonds, Cilantro
Green Beans with Coconut
Green Beans with Ginger Butter
Green Beans with Onion Paste (Madhur Jaffrey)
Green Beans with Roman Mustard
Green Beans with Shallots
Italian Green Beans (St. Anna Beans)
Lemon Green Bean & Celery Salad
Oven Roasted Green Beans
Pears with Green Beans & Bacon
Persian Green Beans & Rice (Lubia Polo)
Sautéed Green Beans with Hazelnut Crumbs
Sesame & Portobello Green Beans
Sicilian Green Bean & Fennel Salad (Cooking Light)
Stir-Fried Green Beans with Pork & Chilies
Sweet & Sour Green Beans
Thai Green Beans (Cooking Light)
Three Bean Salad Recipe
White Bean, Green Bean & Red Bell Pepper Salad