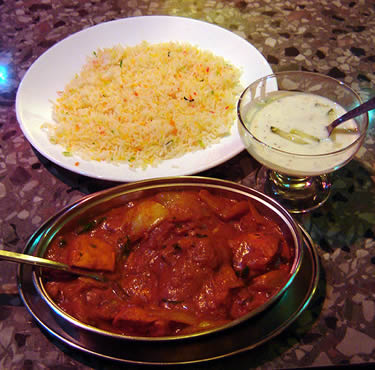 Today anyone can make authentic Indian recipes in their own home. Don't let the ingredients overwhelm you. Indian spices are easy to find in your local grocery store or online. You probably have most of the spices you need in your pantry right now.

When I started cooking Indian recipes I would prepare one dish with rice for a meal. It took me a long time before I made an entire Indian meal from appetizers to dessert from scratch, but it was so worth the effort!

Start with our easy Indian chicken recipe, Uncle Mike's Chicken Curry or try our favorite Indian green bean recipe from Madhur Jaffrey, Green Beans in Onion Paste.








---
Easy Indian Food Recipes


Easy Chicken Curry
Ginger Garlic Green Beans
Green Beans with Coconut
Green Beans with Onion Paste
Indian Style Green Beans & Carrots
Sharbat, Rooh Afza Syrup, Drink Recipes
Turkey Mulligatawny Soup
Tasty & Easy Green Bean Recipes


Armenian Green Beans with Ground Meat and Tomatoes (Fassoulia)
Blanched Green Beans
Cream of Green Bean Soup (Company's Coming)
Fried Green Beans
Dilly Green Beans Recipe - Canning Recipe
Ginger Garlic Green Beans
Greek Green Beans
Greek Potatoes and Green Beans
Green Bean Soup (Company's Coming)
Green Beans a'la Waterman's
Green Beans Almondine
Green Beans Almondine (with a hint of lemon)
Green Beans Almondine (with an Asian flair)
Green Beans Almondine (with mushrooms)
Green Beans and Prosciutto Pasta Salad
Green Bean Casserole (Campbell's)
Green Bean Casserole (Cook's Illustrated)
Green Beans, Endive & Boston Lettuce Salad
Green Beans in Sour Cream & Tomato Sauce
Green Beans Provençal, Chef Simone Beck
Green Beans Provençal, Cooking Light
Green Bean Salad, Dill, Parsley & Savory
Green Bean Salad, Feta & Pecans
Green Bean Salad, Soy Glazed Almonds, Cilantro
Green Beans with Coconut
Green Beans with Ginger Butter
Green Beans with Onion Paste (Madhur Jaffrey)
Green Beans with Roman Mustard
Green Beans with Shallots
Italian Green Beans (St. Anna Beans)
Lemon Green Bean & Celery Salad
Oven Roasted Green Beans
Pears with Green Beans & Bacon
Persian Green Beans & Rice (Lubia Polo)
Sautéed Green Beans with Hazelnut Crumbs
Sesame & Portobello Green Beans
Sicilian Green Bean & Fennel Salad (Cooking Light)
Stir-Fried Green Beans with Pork & Chilies
Sweet & Sour Green Beans
Thai Green Beans (Cooking Light)
Three Bean Salad Recipe
White Bean, Green Bean & Red Bell Pepper Salad