The most interesting component, and what gives the drink it's pink color and floral flavor is Rooh Afza Syrup. I remember the weather was warm and I was attracted to the gorgeous label that says "Summer Drink of the East". The label describes it as "a soothing cooling and thirst satisfying beverage base syrup". It says the syrup is to be mixed with ice-cold water or with milk and ice cubes for a pleasant drink. I bought the syrup and then found this Sharbat recipe to use it in. This recipe can easily be doubled.
Serve it very cold.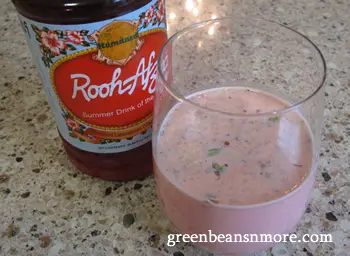 Sharbat
1/4 cup combined of cashews, pistachios, almonds, roasted and finely crushed - how to below
1/4 tsp cardamom seeds
1/4 cup and 2 tablespoons Rooh Afza Syrup
2 cups superfine sugar
1/2 tsp vanilla extract
4 cups whole milk
Roast the nuts. When cool crush finely.
Crush cardamom pods (you may need up to 2 tablespoons). Extract seeds until you have 1/4 tsp. Grind them in a mortar and pestle as finely as you can.
Mix together the Rooh Afza syrup, sugar, vanilla and cardamom into the milk. Mix well. Taste. Adjust sugar to your liking.
Add 1/2 nuts. Refrigerate overnight. Mix well before serving and add sprinkling of remaining nuts on top.

To roast nuts:
Spread the nuts evenly on a baking sheet. Place them into a preheated 350° F oven. Stir occasionally until the nuts are fragrant and lightly browned (5-10 minutes). The nuts will continue to cook if left on the hot baking sheet so quickly put them on a plate to cool.
---
Rooh Afza Drink Recipes
from roohafzabd.com
Sunset Island
1 1/2 oz pineapple juice
1 oz grape juice
1 1/2 oz 7-up
1 tsp Rooh Afza
1 tsp sugar syrup

Combine in shaker over a few ice cubes. Shake thoroughly. Pour into glass.

Elephant Charger

2 oz orange juice
2 oz milk
1/2 tsp Rooh Afza
1 fresh peach (peeled, de-seeded)
1 banana
1/4 cup raspberries
2 scoops vanilla ice cream
Combine all ingredients in a blender. Blend well. Pour into glass.


Click here to print these recipes


---
Mezze Recipes

Greek:

Baba Ghanouj (baba ghanoush)
Greek Lemon & Egg Sauce (avgolemono)
Greek Shrimp & Caper Salad
Greek Shrimp with Feta Cheese (garides saganaki)

Lebanese:
Lamb Meatballs with Pine Nuts in Tomato Sauce, Chef Claudia Roden

Moroccan:

Mashed Eggplant & Tomato Salad (zaalouk)
Moroccan Couscous Salad
Moroccan Honey Spiced Eggplant Dip
Moroccan Tomato & Green Pepper Salad (taktouka)
Moroccan Yogurt Dip (spiced labneh)
Sweet Moroccan Couscous (raisins, almonds, argan oil)
Tomatoes Stuffed with Roast Peppers, Tuna, Caper & Olives Chef Claudia Roden

Persian:
Cheese and Walnut Dip
Orange & Saffron Butter Cookies
Persian Chicken Kebabs with Saffron
Stuffed Sweet Dates
Sephardic:
Syrian:
Mezze Beverages

Mezze Beverage Ideas
Sharbat, Rooh Afza Syrup
---