Many years ago a very good friend of mine married a Greek. I remember she and I making stuffed grape leaves (dolmas) with an egg and lemon sauce (avgolemono) for her pre-wedding party. I remember the sauce was a breeze, but the grape leaves were a bit of an undertaking. We made over 100 of them.
Today I don't have any problem buying canned stuffed grape leaves. They're very flavorful. I always keep a can in the pantry. I usually buy Sultan brand from Wegman's. They make a great last minute type of appetizer for guests or a simple snack for the family. They can be served, hot, cold or room temperature.
Stuffed grape leaves just have to have lemon and egg sauce over them to make them authentic. This sauce is three simple ingredients that are the perfect accompaniment.

Please read my "cooks tips" following the recipe.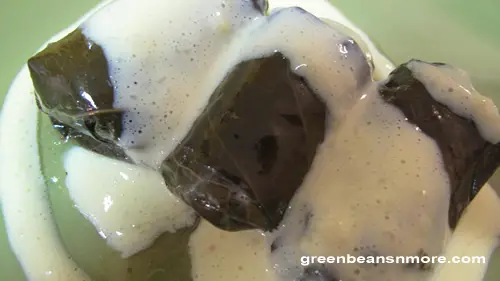 Egg Lemon Sauce (Avgolemono Sauce)
3 egg yolks
1/3 cup lemon juice, strained
1 cup hot chicken broth
Whisk the yolks until they are frothy. Slowly add the lemon juice and continue whisking for another minute. While continuing to whisk slowly add 1/2 cup of the HOT broth. When it's incorporated add the remaining broth.
Place the mixture in a heavy bottomed sauce pan and continue whisking until the mixture thickens. Don't let this boil.

Cooks tips: I used to whisk this entirely by hand, no more. I use my hand mixer until I get to the point where the mixture goes on the stove. I've made this recipe many times and sometimes it just doesn't want to thicken up. I do add corn starch as necessary when that happens.


Click here to print this recipe


---
Mediterranean & Middle Eastern Recipes
Greek Recipes
Baba Ghanouj (baba ghanoush)
Baked Cod with Orange, Caper & Olive Sauce
Greek Lemon & Egg Sauce (avgolemono)
Greek Shrimp with Feta Cheese (garides saganaki)
Shrimp and Caper Salad from Chef Cat Cora
Lebanese Recipes
Lamb Meatballs with Pine Nuts in Tomato Sauce, Chef Claudia Roden
Sephardic Recipes
Salata (cucumber salad)

Sicilian Recipes

Sicilian Green Bean & Fennel Salad
Sicilian Swordfish (swordish a la siciliana)
Syrian Recipes
Tasty & Easy Green Bean Recipes


Armenian Green Beans with Ground Meat and Tomatoes (Fassoulia)
Blanched Green Beans
Cream of Green Bean Soup (Company's Coming)
Fried Green Beans
Dilly Green Beans Recipe - Canning Recipe
Ginger Garlic Green Beans
Greek Green Beans
Greek Potatoes and Green Beans
Green Bean Soup (Company's Coming)
Green Beans a'la Waterman's
Green Beans Almondine
Green Beans Almondine (with a hint of lemon)
Green Beans Almondine (with an Asian flair)
Green Beans Almondine (with mushrooms)
Green Beans and Prosciutto Pasta Salad
Green Bean Casserole (Campbell's)
Green Bean Casserole (Cook's Illustrated)
Green Beans, Endive & Boston Lettuce Salad
Green Beans in Sour Cream & Tomato Sauce
Green Beans Provençal, Chef Simone Beck
Green Beans Provençal, Cooking Light
Green Bean Salad, Dill, Parsley & Savory
Green Bean Salad, Feta & Pecans
Green Bean Salad, Soy Glazed Almonds, Cilantro
Green Beans with Coconut
Green Beans with Ginger Butter
Green Beans with Onion Paste (Madhur Jaffrey)
Green Beans with Roman Mustard
Green Beans with Shallots
Italian Green Beans (St. Anna Beans)
Lemon Green Bean & Celery Salad
Oven Roasted Green Beans
Pears with Green Beans & Bacon
Persian Green Beans & Rice (Lubia Polo)
Sautéed Green Beans with Hazelnut Crumbs
Sesame & Portobello Green Beans
Sicilian Green Bean & Fennel Salad (Cooking Light)
Stir-Fried Green Beans with Pork & Chilies
Sweet & Sour Green Beans
Thai Green Beans (Cooking Light)
Three Bean Salad Recipe
White Bean, Green Bean & Red Bell Pepper Salad