Easy Recipes
Today more and more families are looking for ways easy ways to eat healthy meals. Most likely the women of the house works, which makes it even harder to be able to prepare a truly healthy dinner from scratch for her family. What we're planning here is a great list of quick and easy recipes.

We're going to be sharing recipes for beef, chicken and pasta. We'll have soups and stews as well as desserts. We have some fabulous easy one pot meal recipes. These recipes can be made over the weekend and easily re-heated during the week. There's nothing like a hearty bowl of chili with some crusty French bread. It's especially easy when the chili is prepared ahead of time.
Some of our favorite vegetables, such brussels sprouts are simple to cook. A coating of olive oil, salt and pepper is all you need to make delicious caramelized roasted brussels sprouts. We guarantee that even your family who say they don't like brussels sprouts will love this brussels sprouts recipe.

We hope you'll enjoy our easy recipes and try them soon! All these easy to print recipes are from trusted sources and come include helpful Cooks Tips. Visit often as we'll be adding new recipes!



We're adding some delicious soup recipes to our site. Try this quick and easy recipe for Green Bean Soup. Our newest easy vegetable side dish recipe comes from Food & Wine Magazine. It's a delicious baked eggplant gratin.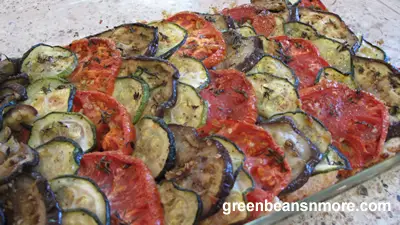 ---
Quick & Easy Recipes


Appetizers - Caper Dip, Hummus, Almond Dip, Sweet & Sour Curry Dip
Basic Meatloaf Recipe
Best Homemade Chili Recipe
Caramelized Roasted Brussels Sprouts
Homemade Turkey Vegetable and Noodle Soup
Maryland Lump Crab Cake
Roasted Asparagus
Roasted Tomatoes with Garlic and Balsamic Vinegar
Split Pea Soup, Magic Pan Restaurant
Sweet Dill Pickle Recipe
Three Cheese Baked Macaroni and Cheese
Tomato, Zucchini & Eggplant Bread Gratin
Vegetable Ribbons, Steamed, Sauteed
Whole Baked Chicken Recipe
Tasty & Easy Green Bean Recipes


Armenian Green Beans with Ground Meat and Tomatoes (Fassoulia)
Blanched Green Beans
Cream of Green Bean Soup (Company's Coming)
Fried Green Beans
Dilly Green Beans Recipe - Canning Recipe
Ginger Garlic Green Beans
Greek Green Beans
Greek Potatoes and Green Beans
Green Bean Soup (Company's Coming)
Green Beans a'la Waterman's
Green Beans Almondine
Green Beans Almondine (with a hint of lemon)
Green Beans Almondine (with an Asian flair)
Green Beans Almondine (with mushrooms)
Green Beans and Prosciutto Pasta Salad
Green Bean Casserole (Campbell's)
Green Bean Casserole (Cook's Illustrated)
Green Beans, Endive & Boston Lettuce Salad
Green Beans in Sour Cream & Tomato Sauce
Green Beans Provençal, Chef Simone Beck
Green Beans Provençal, Cooking Light
Green Bean Salad, Dill, Parsley & Savory
Green Bean Salad, Feta & Pecans
Green Bean Salad, Soy Glazed Almonds, Cilantro
Green Beans with Coconut
Green Beans with Ginger Butter
Green Beans with Onion Paste (Madhur Jaffrey)
Green Beans with Roman Mustard
Green Beans with Shallots
Italian Green Beans (St. Anna Beans)
Lemon Green Bean & Celery Salad
Oven Roasted Green Beans
Pears with Green Beans & Bacon
Persian Green Beans & Rice (Lubia Polo)
Sautéed Green Beans with Hazelnut Crumbs
Sesame & Portobello Green Beans
Sicilian Green Bean & Fennel Salad (Cooking Light)
Stir-Fried Green Beans with Pork & Chilies
Sweet & Sour Green Beans
Thai Green Beans (Cooking Light)
Three Bean Salad Recipe
White Bean, Green Bean & Red Bell Pepper Salad