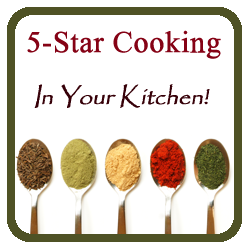 I saw this recipe from Ina Garten in House Beautiful Magazine. It was featured along with her recipe for Barefoot Contessa's Roasted Tomatoes, which are delicious and a perfect accompaniment to this meat loaf. As you can see from the pictures below this recipe did not disappoint. The meatloaf was perfect, in both appearance and taste. It was flavorful and moist. You'll be proud to serve this to family and friends. The thyme is a very special addition. It's becoming one of my favorite dinner recipes.

Please read my "cook's tips" following the recipe.




Ina Garten Meat Loaf

* 1 tablespoon good olive oil
* 3 cups chopped yellow onions (3 onions)
* 1 teaspoon chopped fresh thyme leaves
* 2 teaspoons kosher salt
* 1 teaspoon freshly ground black pepper
* 3 tablespoons Worcestershire sauce
* 1/3 cup canned chicken stock or broth
* 1 tablespoon tomato paste
* 2 1/2 pounds ground chuck (81 percent lean)
* 1/2 cup plain dry bread crumbs (recommended: Progresso)
* 2 extra-large eggs, beaten
* 1/2 cup ketchup (recommended: Heinz)
Directions
Preheat the oven to 350 degrees F. Heat the olive oil in a medium sauté pan. Add the onions, thyme, salt, and pepper and cook over medium-low heat, stirring occasionally, for 8 to 10 minutes, until the onions are translucent but not brown. Off the heat, add the Worcestershire sauce, chicken stock, and tomato paste. Allow to cool slightly. In a large bowl, combine the ground chuck, onion mixture, bread crumbs, and eggs, and mix lightly with a fork. Don't mash or the meatloaf will be dense.
Divide the mixture into 6 (10 to 11-ounce) portions and shape each portion into a small loaf on a sheet pan. Spread about a tablespoon of ketchup on the top of each portion. Bake for 40 to 45 minutes, until the internal temperature is 155 to 160 degrees F and the meat loaves are cooked through.
Serve hot.

Cook's tips: This recipe is for individual meat loaves. I made the recipe and split it into two separate meat loaves. I cooked one and then the next night I cooked the other. We were amazed to find that the meat loaf made with the mixture that had been refrigerated overnight had much more flavor.

I used an 80%-20% ground beef mix. If you prefer you can make one or two loaves, cook for one hour to one hour fifteen minutes at 350 until the internal temp is 155 - 160 degrees F.

Click here to print this recipe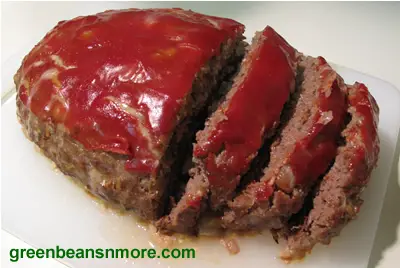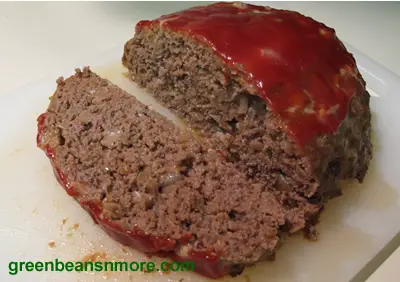 ---
Quick & Easy Recipes


Appetizers - Caper Dip, Hummus, Almond Dip, Sweet & Sour Curry Dip
Basic Meatloaf Recipe
Best Homemade Chili Recipe
Caramelized Roasted Brussels Sprouts
Homemade Turkey Vegetable and Noodle Soup
Maryland Lump Crab Cake
Roasted Asparagus
Roasted Tomatoes with Garlic and Balsamic Vinegar
Split Pea Soup, Magic Pan Restaurant
Sweet Dill Pickle Recipe
Three Cheese Baked Macaroni and Cheese
Tomato, Zucchini & Eggplant Bread Gratin
Vegetable Ribbons, Steamed, Sauteed
Whole Baked Chicken Recipe
Tasty & Easy Green Bean Recipes


Armenian Green Beans with Ground Meat and Tomatoes (Fassoulia)
Blanched Green Beans
Cream of Green Bean Soup (Company's Coming)
Fried Green Beans
Dilly Green Beans Recipe - Canning Recipe
Ginger Garlic Green Beans
Greek Green Beans
Greek Potatoes and Green Beans
Green Bean Soup (Company's Coming)
Green Beans a'la Waterman's
Green Beans Almondine
Green Beans Almondine (with a hint of lemon)
Green Beans Almondine (with an Asian flair)
Green Beans Almondine (with mushrooms)
Green Beans and Prosciutto Pasta Salad
Green Bean Casserole (Campbell's)
Green Bean Casserole (Cook's Illustrated)
Green Beans, Endive & Boston Lettuce Salad
Green Beans in Sour Cream & Tomato Sauce
Green Beans Provençal, Chef Simone Beck
Green Beans Provençal, Cooking Light
Green Bean Salad, Dill, Parsley & Savory
Green Bean Salad, Feta & Pecans
Green Bean Salad, Soy Glazed Almonds, Cilantro
Green Beans with Coconut
Green Beans with Ginger Butter
Green Beans with Onion Paste (Madhur Jaffrey)
Green Beans with Roman Mustard
Green Beans with Shallots
Italian Green Beans (St. Anna Beans)
Lemon Green Bean & Celery Salad
Oven Roasted Green Beans
Pears with Green Beans & Bacon
Persian Green Beans & Rice (Lubia Polo)
Sautéed Green Beans with Hazelnut Crumbs
Sesame & Portobello Green Beans
Sicilian Green Bean & Fennel Salad (Cooking Light)
Stir-Fried Green Beans with Pork & Chilies
Sweet & Sour Green Beans
Thai Green Beans (Cooking Light)
Three Bean Salad Recipe
White Bean, Green Bean & Red Bell Pepper Salad