I am always looking for quick, easy and tasty recipes using our favorite vegetable and this recipe fits the bill perfectly. I found this recipe for a cold green bean salad in The Charleston Gazette. This is the perfect easy side dish for any night of the week, and it's the perfect make ahead barbecue dish.
This recipe features blanched green beans in a vinaigrette with dill and garlic topped with feta cheese, red onions and roasted pecans.
We had this cold green bean salad alongside simple baked salmon with lemon and dill. It was a perfect light summertime dinner.
The nice thing about a recipe like this is that you can use more or less of the garlic, feta cheese, red onions and pecans to suit your taste.
Please read my "Cooks Tips" following the recipe.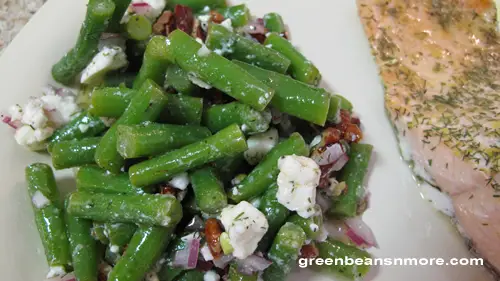 Green Beans, Feta & Pecans

1 1/2 pounds fresh green beans, trimmed and cut into 1-inch pieces
2/3 cup olive oil
1 teaspoon dried dill weed
1/3 cup white wine vinegar
1/2 teaspoon minced garlic
1/4 teaspoon salt
1/4 teaspoon freshly ground black pepper
1 cup coarsely chopped pecans, toasted
1/4 cup diced red onion
1 cup crumbled feta cheese
COOK green beans in large saucepan of boiling water, about 4 minutes. Drain, immerse in cold water, drain, and pat dry.
COMBINE olive oil, dill, vinegar, garlic, salt and pepper in a small bowl. Whisk to blend.
PLACE beans in a shallow serving dish. Toss with dressing.
SPRINKLE with pecans, red onion and feta, toss and serve.
Serves 4 - 6


Cooks Tips: I used the 1 1/2 pounds of green beans called for in the original recipe and found there was more than enough vinaigrette, feta, red onions, etc. that I could have used a full 2 pounds. I also squeezed the juice of 1/2 lemon over the dish before I served it as I think it needed something to brighten it up a bit.
I toasted the pecans in a 350 degree oven. I placed the pecans in a single layer on a sheet pan and cooked them almost eight minutes, checking them and stirring them frequently.


Click here to print this recipe


---
Easy BBQ & Cookout Recipes


Grill Recipes

Grilled Corn on the Cob
Grilled Potatoes
Grilled Lamb Shoulder with Honey
Grilled Swordfish Steaks with Soy Sauce
How to Season and Grill the Perfect Hamburger
How to Grill the Perfect Steak

Marinade & Meat Sauce Recipes

Balsamic Steak Sauce
Barbecue Beef Marinade & Tenderizer
Caribbean Marinade Recipes
Henry Bain Steak Sauce (original recipe)
Indian and Asian Marinade Recipes
Moroccan BBQ Sauce and Mint Chutney


Salad & Side Dish Recipes

Angel Hair Pasta with Sun Dried Tomatoes
Baked Beans with Maple Syrup
Broccoli Salad, Sweet & Sour
Green Beans and Prosciutto Pasta Salad
Green Beans and Summer Squash Sauté
Green Bean, Endive & Boston Lettuce Salad
Greek Shrimp & Caper Pasta Salad
Lemon Green Bean & Celery Salad
New Potatoes with Peas & Mint
Patriotic Potato Salad
Strawberry Spinach Salad
White Bean, Green Bean & Red Bell Pepper Salad
Tasty & Easy Green Bean Recipes


Armenian Green Beans with Ground Meat and Tomatoes (Fassoulia)
Blanched Green Beans
Cream of Green Bean Soup (Company's Coming)
Fried Green Beans
Dilly Green Beans Recipe - Canning Recipe
Ginger Garlic Green Beans
Greek Green Beans
Greek Potatoes and Green Beans
Green Bean Soup (Company's Coming)
Green Beans a'la Waterman's
Green Beans Almondine
Green Beans Almondine (with a hint of lemon)
Green Beans Almondine (with an Asian flair)
Green Beans Almondine (with mushrooms)
Green Beans and Prosciutto Pasta Salad
Green Bean Casserole (Campbell's)
Green Bean Casserole (Cook's Illustrated)
Green Beans, Endive & Boston Lettuce Salad
Green Beans in Sour Cream & Tomato Sauce
Green Beans Provençal, Chef Simone Beck
Green Beans Provençal, Cooking Light
Green Bean Salad, Dill, Parsley & Savory
Green Bean Salad, Feta & Pecans
Green Bean Salad, Soy Glazed Almonds, Cilantro
Green Beans with Coconut
Green Beans with Ginger Butter
Green Beans with Onion Paste (Madhur Jaffrey)
Green Beans with Roman Mustard
Green Beans with Shallots
Italian Green Beans (St. Anna Beans)
Lemon Green Bean & Celery Salad
Oven Roasted Green Beans
Pears with Green Beans & Bacon
Persian Green Beans & Rice (Lubia Polo)
Sautéed Green Beans with Hazelnut Crumbs
Sesame & Portobello Green Beans
Sicilian Green Bean & Fennel Salad (Cooking Light)
Stir-Fried Green Beans with Pork & Chilies
Sweet & Sour Green Beans
Thai Green Beans (Cooking Light)
Three Bean Salad Recipe
White Bean, Green Bean & Red Bell Pepper Salad