Recipes for Summertime Entertaining, BBQ's and Cookouts





Everybody enjoys a BBQ or a cookout. Summertime entertaining is a great time to get together with family and friends enjoy great weather, outdoor entertaining, great company and great food. Part of the fun of a BBQ or cook out for our family and friends is sharing homemade dishes.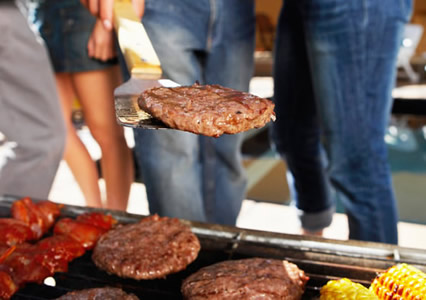 We're going to be sharing some of these flavorful and easy bbq recipes with you so your family can enjoy them too. The best part about these recipes is that they are simple. You won't have to be slaving over the stove while others are outside enjoying the weather.

Looking for new barbecue menu ideas? Try our flavorful vegetable side dishes.

One of our newest ones is from Food and Wine Magazine, it's a Crisp Tomato, Zucchini & Eggplant Bread Gratin. It's a perfect make-ahead dish.


Try our Asian inspired green bean salad and our sweet n' sour Broccoli Salad


Enjoy the flavors of the Caribbean, India, Morocco and Asia tonight by simply marinating your meat, poultry, seafood, pork or vegetables before grilling!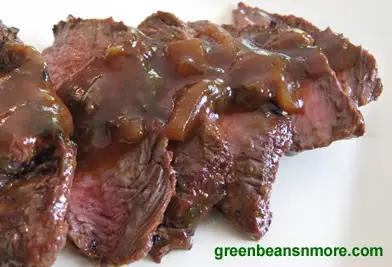 Indian and Asian marinade

Moroccan BBQ Sauce & Mint Chutney

Caribbean marinade

Try our newest bbq beef marinade that helps to tenderize too!
Try our ideas for grilling potatoes! It's super easy!



Grilling the Perfect Steak

Does your grilled steak look as good as this one? It can.

It took us a while to find a fool proof time table for cooking steaks, but we did. We've used this time table for years now, with every cut of steak we've cooked and they've turned out perfectly.
I once had a guest comment he couldn't believe he asked for a medium-rare steak and his wife asked for a medium steak and they were served that way. It seems that at a lot of backyard barbecues the steaks are cooked all one way - overdone.

Believe me when I say you can cook the perfect steak every time using this time table.

Visit our page with a grill timetable for grilling and broiling steaks.

Once you've grilled the perfect steak enjoy it with homemade original Henry Bain steak sauce.

---
Easy BBQ & Cookout Recipes


Grill Recipes

Grilled Corn on the Cob
Grilled Potatoes
Grilled Lamb Shoulder with Honey
Grilled Swordfish Steaks with Soy Sauce
How to Season and Grill the Perfect Hamburger
How to Grill the Perfect Steak

Marinade & Meat Sauce Recipes

Balsamic Steak Sauce
Barbecue Beef Marinade & Tenderizer
Caribbean Marinade Recipes
Henry Bain Steak Sauce (original recipe)
Indian and Asian Marinade Recipes
Moroccan BBQ Sauce and Mint Chutney


Salad & Side Dish Recipes

Angel Hair Pasta with Sun Dried Tomatoes
Baked Beans with Maple Syrup
Broccoli Salad, Sweet & Sour
Green Beans and Prosciutto Pasta Salad
Green Beans and Summer Squash Sauté
Green Bean, Endive & Boston Lettuce Salad
Greek Shrimp & Caper Pasta Salad
Lemon Green Bean & Celery Salad
New Potatoes with Peas & Mint
Patriotic Potato Salad
Strawberry Spinach Salad
White Bean, Green Bean & Red Bell Pepper Salad
---
Try our Green Beans a`la Waterman's for your next cookout! It's the perfect no-fuss vegetable side dish. You can keep it on your stove on a low simmer and your guests are sure to love it! It's a perfect side dish for our Maryland Jumbo Lump Crab Cakes.

---
The Perfect Potato for Potato Salad.
In an issue of Cooks Illustrated they did what they do so well, the reinvented classic American potato salad. What they found along the way was that the russet potato actually absorbs flavors from the dressing better than other types of potatoes, enhancing the overall flavor of the salad.
Try our tasty potato salad recipes above and use russet potatoes for the best flavor!
---
Tasty & Easy Green Bean Recipes


Armenian Green Beans with Ground Meat and Tomatoes (Fassoulia)
Blanched Green Beans
Cream of Green Bean Soup (Company's Coming)
Fried Green Beans
Dilly Green Beans Recipe - Canning Recipe
Ginger Garlic Green Beans
Greek Green Beans
Greek Potatoes and Green Beans
Green Bean Soup (Company's Coming)
Green Beans a'la Waterman's
Green Beans Almondine
Green Beans Almondine (with a hint of lemon)
Green Beans Almondine (with an Asian flair)
Green Beans Almondine (with mushrooms)
Green Beans and Prosciutto Pasta Salad
Green Bean Casserole (Campbell's)
Green Bean Casserole (Cook's Illustrated)
Green Beans, Endive & Boston Lettuce Salad
Green Beans in Sour Cream & Tomato Sauce
Green Beans Provençal, Chef Simone Beck
Green Beans Provençal, Cooking Light
Green Bean Salad, Dill, Parsley & Savory
Green Bean Salad, Feta & Pecans
Green Bean Salad, Soy Glazed Almonds, Cilantro
Green Beans with Coconut
Green Beans with Ginger Butter
Green Beans with Onion Paste (Madhur Jaffrey)
Green Beans with Roman Mustard
Green Beans with Shallots
Italian Green Beans (St. Anna Beans)
Lemon Green Bean & Celery Salad
Oven Roasted Green Beans
Pears with Green Beans & Bacon
Persian Green Beans & Rice (Lubia Polo)
Sautéed Green Beans with Hazelnut Crumbs
Sesame & Portobello Green Beans
Sicilian Green Bean & Fennel Salad (Cooking Light)
Stir-Fried Green Beans with Pork & Chilies
Sweet & Sour Green Beans
Thai Green Beans (Cooking Light)
Three Bean Salad Recipe
White Bean, Green Bean & Red Bell Pepper Salad