This cold green bean salad recipe first appeared in Bon Appetit Magazine in June 1996. The green beans are marinated in wonderful Asian flavors and served with crunchy soy flavored almonds and fresh cilantro. I've found the flavors to be much better when the green beans are allowed to marinate a day before serving. I'd suggest making the vinaigrette and marinating the green beans a day before serving. Add the green onions, almonds and fresh chopped cilantro just before serving.

Please read my "cooks notes" following the recipe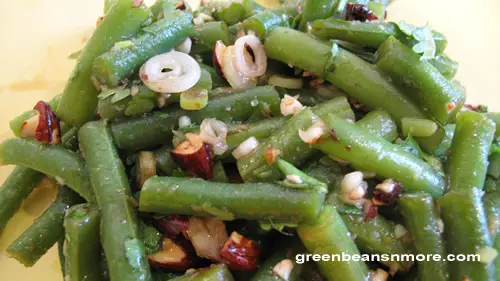 Green Beans, Cilantro and Soy-Glazed Almonds

Ingredients
* 1/4 cup whole almonds (about 1-1/2 ounces)
* 4 teaspoons low-sodium soy sauce

* 1 pound green beans, trimmed, cut into 1-inch pieces
* 2 tablespoons rice vinegar
* 1 tablespoon vegetable oil
* 1 large garlic clove, pressed
* 1 teaspoon minced peeled fresh ginger
* 2 tablespoons thinly sliced green onions
* 1/3 cup fresh cilantro leaves
Preparation
Place almonds in small nonstick skillet. Stir over medium heat until almonds are lightly toasted, about 5 minutes. Increase heat medium-high. Add 3 teaspoons soy sauce and stir until soy sauce evaporates and coats almonds, about 1 minute. Transfer to plate and cool. Chop almonds.

Cook beans in large pot of boiling salted water until just tender, about 5 minutes. Drain. Rinse beans under cold water. Drain well.

Almonds and beans can be prepared 6 hours ahead. Cover almonds and store at room temperature. Cover and refrigerate beans; bring to room temperature before continuing.
Whisk vinegar, oil, garlic, ginger and remaining 1 teaspoon soy sauce in large bowl to blend. Add beans and toss to coat. Sprinkle green onions, cilantro and almonds over salad and serve.
Serves 4
Cook's Notes: The first time I made this recipe I chopped both the garlic and ginger. It is much better if you grate them both (or grate the ginger and press the garlic). Watch the heat in the pan when you're glazing the almonds. Make sure you use a non stick skillet or keep the heat lower than medium-high. I used a small enameled cast iron skillet and medium-high heat in my pan burned the soy and I had to start over. I did not have low-sodium soy, regular worked fine.


Click here to print this recipe


---
Tasty & Easy Green Bean Recipes


Armenian Green Beans with Ground Meat and Tomatoes (Fassoulia)
Blanched Green Beans
Cream of Green Bean Soup (Company's Coming)
Fried Green Beans
Dilly Green Beans Recipe - Canning Recipe
Ginger Garlic Green Beans
Greek Green Beans
Greek Potatoes and Green Beans
Green Bean Soup (Company's Coming)
Green Beans a'la Waterman's
Green Beans Almondine
Green Beans Almondine (with a hint of lemon)
Green Beans Almondine (with an Asian flair)
Green Beans Almondine (with mushrooms)
Green Beans and Prosciutto Pasta Salad
Green Bean Casserole (Campbell's)
Green Bean Casserole (Cook's Illustrated)
Green Beans, Endive & Boston Lettuce Salad
Green Beans in Sour Cream & Tomato Sauce
Green Beans Provençal, Chef Simone Beck
Green Beans Provençal, Cooking Light
Green Bean Salad, Dill, Parsley & Savory
Green Bean Salad, Feta & Pecans
Green Bean Salad, Soy Glazed Almonds, Cilantro
Green Beans with Coconut
Green Beans with Ginger Butter
Green Beans with Onion Paste (Madhur Jaffrey)
Green Beans with Roman Mustard
Green Beans with Shallots
Italian Green Beans (St. Anna Beans)
Lemon Green Bean & Celery Salad
Oven Roasted Green Beans
Pears with Green Beans & Bacon
Persian Green Beans & Rice (Lubia Polo)
Sautéed Green Beans with Hazelnut Crumbs
Sesame & Portobello Green Beans
Sicilian Green Bean & Fennel Salad (Cooking Light)
Stir-Fried Green Beans with Pork & Chilies
Sweet & Sour Green Beans
Thai Green Beans (Cooking Light)
Three Bean Salad Recipe
White Bean, Green Bean & Red Bell Pepper Salad