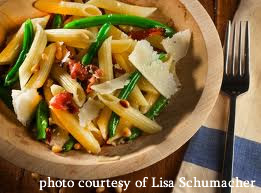 Ham & Beans Pasta

Ingredients:

8 ounces green beans, ends trimmed
1 pound penne pasta
4 slices prosciutto
1/2 cup pine nuts, toasted
1/2 cup shaved Parmesan cheese
2 tablespoons extra-virgin olive oil
1. Heat a large pot of salted water to a boil; add the green beans. Cook until just tender. Remove with a slotted spoon; keep warm. Add penne to the boiling water; cook according to package directions until al dente. Drain.
2. Meanwhile, cook prosciutto slices in a large dry skillet over medium-high heat until crisp, about 5 minutes; break into rough pieces.
3. Toss the drained pasta in a large bowl with the green beans, pine nuts and Parmesan; drizzle with olive oil. Divide pasta among six plates; top with prosciutto pieces.
How to toast pine nuts: Place the pine nuts in a dry heavy skillet making sure they are in a single layer and have room to move around. If not, cook in several batches. The following batches may cook more quickly as the pan will be hotter. Cook over medium heat, constantly moving them around the pan to prevent them burning. Allow some time for them to toast, you'll see them brown and smell them. DON'T WALK AWAY because once they start to toast it goes quickly. As soon as they are toasted you want to get them out of the hot pan - put them on a plate to cool.

Tips: Sub the prosciutto with diced baked ham, crisp bacon or slivers of country ham. Servings 6.

Click here to print this recipe


---
Easy BBQ & Cookout Recipes


Grill Recipes

Grilled Corn on the Cob
Grilled Potatoes
Grilled Lamb Shoulder with Honey
Grilled Swordfish Steaks with Soy Sauce
How to Season and Grill the Perfect Hamburger
How to Grill the Perfect Steak

Marinade & Meat Sauce Recipes

Balsamic Steak Sauce
Barbecue Beef Marinade & Tenderizer
Caribbean Marinade Recipes
Henry Bain Steak Sauce (original recipe)
Indian and Asian Marinade Recipes
Moroccan BBQ Sauce and Mint Chutney


Salad & Side Dish Recipes

Angel Hair Pasta with Sun Dried Tomatoes
Baked Beans with Maple Syrup
Broccoli Salad, Sweet & Sour
Green Beans and Prosciutto Pasta Salad
Green Beans and Summer Squash Sauté
Green Bean, Endive & Boston Lettuce Salad
Greek Shrimp & Caper Pasta Salad
Lemon Green Bean & Celery Salad
New Potatoes with Peas & Mint
Patriotic Potato Salad
Strawberry Spinach Salad
White Bean, Green Bean & Red Bell Pepper Salad
Tasty & Easy Green Bean Recipes


Armenian Green Beans with Ground Meat and Tomatoes (Fassoulia)
Blanched Green Beans
Cream of Green Bean Soup (Company's Coming)
Fried Green Beans
Dilly Green Beans Recipe - Canning Recipe
Ginger Garlic Green Beans
Greek Green Beans
Greek Potatoes and Green Beans
Green Bean Soup (Company's Coming)
Green Beans a'la Waterman's
Green Beans Almondine
Green Beans Almondine (with a hint of lemon)
Green Beans Almondine (with an Asian flair)
Green Beans Almondine (with mushrooms)
Green Beans and Prosciutto Pasta Salad
Green Bean Casserole (Campbell's)
Green Bean Casserole (Cook's Illustrated)
Green Beans, Endive & Boston Lettuce Salad
Green Beans in Sour Cream & Tomato Sauce
Green Beans Provençal, Chef Simone Beck
Green Beans Provençal, Cooking Light
Green Bean Salad, Dill, Parsley & Savory
Green Bean Salad, Feta & Pecans
Green Bean Salad, Soy Glazed Almonds, Cilantro
Green Beans with Coconut
Green Beans with Ginger Butter
Green Beans with Onion Paste (Madhur Jaffrey)
Green Beans with Roman Mustard
Green Beans with Shallots
Italian Green Beans (St. Anna Beans)
Lemon Green Bean & Celery Salad
Oven Roasted Green Beans
Pears with Green Beans & Bacon
Persian Green Beans & Rice (Lubia Polo)
Sautéed Green Beans with Hazelnut Crumbs
Sesame & Portobello Green Beans
Sicilian Green Bean & Fennel Salad (Cooking Light)
Stir-Fried Green Beans with Pork & Chilies
Sweet & Sour Green Beans
Thai Green Beans (Cooking Light)
Three Bean Salad Recipe
White Bean, Green Bean & Red Bell Pepper Salad