I found this delicious green bean recipe on thearmeniankitchen.com while doing a search for Middle Eastern Recipes. We had just returned from Papa John's Farm Stand with fresh green beans, and since I always have ground lamb in the freezer I thought I'd give it a try.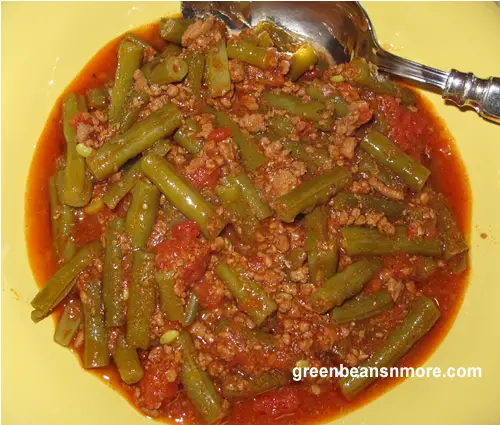 Fassoulia is an easy to make recipe that calls for no exotic ingredients. I chose to use ground lamb, because I had some in the freezer, but you can use beef or turkey. I used chicken stock in the recipe because I had some, but you can use water. I didn't have diced tomatoes but I had a can of whole tomatoes that I chopped.

It's a great "one-pot" meal (I cooked everything in a Dutch oven). I cooked it the day before, let it cool and then refrigerated it in the Dutch oven. I warmed it the next day on the stove top and served it with some freshly baked bread.
My husband, who is an Englishman, insists that lamb must be "cooked as a roast and served with mint jelly". I was very surprised when after eating this he said "you can make this again". That's his stamp of approval.

Fassoulia - Green Beans with Ground Meat
Yield: 6 servings
Ingredients:

1 lb. ground, lamb, beef or turkey
2 Tbsp. oil
2 medium onions, chopped
1 1/2 tsp. salt
½ tsp. black pepper
½ tsp. allspice
1 tsp. crushed dried basil
1 tsp. crushed dried oregano
1 clove garlic, minced
2 lb. Fresh or frozen green beans or Italian pole beans (If using fresh green beans, trim the ends, and cut into 1 inch pieces)
1 15-oz. can diced tomatoes
3 oz. tomato paste, diluted in 1 cup water or stock
Directions:

1. In a nonstick skillet, brown meat for about 10 minutes, stirring frequently. Drain any excess fat. Place meat in a bowl & set aside.
2. Using the same skillet, saute the onions in olive oil until soft and slightly brown.
3. Return the meat to the skillet with the onions. Add salt, pepper, allspice, basil, oregano, and garlic. Cover & cook 10 more minutes.
4. In a large pot, add the green beans. Pour the canned tomatoes, and the diluted tomato paste over the green beans; stir.
5. Add the meat mixture to the green beans. Mix together.
6. Bring to a gentle boil, then cover and simmer for 1 hour, or until beans are tender. Add a little more water or stock, as needed.
7. Serve with rice or bulgur pilaf.
SPECIAL NOTE: The Fassoulia tastes even better the next day, after the flavors have a chance to intensify. Oh yes, a loaf of crusty bread goes great with this, too!
NOTE: If making this without meat, this dish can be served cold or at room temperature.

Click here to print this recipe


---
Tasty & Easy Green Bean Recipes


Armenian Green Beans with Ground Meat and Tomatoes (Fassoulia)
Blanched Green Beans
Cream of Green Bean Soup (Company's Coming)
Fried Green Beans
Dilly Green Beans Recipe - Canning Recipe
Ginger Garlic Green Beans
Greek Green Beans
Greek Potatoes and Green Beans
Green Bean Soup (Company's Coming)
Green Beans a'la Waterman's
Green Beans Almondine
Green Beans Almondine (with a hint of lemon)
Green Beans Almondine (with an Asian flair)
Green Beans Almondine (with mushrooms)
Green Beans and Prosciutto Pasta Salad
Green Bean Casserole (Campbell's)
Green Bean Casserole (Cook's Illustrated)
Green Beans, Endive & Boston Lettuce Salad
Green Beans in Sour Cream & Tomato Sauce
Green Beans Provençal, Chef Simone Beck
Green Beans Provençal, Cooking Light
Green Bean Salad, Dill, Parsley & Savory
Green Bean Salad, Feta & Pecans
Green Bean Salad, Soy Glazed Almonds, Cilantro
Green Beans with Coconut
Green Beans with Ginger Butter
Green Beans with Onion Paste (Madhur Jaffrey)
Green Beans with Roman Mustard
Green Beans with Shallots
Italian Green Beans (St. Anna Beans)
Lemon Green Bean & Celery Salad
Oven Roasted Green Beans
Pears with Green Beans & Bacon
Persian Green Beans & Rice (Lubia Polo)
Sautéed Green Beans with Hazelnut Crumbs
Sesame & Portobello Green Beans
Sicilian Green Bean & Fennel Salad (Cooking Light)
Stir-Fried Green Beans with Pork & Chilies
Sweet & Sour Green Beans
Thai Green Beans (Cooking Light)
Three Bean Salad Recipe
White Bean, Green Bean & Red Bell Pepper Salad