Ethnic Green Bean Recipes

This is an amazingly easy and tasty salad to showcase lovely haricots verts from the cookbook Simca's Cuisine by Simone "Simca" Beck. The French flair of this salad is unmistakable. We never knew that French cuisine could be so unfussy. We've made this salad many times but tend to enjoy it best when we can also showcase other produce grown right in our garden. We use our homegrown tomatoes, fennel, and basil. Although Ms. Beck gives measurements for dry herbs we'd never use them. We feel that this salad should only be made with the freshest of ingredients.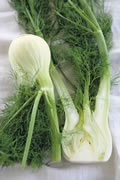 Green Bean Salad, Provençal
(Salade de haricots verts, Provençal)

1 1/2 pounds tender young green beans
1 large or 2 small very tender fennel bulbs, washed and trimmed
4 small ripe tomatoes, peeled and seeded
Handful of fresh chervil (1/2 teaspoon dried)
6 ounces small Mediterranean type black olives - pitted
12 -18 anchovy fillets packed in oil
3 medium sized eggs, hard boiled and quartered
1 1/2 tablespoons fresh basil (if dried, less)
Slice the beans into halves lengthwise. Cook them in boiling salted water until they are tender but still a little firm. Drain. Refresh under cold running water. Drain. Thinly slice the fennel and quarter the tomatoes. Add these to the beans, chervil and olives in a bowl. Drain the anchovy fillets and wipe them on a paper towel. Sprinkle over the salad. Add the hard boiled eggs over the salad. Sprinkle the basil over the salad. Refrigerate 2-3 hours. Top with Garlic-basil vinaigrette. Serve.
Garlic-basil vinaigrette

3 large cloves garlic, peeled
6-8 fresh basil leaves, washed and patted dry
1/4 cup extra virgin olive oil
3 tablespoons wine vinegar
Salt and freshly ground black pepper to taste
Smash the garlic with a heavy knife, and then smash it with the basil. Add the olive oil very slowly to make a fine paste. Add the vinegar and season with salt and pepper.

Serves 4

Click here to print this recipe


---
Tasty & Easy Green Bean Recipes


Armenian Green Beans with Ground Meat and Tomatoes (Fassoulia)
Blanched Green Beans
Cream of Green Bean Soup (Company's Coming)
Fried Green Beans
Dilly Green Beans Recipe - Canning Recipe
Ginger Garlic Green Beans
Greek Green Beans
Greek Potatoes and Green Beans
Green Bean Soup (Company's Coming)
Green Beans a'la Waterman's
Green Beans Almondine
Green Beans Almondine (with a hint of lemon)
Green Beans Almondine (with an Asian flair)
Green Beans Almondine (with mushrooms)
Green Beans and Prosciutto Pasta Salad
Green Bean Casserole (Campbell's)
Green Bean Casserole (Cook's Illustrated)
Green Beans, Endive & Boston Lettuce Salad
Green Beans in Sour Cream & Tomato Sauce
Green Beans Provençal, Chef Simone Beck
Green Beans Provençal, Cooking Light
Green Bean Salad, Dill, Parsley & Savory
Green Bean Salad, Feta & Pecans
Green Bean Salad, Soy Glazed Almonds, Cilantro
Green Beans with Coconut
Green Beans with Ginger Butter
Green Beans with Onion Paste (Madhur Jaffrey)
Green Beans with Roman Mustard
Green Beans with Shallots
Italian Green Beans (St. Anna Beans)
Lemon Green Bean & Celery Salad
Oven Roasted Green Beans
Pears with Green Beans & Bacon
Persian Green Beans & Rice (Lubia Polo)
Sautéed Green Beans with Hazelnut Crumbs
Sesame & Portobello Green Beans
Sicilian Green Bean & Fennel Salad (Cooking Light)
Stir-Fried Green Beans with Pork & Chilies
Sweet & Sour Green Beans
Thai Green Beans (Cooking Light)
Three Bean Salad Recipe
White Bean, Green Bean & Red Bell Pepper Salad