Ethnic Green Bean Recipes

This is a German green bean recipe attributed to The Art of German Cooking by Betty Wason. It's a wonderful sweet and sour green bean recipe and would be a perfect use for your fresh, ripe, flavorful pears. Remember, the best way to assure any recipe success is using the freshest and best ingredients you can get.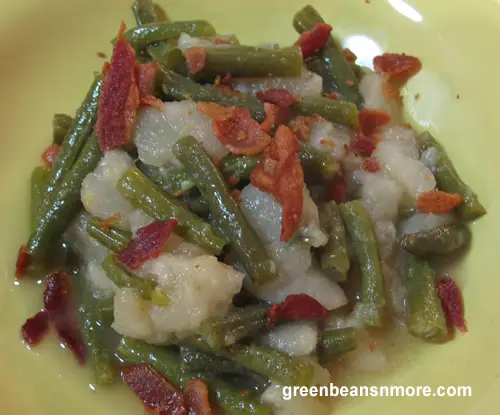 Pears, Green Beans and Bacon
(Birnen, Bohnen und Speck)

1 lb. green beans, trimmed and broken into pieces
6 firm ripe pears, peeled, cored and sliced
1/2 cup water
1 thin sliver lemon peel
1 tsp. salt
6 slices bacon
1/4 cup sugar
2 tbsp. white vinegar
1 tsp. fresh lemon juice

Place the pear slices in a sauce pan with the water and lemon peel. Bring to a boil, lower the heat, and simmer uncovered for 5 minutes. Then stir in the green beans and salt and continue cooking.

Meanwhile, fry the bacon in a skillet. When the bacon is crisp, remove it to a paper towel to drain. Pour off all but about 2 tablespoons of the fat remaining in the skillet. Add the sugar, vinegar and lemon juice to the bacon fat in the pan. Simmer for 3 minutes. Pour this sauce over the pears and beans and cook until tender. Crumble the bacon and add it to the beans just before serving.
Serves 4

Cook's Tip: As you can see from the picture above by the time I got to making this recipe the pears had gone somewhat soft. However, it was still delicious! Next time I'll buy, and use the pears on the same day, or with a day or two.

Click here to print this recipe


---
Tasty & Easy Green Bean Recipes


Armenian Green Beans with Ground Meat and Tomatoes (Fassoulia)
Blanched Green Beans
Cream of Green Bean Soup (Company's Coming)
Fried Green Beans
Dilly Green Beans Recipe - Canning Recipe
Ginger Garlic Green Beans
Greek Green Beans
Greek Potatoes and Green Beans
Green Bean Soup (Company's Coming)
Green Beans a'la Waterman's
Green Beans Almondine
Green Beans Almondine (with a hint of lemon)
Green Beans Almondine (with an Asian flair)
Green Beans Almondine (with mushrooms)
Green Beans and Prosciutto Pasta Salad
Green Bean Casserole (Campbell's)
Green Bean Casserole (Cook's Illustrated)
Green Beans, Endive & Boston Lettuce Salad
Green Beans in Sour Cream & Tomato Sauce
Green Beans Provençal, Chef Simone Beck
Green Beans Provençal, Cooking Light
Green Bean Salad, Dill, Parsley & Savory
Green Bean Salad, Feta & Pecans
Green Bean Salad, Soy Glazed Almonds, Cilantro
Green Beans with Coconut
Green Beans with Ginger Butter
Green Beans with Onion Paste (Madhur Jaffrey)
Green Beans with Roman Mustard
Green Beans with Shallots
Italian Green Beans (St. Anna Beans)
Lemon Green Bean & Celery Salad
Oven Roasted Green Beans
Pears with Green Beans & Bacon
Persian Green Beans & Rice (Lubia Polo)
Sautéed Green Beans with Hazelnut Crumbs
Sesame & Portobello Green Beans
Sicilian Green Bean & Fennel Salad (Cooking Light)
Stir-Fried Green Beans with Pork & Chilies
Sweet & Sour Green Beans
Thai Green Beans (Cooking Light)
Three Bean Salad Recipe
White Bean, Green Bean & Red Bell Pepper Salad