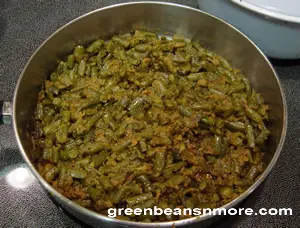 Green Beans with Onion Paste

1 1/2 pounds fresh green beans
1 medium-sized onion, peeled and coarsely chopped
3 cloves garlic, peeled and coarsely chopped
A piece of fresh ginger, about 1 inch square, coarsely chopped
1 medium-sized canned tomato, coarsely chopped
1/2 teaspoon ground turmeric
10 tablespoons vegetable oil
2 teaspoons ground coriander
1 teaspoon ground cumin
1/2 teaspoon whole cumin seeds
1/2 teaspoon whole black mustard seeds (I couldn't find black so I used yellow)
Optional - 1 or 2 whole dried red peppers OR 1/2 hot fresh green chili sliced in half OR 1/4 teaspoon cayenne pepper
1 teaspoon salt (or to taste)
2 teaspoons lemon juice (or to taste)
Garnish - 1 tablespoon finely chopped Chinese parsley (coriander/cilantro)

Wash the beans. Trim the ends. Slice the beans into rounds about 1/8" - 1/4" thick.

Put the onion, garlic, ginger, tomato and turmeric in a blender and blend into a smooth paste.

Put 6 tablespoons of the vegetable oil in an 8-inch skillet or heavy-bottomed pan, and heat it on medium. Pour in mixture from blender and fry for about 5 minutes, stirring all the time, adding a teaspoon of warm water if and when it starts to stick to the bottom. Now put in the coriander and cumin and continue frying another 5 minutes, again adding a teaspoon of warm water if necessary to prevent sticking.
In a 10-inch skillet, heat the remaining tablespoons of oil over a medium flame. When very hot, put in the whole cumin and mustard seeds. After 10 seconds, add the whole red peppers if you are using them. Stir once, and as the peppers darken and the mustard seeds begin to pop, put in the sliced green beans and the sliced green chili if you are using it. Now scrape up all the mixture from the first skillet and add it to the beans. Fry the beans on medium flame for 5 minutes, stirring all the time. Turn heat to low, add the salt and lemon juice, and let the beans cook covered, stirring now and then, until they are tender (about 35 minutes). If you are using cayenne pepper, stir in 5 minutes before the end of cooking time. If the beans stick to the skillet, add 1 tablespoon of water, stir and keep cooking.
These beans can be cooked in advance and reheated over a low flame. Serve them in a warm dish, and if you like sprinkle finely chopped Chinese parsley over them.

Cook's Tips: Fry the mixture from the blender in a deep heavy pot to keep splatter down. Make sure you fry the mixture well, it's essential to the overall flavor of the dish. I think it needed a bit more lemon. I also used a lot more cilantro than called for. It's a fabulous blast of flavor in the dish. I think the dish needed to cook longer than 35 minutes, I'd suggest you allow 45 minutes.

Click here to print this recipe


---
Easy Indian Food Recipes


Easy Chicken Curry
Ginger Garlic Green Beans
Green Beans with Coconut
Green Beans with Onion Paste
Indian Style Green Beans & Carrots
Sharbat, Rooh Afza Syrup, Drink Recipes
Turkey Mulligatawny Soup
Tasty & Easy Green Bean Recipes


Armenian Green Beans with Ground Meat and Tomatoes (Fassoulia)
Blanched Green Beans
Cream of Green Bean Soup (Company's Coming)
Fried Green Beans
Dilly Green Beans Recipe - Canning Recipe
Ginger Garlic Green Beans
Greek Green Beans
Greek Potatoes and Green Beans
Green Bean Soup (Company's Coming)
Green Beans a'la Waterman's
Green Beans Almondine
Green Beans Almondine (with a hint of lemon)
Green Beans Almondine (with an Asian flair)
Green Beans Almondine (with mushrooms)
Green Beans and Prosciutto Pasta Salad
Green Bean Casserole (Campbell's)
Green Bean Casserole (Cook's Illustrated)
Green Beans, Endive & Boston Lettuce Salad
Green Beans in Sour Cream & Tomato Sauce
Green Beans Provençal, Chef Simone Beck
Green Beans Provençal, Cooking Light
Green Bean Salad, Dill, Parsley & Savory
Green Bean Salad, Feta & Pecans
Green Bean Salad, Soy Glazed Almonds, Cilantro
Green Beans with Coconut
Green Beans with Ginger Butter
Green Beans with Onion Paste (Madhur Jaffrey)
Green Beans with Roman Mustard
Green Beans with Shallots
Italian Green Beans (St. Anna Beans)
Lemon Green Bean & Celery Salad
Oven Roasted Green Beans
Pears with Green Beans & Bacon
Persian Green Beans & Rice (Lubia Polo)
Sautéed Green Beans with Hazelnut Crumbs
Sesame & Portobello Green Beans
Sicilian Green Bean & Fennel Salad (Cooking Light)
Stir-Fried Green Beans with Pork & Chilies
Sweet & Sour Green Beans
Thai Green Beans (Cooking Light)
Three Bean Salad Recipe
White Bean, Green Bean & Red Bell Pepper Salad