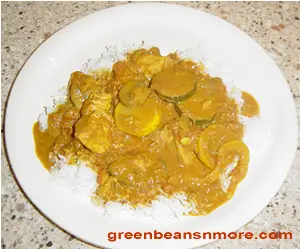 Uncle Mike's Chicken Curry

1 medium red onion, diced
1 lb. skinless chicken breast cut into 1 1/2" - 2" cubes
1 can of coconut milk
3-4 tablespoons medium or hot curry paste (ie.;Madras, Balti)
1 1/2 teaspoons fish sauce
1 1/2 teaspoons garam masala
1 1/2 teaspoons ground turmeric
1 14 oz. can of ratatouille vegetables (onion, zucchini, tomato mix) If you can't find this use 8 oz. fresh or jarred sliced mushrooms (drained), 14 oz. can diced tomato (drained), one zucchini cut in 1/4 inch slices
1 1/4" jalapeno pepper cut into thin 1/16" strips
Dice onion and put into Dutch oven with a olive oil, cook til translucent.
Add more oil if necessary. Put chicken in pan and cook until lightly cooked on both sides.

Pour in 1/2 tin of coconut milk (shake tin first) add more if needed to thin sauce
Add curry paste, fish sauce, garam masala and turmeric. Gently stir.
Heat to simmering.
Add ratatouille vegetables or fresh vegetables.
Cover pot, let curry simmer for 10-15 minutes (or until fresh vegetables soften). Stir from time to time.
Taste for flavor, add more spices if needed.
Just before curry has finished cooking sprinkle sliced jalapeno on top.
Serve with rice, chutney, pickled limes, puppodums or naan.

Cook's Tips: If you are using fresh vegetables you may need to add more coconut milk.

As I was unable to find a canned ratatouille blend here in my area, I added fresh mushrooms, fresh zucchini and drained canned diced tomatoes. As the vegetables cooked down they helped to thicken the sauce. Uncle Mike suggested using curry paste as it blends much smoother than curry powder.

Click here to print this recipe


---
Easy Indian Food Recipes


Easy Chicken Curry
Ginger Garlic Green Beans
Green Beans with Coconut
Green Beans with Onion Paste
Indian Style Green Beans & Carrots
Sharbat, Rooh Afza Syrup, Drink Recipes
Turkey Mulligatawny Soup
Tasty & Easy Green Bean Recipes


Armenian Green Beans with Ground Meat and Tomatoes (Fassoulia)
Blanched Green Beans
Cream of Green Bean Soup (Company's Coming)
Fried Green Beans
Dilly Green Beans Recipe - Canning Recipe
Ginger Garlic Green Beans
Greek Green Beans
Greek Potatoes and Green Beans
Green Bean Soup (Company's Coming)
Green Beans a'la Waterman's
Green Beans Almondine
Green Beans Almondine (with a hint of lemon)
Green Beans Almondine (with an Asian flair)
Green Beans Almondine (with mushrooms)
Green Beans and Prosciutto Pasta Salad
Green Bean Casserole (Campbell's)
Green Bean Casserole (Cook's Illustrated)
Green Beans, Endive & Boston Lettuce Salad
Green Beans in Sour Cream & Tomato Sauce
Green Beans Provençal, Chef Simone Beck
Green Beans Provençal, Cooking Light
Green Bean Salad, Dill, Parsley & Savory
Green Bean Salad, Feta & Pecans
Green Bean Salad, Soy Glazed Almonds, Cilantro
Green Beans with Coconut
Green Beans with Ginger Butter
Green Beans with Onion Paste (Madhur Jaffrey)
Green Beans with Roman Mustard
Green Beans with Shallots
Italian Green Beans (St. Anna Beans)
Lemon Green Bean & Celery Salad
Oven Roasted Green Beans
Pears with Green Beans & Bacon
Persian Green Beans & Rice (Lubia Polo)
Sautéed Green Beans with Hazelnut Crumbs
Sesame & Portobello Green Beans
Sicilian Green Bean & Fennel Salad (Cooking Light)
Stir-Fried Green Beans with Pork & Chilies
Sweet & Sour Green Beans
Thai Green Beans (Cooking Light)
Three Bean Salad Recipe
White Bean, Green Bean & Red Bell Pepper Salad