What is a mezze?
According to The Oxford Companion to Food; Mezze (sometimes spelled meze) an interesting word which came originally from the Persian maza, meaning "taste, relish".

A mezze is basically a banquet of food.

I have found a mezze a perfect way to introduce ethnic cuisine's to my friends. It's a fun and relatively stress-free way for me to enjoy their company. I like to keep it simple. I make the appetizers a day or two before. Most are better after the flavors have time to meld together - the exception being yogurt dishes which are best served fresh.

Here are pictures of some of my favorite mezze dishes;

Moroccan Honey Spiced Eggplant, Moroccan Couscous Salad, Moroccan Tomato & Green Pepper Salad (taktouka), Grape Leaves with Egg & Lemon Sauce (dolmas and avgolemono) , Mashed Eggplant & Tomato Salad (zaalouk), Moroccan Yogurt Dip (spiced labneh). You can find all these delicious recipes below.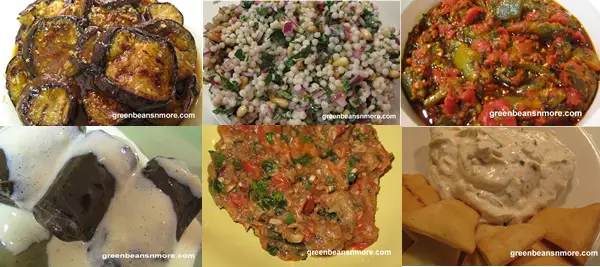 A meze starts with lighter dishes, such as fresh fruits, vegetables, herbs, cheeses, olives and nuts. Then breads, dips, and salads are served followed by meat dishes.

A lot of mezze plates include foods that don't need much preparation. Many of the suggestions below (dried fruits, nuts, pickled vegetables, grape leaves, fruit pastes and tapenades, olives, cheeses and some breads) can be found locally in high-end supermarket chains and ethnic markets and online.

Quick Meze Plates:

Grapes, pomegranates, orange slices, cherries, apple slices, peach slices. Feta and watermelon salad - quick recipe below.

Dried fruits such as dates, figs, plums and apricots.

Walnuts. Pistachios. Almonds. Cashews. Sweet Stuffed Dates .
Raw or pickled vegetables. Cherry tomatoes. Sliced cucumber. Radishes. Fresh herbs such as parsley and mint. Stuffed grape leaves with lemon and egg sauce. Steamed or marinated artichokes. Roasted peppers. Pepperoncini. Stuffed peppers.
A variety of cheeses. Quince paste. Fig and Walnut Tapenade.
Green and black olives. Olive Tapenade. Pickles.

Breads. Lavash. Naan. Pita. Sea Salt and Sesame Roasted Pita Chips - quick recipe below.

Cooked Mezze Recipes:

Baba ghanoush. Eggplant dips. Tabbouleh Salad. Shrimp and Caper Salad. Couscous salad. Falafel. Keftedes (bulgur meatballs). Pies stuffed with cheese or meats such as Spanakopita.
Lamb meatballs. Kabob meat, lamb, chicken pork or beef. Yogurt and mint sauce. Meat pies, such as a Kibbeh.

More pictures of mezze dishes;

Baba Ghanoush, Lebanese Lamb meatballs (daoud basha), Persian Cheese and Walnut Dip (nan-o panir-o-gerdu). You will find all these delicious recipes below.





For a special occasion treat your guests to a Moroccan chicken b'stilla.

The best part about a a mezze is that there are no rules.

Today many regions have small ethnic groceries where foods can be found. Stores like Wegman's and Trader Joe's also have ethnic food offerings. Any ingredient or food product you can't find locally can be easily found online.

Another fun addition to your Mezze table would be these sugar coated fennel seeds known as "sonf". They are an Indian mouth freshener and are available from some spice companies and Amazon.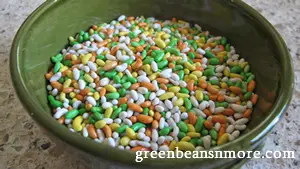 ---
Mezze Recipes

Greek:

Baba Ghanouj (baba ghanoush)
Greek Lemon & Egg Sauce (avgolemono)
Greek Shrimp & Caper Salad
Greek Shrimp with Feta Cheese (garides saganaki)

Lebanese:
Lamb Meatballs with Pine Nuts in Tomato Sauce, Chef Claudia Roden

Moroccan:

Mashed Eggplant & Tomato Salad (zaalouk)
Moroccan Couscous Salad
Moroccan Honey Spiced Eggplant Dip
Moroccan Tomato & Green Pepper Salad (taktouka)
Moroccan Yogurt Dip (spiced labneh)
Sweet Moroccan Couscous (raisins, almonds, argan oil)
Tomatoes Stuffed with Roast Peppers, Tuna, Caper & Olives Chef Claudia Roden

Persian:
Cheese and Walnut Dip
Orange & Saffron Butter Cookies
Persian Chicken Kebabs with Saffron
Stuffed Sweet Dates
Sephardic:
Syrian:
Mezze Beverages

Mezze Beverage Ideas
Sharbat, Rooh Afza Syrup
---
Quick Mezze Recipes:
Feta & Watermelon Salad: Mix 1 cup of cubed Greek feta with 3 cups of cubed watermelon. Toss with thinly sliced red onion and 1 teaspoon of sherry vinegar. Garnish with mint.

Sea Salt & Sesame Roasted Pita Chips: Cut pita into triangles - brush with olive oil, then sprinkle with sea salt and sesame seeds - bake at 375 for about 10 minutes or until they're light brown - single layer, on a baking sheet. Bake them a day ahead, let them cool, then store in a ziploc.

Click here to print these recipes


---