This is yet another wonderful recipe from the cookbook Arabesque by Claudia Roden. This cookbook covers cuisine from Morocco, Turkey and Lebanon.

This particular recipe is Moroccan. It calls for the use of Argan oil, which is called the "liquid gold" of Morocco. (In this recipe you can substitute extra virgin olive oil). Argan oil has a wonderful nutty flavor, and is a "finishing oil". It is quite pricey, but the unique flavor makes all the difference in recipes.
We found this Mashed Eggplant and Tomato Salad to have wonderful refreshing flavor. Chef Roden suggests that you make it several hours in advance. We refrigerated it overnight to let the flavor develop. We let it come to room temperature and served it with an Afghan bread.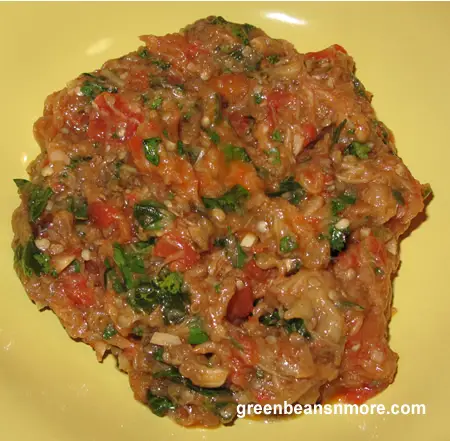 Mashed Eggplant and Tomato Salad (Zaalouk)
1 1/2 pounds Eggplant
Juice of 1/2 to 1 lemon
1 pound tomatoes, peeled and chopped
5 garlic cloves, chopped coarsely
salt
4 tablespoons argan or extra virgin olive oil
1/2 teaspoon paprika
good pinch ground chili pepper, to taste
1 teaspoon ground cumin
2 tablespoons chopped flat-leaf parsley
2 tablespoons chopped cilantro
To garnish: a handful of black olives
Prick the eggplants with a pointed knife to prevent them from bursting in the oven. Place them on a large piece of foil on a baking sheet and roast them in a hot oven pre-heated to 425 degrees F for about 45 to 55 minutes, or until they feel very soft when you press them and the skins are wrinkled. When cool enough to handle, peel and drop them in a bowl of water with a little lemon juice to keep their flesh pale.
Drain the eggplants in a strainer or colander with small holes and press out as much of the water and juice as possible. Still in the colander, chop the flesh with a pointed knife, then mash it with a fork or wooden spoon, letting the juices escape through the holes.
Cook the tomatoes with the garlic and a little salt over a low heat for about 20 minutes, or until reduced to a thick sauce, stirring occasionally. Mix with the mashed eggplants and the rest of the ingredients, and add salt to taste.
To serve, spread flat on a plate and garnish with olives.

Click here to print this recipe

Here is another flavorful recipe that includes Argan oil - Sweet Moroccan Couscous

You can find Argan oil at Zamouri Spices


---
Moroccan Recipes

Mashed Eggplant & Tomato Salad (zaalouk)
Mint Chutney Recipe
Moroccan BBQ Sauce
Moroccan Chicken B'stila
Moroccan Couscous Salad
Moroccan Garlic Beef with Cracked Green Olives
Moroccan Honey Spiced Eggplant Dip
Moroccan Tomato & Green Pepper Salad (taktouka)
Moroccan Yogurt Dip (spiced labneh)
Sweet Moroccan Couscous (raisins, almonds, argan oil)
Tomatoes Stuffed with Roast Peppers, Tuna, Caper & Olives Chef Claudia Roden
Tasty & Easy Green Bean Recipes


Armenian Green Beans with Ground Meat and Tomatoes (Fassoulia)
Blanched Green Beans
Cream of Green Bean Soup (Company's Coming)
Fried Green Beans
Dilly Green Beans Recipe - Canning Recipe
Ginger Garlic Green Beans
Greek Green Beans
Greek Potatoes and Green Beans
Green Bean Soup (Company's Coming)
Green Beans a'la Waterman's
Green Beans Almondine
Green Beans Almondine (with a hint of lemon)
Green Beans Almondine (with an Asian flair)
Green Beans Almondine (with mushrooms)
Green Beans and Prosciutto Pasta Salad
Green Bean Casserole (Campbell's)
Green Bean Casserole (Cook's Illustrated)
Green Beans, Endive & Boston Lettuce Salad
Green Beans in Sour Cream & Tomato Sauce
Green Beans Provençal, Chef Simone Beck
Green Beans Provençal, Cooking Light
Green Bean Salad, Dill, Parsley & Savory
Green Bean Salad, Feta & Pecans
Green Bean Salad, Soy Glazed Almonds, Cilantro
Green Beans with Coconut
Green Beans with Ginger Butter
Green Beans with Onion Paste (Madhur Jaffrey)
Green Beans with Roman Mustard
Green Beans with Shallots
Italian Green Beans (St. Anna Beans)
Lemon Green Bean & Celery Salad
Oven Roasted Green Beans
Pears with Green Beans & Bacon
Persian Green Beans & Rice (Lubia Polo)
Sautéed Green Beans with Hazelnut Crumbs
Sesame & Portobello Green Beans
Sicilian Green Bean & Fennel Salad (Cooking Light)
Stir-Fried Green Beans with Pork & Chilies
Sweet & Sour Green Beans
Thai Green Beans (Cooking Light)
Three Bean Salad Recipe
White Bean, Green Bean & Red Bell Pepper Salad