Right out of the oven this is an impressive and beautiful dish. It comes from "Cooking at the Kasbah" by Kitty Morse. This Moroccan beef stew will instantly transport you to Morocco. I made this dish as part of a Moroccan/Persian dinner I had for friends. My friends husband, who said he doesn't like olives, but does like garlic, really enjoyed this dish. He didn't stop eating it even after we told him that the flavor he actually liked was coming from the olives. My own husband gave it his seal of approval and said I should feel free to make it anytime.

Please read my "cooks tips" following the recipe.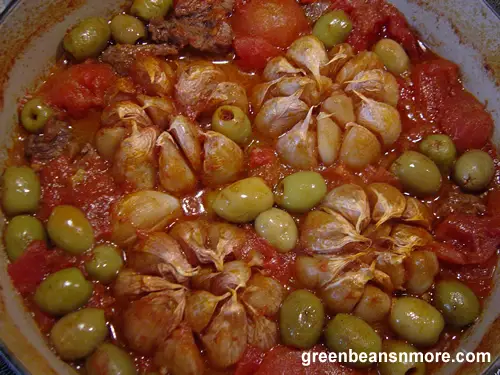 Garlic Beef with Cracked Green Olives (Temrika Meslalla)

3 tablespoons olive oil
1 1/2 pounds lean beef chuck, cut into 2- inch chunks
2 pounds tomatoes, coarsely chopped
1 tablespoon ground cumin
1/2 teaspoon pepper
8 ounces pitted cracked green olives
4 whole head of garlic, papery outer skins removed
1 tablespoon fresh lemon juice
1/4 cup minced fresh flat-leaf parsley

Preheat the oven to 350 degrees F. In a medium Dutch oven or enameled casserole over medium-high heat, heat the olive oil and cook the beef, stirring until it is lightly browned, 3 - 4 minutes. Add the tomatoes, cumin, pepper and olives. Nestle the heads of garlic among the chunks of meat. Cover and bake until the meat is tender, 50 minutes to 1 hour. Remove from the oven. With a slotted spoon, transfer the meat and the garlic to a serving platter to keep warm.

Reheat the pan juices over medium heat and stir in the lemon juice. Cook, stirring, until the sauce is reduced by one third. Pour it over the reserved meat. Sprinkle with parsley and serve immediately with warm bread.

Note from the author: Spread the butterlike garlic pulp on a piece of fresh bread. Black olives are not generally used for this tagine.

Cooks tips: I made this dish two days in advance and kept it in the refrigerator. I put the Dutch oven in an oven preheated to about 200 degrees for 25-30 min to reheat it. I tried to not stir it too much so I didn't break up the garlic bulbs.
If you don't have Moroccan cracked green olives DO NOT MAKE THIS RECIPE until you get some. You can buy them here Zamourispices.com Due to the fact that it's been impossible for me to find consistently nice fresh tomatoes I've been using canned whole tomatoes in my recipes. I drain them before weighing them.

Click here to print this recipe


Try another wonderful Moroccan dish from "Cooking from the Kasbah" Chicken B'stila


---
Moroccan Recipes

Mashed Eggplant & Tomato Salad (zaalouk)
Mint Chutney Recipe
Moroccan BBQ Sauce
Moroccan Chicken B'stila
Moroccan Couscous Salad
Moroccan Garlic Beef with Cracked Green Olives
Moroccan Honey Spiced Eggplant Dip
Moroccan Tomato & Green Pepper Salad (taktouka)
Moroccan Yogurt Dip (spiced labneh)
Sweet Moroccan Couscous (raisins, almonds, argan oil)
Tomatoes Stuffed with Roast Peppers, Tuna, Caper & Olives Chef Claudia Roden
Tasty & Easy Green Bean Recipes


Armenian Green Beans with Ground Meat and Tomatoes (Fassoulia)
Blanched Green Beans
Cream of Green Bean Soup (Company's Coming)
Fried Green Beans
Dilly Green Beans Recipe - Canning Recipe
Ginger Garlic Green Beans
Greek Green Beans
Greek Potatoes and Green Beans
Green Bean Soup (Company's Coming)
Green Beans a'la Waterman's
Green Beans Almondine
Green Beans Almondine (with a hint of lemon)
Green Beans Almondine (with an Asian flair)
Green Beans Almondine (with mushrooms)
Green Beans and Prosciutto Pasta Salad
Green Bean Casserole (Campbell's)
Green Bean Casserole (Cook's Illustrated)
Green Beans, Endive & Boston Lettuce Salad
Green Beans in Sour Cream & Tomato Sauce
Green Beans Provençal, Chef Simone Beck
Green Beans Provençal, Cooking Light
Green Bean Salad, Dill, Parsley & Savory
Green Bean Salad, Feta & Pecans
Green Bean Salad, Soy Glazed Almonds, Cilantro
Green Beans with Coconut
Green Beans with Ginger Butter
Green Beans with Onion Paste (Madhur Jaffrey)
Green Beans with Roman Mustard
Green Beans with Shallots
Italian Green Beans (St. Anna Beans)
Lemon Green Bean & Celery Salad
Oven Roasted Green Beans
Pears with Green Beans & Bacon
Persian Green Beans & Rice (Lubia Polo)
Sautéed Green Beans with Hazelnut Crumbs
Sesame & Portobello Green Beans
Sicilian Green Bean & Fennel Salad (Cooking Light)
Stir-Fried Green Beans with Pork & Chilies
Sweet & Sour Green Beans
Thai Green Beans (Cooking Light)
Three Bean Salad Recipe
White Bean, Green Bean & Red Bell Pepper Salad