I served this delicious Moroccan dip as part of a Middle-Eastern Mezze. This mezze consisted of toasted pita chips, sliced crusty bread, Spiced Labneh (Yoghurt Cheese), Honey Spiced Eggplant, Taktouka Salad, Couscous Salad, Moroccan Olives and Harissa. The star of the meal was a chicken b'stilla.

This is a very easy to make ahead appetizer recipe. All of the ingredients are readily available - except for the spice Sumac. I happen to have Sumac in my pantry because I cook quite a bit of Middle Eastern food. Sumac has a tart sour lemon taste. If you don't have Sumac you can substitute lemon zest and paprika. This dip can be made vegetarian if you use a soy yogurt. This recipe is proof that a vegetarian dip can be flavorful!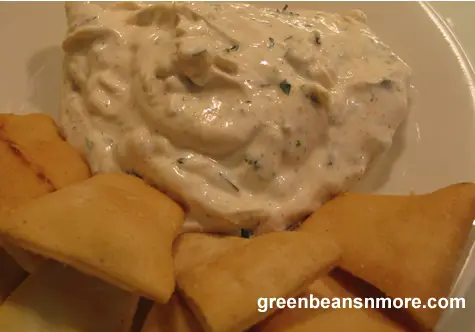 Spiced Labneh - Moroccan Yogurt Dip
750 ml plain yogurt (low fat or regular) - Greek yogurt works well
1 teaspoon ground cumin
1 teaspoon dried mint
1 teaspoon sumac - substitute zest of 1 lemon & 1/2 teaspoon paprika
Pinch ground cayenne pepper
1 teaspoon sea salt
1/2 teaspoon black pepper
Olive oil for garnish
Fresh mint, roughly chopped, for garnish
Fresh coriander, roughly chopped, for garnish

Line a colander with cheese cloth or 2 layers strong paper towels. Spoon yogurt in colander.
Place colander into large bowl to catch liquid that drains and place in refrigerator at least 8 hours, overnight is better.

Move the drained yogurt into a large bowl. It should be quite firm. Discard liquid.

Mix in the herbs and spices, salt and pepper.

Spoon yogurt into serving dish. Just before serving drizzle with olive oil, garnish with fresh mint and coriander.

Cook's Tips: This is best served cold freshly made and cold

Click here to print this recipe


---
Moroccan Recipes

Mashed Eggplant & Tomato Salad (zaalouk)
Mint Chutney Recipe
Moroccan BBQ Sauce
Moroccan Chicken B'stila
Moroccan Couscous Salad
Moroccan Garlic Beef with Cracked Green Olives
Moroccan Honey Spiced Eggplant Dip
Moroccan Tomato & Green Pepper Salad (taktouka)
Moroccan Yogurt Dip (spiced labneh)
Sweet Moroccan Couscous (raisins, almonds, argan oil)
Tomatoes Stuffed with Roast Peppers, Tuna, Caper & Olives Chef Claudia Roden
Tasty & Easy Green Bean Recipes


Armenian Green Beans with Ground Meat and Tomatoes (Fassoulia)
Blanched Green Beans
Cream of Green Bean Soup (Company's Coming)
Fried Green Beans
Dilly Green Beans Recipe - Canning Recipe
Ginger Garlic Green Beans
Greek Green Beans
Greek Potatoes and Green Beans
Green Bean Soup (Company's Coming)
Green Beans a'la Waterman's
Green Beans Almondine
Green Beans Almondine (with a hint of lemon)
Green Beans Almondine (with an Asian flair)
Green Beans Almondine (with mushrooms)
Green Beans and Prosciutto Pasta Salad
Green Bean Casserole (Campbell's)
Green Bean Casserole (Cook's Illustrated)
Green Beans, Endive & Boston Lettuce Salad
Green Beans in Sour Cream & Tomato Sauce
Green Beans Provençal, Chef Simone Beck
Green Beans Provençal, Cooking Light
Green Bean Salad, Dill, Parsley & Savory
Green Bean Salad, Feta & Pecans
Green Bean Salad, Soy Glazed Almonds, Cilantro
Green Beans with Coconut
Green Beans with Ginger Butter
Green Beans with Onion Paste (Madhur Jaffrey)
Green Beans with Roman Mustard
Green Beans with Shallots
Italian Green Beans (St. Anna Beans)
Lemon Green Bean & Celery Salad
Oven Roasted Green Beans
Pears with Green Beans & Bacon
Persian Green Beans & Rice (Lubia Polo)
Sautéed Green Beans with Hazelnut Crumbs
Sesame & Portobello Green Beans
Sicilian Green Bean & Fennel Salad (Cooking Light)
Stir-Fried Green Beans with Pork & Chilies
Sweet & Sour Green Beans
Thai Green Beans (Cooking Light)
Three Bean Salad Recipe
White Bean, Green Bean & Red Bell Pepper Salad