This tasty and easy to prepare eggplant dish would be a perfect addition to a Middle Eastern Meze. It comes from well know cook book author, Ghillie Basan, from her book Modern Moroccan. This is a recipe that is definitely best served the next day, room temperature. This appetizer dip was a nice change from the usual eggplant-tomato parings.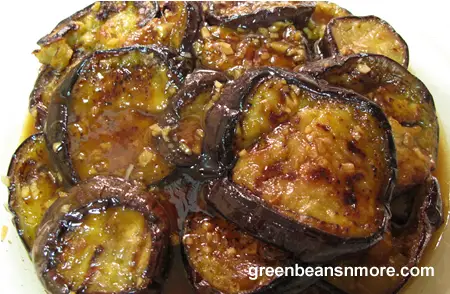 Honey Spiced Eggplant Appetizer

2 large eggplants, (approx 1 1/2 lbs) thickly sliced or same weight of baby eggplants, halved
Salt
1/3 cup olive oil
5 tablespoons honey
Juice 1 large lemon
1 tablespoon finely minced garlic
1 tablespoon finely minced fresh ginger
1 teaspoon ground cumin
1 teaspoon harissa or 1/2 teaspoon cayenne pepper, or to taste
Chopped fresh cilantro for garnish

Lay the eggplant slices out on paper towels, or cloth and sprinkle all cut surfaces generously with salt.
Let the eggplants disgorge for about 15-20 minutes then wipe them dry with paper towels.

Preheat a large, heavy skillet over medium-high heat.

Brush both sides of the eggplant with olive oil and cook in the skillet, not overlapping the slices, until well browned on both sides. (You'll no doubt have to do this in batches.) Set the slices to a plate on the side.

In a bowl combine the honey and lemon juice with about 2/3 cup of hot water. Stir to dissolve.

Heat the skillet again, adding a bit more oil if none is left.

Add the garlic and ginger, stirring for about 30 seconds, then add the cumin and harissa (or cayenne pepper) stirring another 30 seconds.

Stir in the honey-lemon water and bring to a boil.

Lay the eggplant pieces into the pan, overlapping if needed, and cook over medium heat for about 10 minutes, turning the pieces as necessary to ensure all are coated with the sauce. Cook until it reduces into a thick glaze and the eggplant pieces are completely soft. (add a bit more water if the sauce reduces before the eggplant is ready).
Taste for seasoning, add salt if needed.
Let cool, sprinkle with the chopped cilantro and serve at room temperature.

Click here to print this recipe


---
Moroccan Recipes

Mashed Eggplant & Tomato Salad (zaalouk)
Mint Chutney Recipe
Moroccan BBQ Sauce
Moroccan Chicken B'stila
Moroccan Couscous Salad
Moroccan Garlic Beef with Cracked Green Olives
Moroccan Honey Spiced Eggplant Dip
Moroccan Tomato & Green Pepper Salad (taktouka)
Moroccan Yogurt Dip (spiced labneh)
Sweet Moroccan Couscous (raisins, almonds, argan oil)
Tomatoes Stuffed with Roast Peppers, Tuna, Caper & Olives Chef Claudia Roden
Tasty & Easy Green Bean Recipes


Armenian Green Beans with Ground Meat and Tomatoes (Fassoulia)
Blanched Green Beans
Cream of Green Bean Soup (Company's Coming)
Fried Green Beans
Dilly Green Beans Recipe - Canning Recipe
Ginger Garlic Green Beans
Greek Green Beans
Greek Potatoes and Green Beans
Green Bean Soup (Company's Coming)
Green Beans a'la Waterman's
Green Beans Almondine
Green Beans Almondine (with a hint of lemon)
Green Beans Almondine (with an Asian flair)
Green Beans Almondine (with mushrooms)
Green Beans and Prosciutto Pasta Salad
Green Bean Casserole (Campbell's)
Green Bean Casserole (Cook's Illustrated)
Green Beans, Endive & Boston Lettuce Salad
Green Beans in Sour Cream & Tomato Sauce
Green Beans Provençal, Chef Simone Beck
Green Beans Provençal, Cooking Light
Green Bean Salad, Dill, Parsley & Savory
Green Bean Salad, Feta & Pecans
Green Bean Salad, Soy Glazed Almonds, Cilantro
Green Beans with Coconut
Green Beans with Ginger Butter
Green Beans with Onion Paste (Madhur Jaffrey)
Green Beans with Roman Mustard
Green Beans with Shallots
Italian Green Beans (St. Anna Beans)
Lemon Green Bean & Celery Salad
Oven Roasted Green Beans
Pears with Green Beans & Bacon
Persian Green Beans & Rice (Lubia Polo)
Sautéed Green Beans with Hazelnut Crumbs
Sesame & Portobello Green Beans
Sicilian Green Bean & Fennel Salad (Cooking Light)
Stir-Fried Green Beans with Pork & Chilies
Sweet & Sour Green Beans
Thai Green Beans (Cooking Light)
Three Bean Salad Recipe
White Bean, Green Bean & Red Bell Pepper Salad