I am always looking for ways to introduce new and interesting flavors into our food. I was very intrigued when I saw this recipe for Moroccan BBQ sauce and knew that I had to try it. I've often cooked lamb, but have never used a bbq sauce with it.

I thought that this bbq sauce recipe was perfect for lamb as it has enough flavor to stand up to the meat. The flavor of the cilantro was front and center. It was sweet from the honey and heady with the flavor from the whole star anise and cinnamon. We did not use this BBQ sauce to baste the lamb as it cooked, we enjoyed it on the lamb after it was cooked. The lamb is marinated for 24 hours in a mint chutney prior to grilling.

I chose to grill lamb shoulder steaks as they offer much more meat than loin lamb chops. As it was raining on the day I cooked this lamb I broiled it inside. I broiled the lamb shoulder steaks 4 " from the heat source, 9 minutes per side. Like other meats, lamb needs to rest after cooking. I let the shoulder steaks rest for 5 minutes.

Cooking lamb is not difficult at all. If you're looking for information on how to cook lamb and for some wonderful lamb recipes check out this site - Americanlamb.com. You'll find everything you need to know about choosing cuts of lamb and how to cook them perfectly.
Please read my "cooks tips" following the recipe.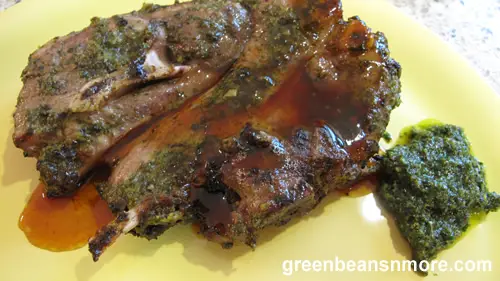 Moroccan Barbecue Sauce

3/4 cup honey
1/2 cup fresh cilantro sprigs
1/3 cup lemon juice
1/4 cup rice vinegar
1/4 cup ketchup
1/4 cup soy sauce
1 clove garlic
1 whole star anise
1 cinnamon stick (3 in. long, broken into pieces)
3/4 teaspoon black peppercorns
1/4 teaspoon each ground ginger, ground cardamom, whole cloves, hot chile flakes, and salt.
Combine all ingredients in a 2- to 3-quart pan. Bring to a simmer over medium-high heat; cook, stirring occasionally, until sauce is reduced to about 1 1/4 cups, about 15 minutes. Pour through a fine strainer into a bowl. Makes about 1 1/4 cups.
Cooks tips: I did not use a low sodium soy sauce so I did not add the 1/4 teaspoon salt called for later in the recipe. I didn't miss it. I also let the mixture simmer for 1 hour. For the best results make this sauce a few days in advance to allow the flavors to mingle.


Click here to print this recipe


This recipe for Moroccan BBQ sauce and the accompanying mint chutney is from homemade-recipes.blogspot.com.


---
Moroccan Recipes

Mashed Eggplant & Tomato Salad (zaalouk)
Mint Chutney Recipe
Moroccan BBQ Sauce
Moroccan Chicken B'stila
Moroccan Couscous Salad
Moroccan Garlic Beef with Cracked Green Olives
Moroccan Honey Spiced Eggplant Dip
Moroccan Tomato & Green Pepper Salad (taktouka)
Moroccan Yogurt Dip (spiced labneh)
Sweet Moroccan Couscous (raisins, almonds, argan oil)
Tomatoes Stuffed with Roast Peppers, Tuna, Caper & Olives Chef Claudia Roden
Tasty & Easy Green Bean Recipes


Armenian Green Beans with Ground Meat and Tomatoes (Fassoulia)
Blanched Green Beans
Cream of Green Bean Soup (Company's Coming)
Fried Green Beans
Dilly Green Beans Recipe - Canning Recipe
Ginger Garlic Green Beans
Greek Green Beans
Greek Potatoes and Green Beans
Green Bean Soup (Company's Coming)
Green Beans a'la Waterman's
Green Beans Almondine
Green Beans Almondine (with a hint of lemon)
Green Beans Almondine (with an Asian flair)
Green Beans Almondine (with mushrooms)
Green Beans and Prosciutto Pasta Salad
Green Bean Casserole (Campbell's)
Green Bean Casserole (Cook's Illustrated)
Green Beans, Endive & Boston Lettuce Salad
Green Beans in Sour Cream & Tomato Sauce
Green Beans Provençal, Chef Simone Beck
Green Beans Provençal, Cooking Light
Green Bean Salad, Dill, Parsley & Savory
Green Bean Salad, Feta & Pecans
Green Bean Salad, Soy Glazed Almonds, Cilantro
Green Beans with Coconut
Green Beans with Ginger Butter
Green Beans with Onion Paste (Madhur Jaffrey)
Green Beans with Roman Mustard
Green Beans with Shallots
Italian Green Beans (St. Anna Beans)
Lemon Green Bean & Celery Salad
Oven Roasted Green Beans
Pears with Green Beans & Bacon
Persian Green Beans & Rice (Lubia Polo)
Sautéed Green Beans with Hazelnut Crumbs
Sesame & Portobello Green Beans
Sicilian Green Bean & Fennel Salad (Cooking Light)
Stir-Fried Green Beans with Pork & Chilies
Sweet & Sour Green Beans
Thai Green Beans (Cooking Light)
Three Bean Salad Recipe
White Bean, Green Bean & Red Bell Pepper Salad