This couscous salad was featured in the English publication Mail Online Food & Drink. Not only is it a feast for the eyes, it has fabulous flavor with sweetness from the dates and sourness from the lemons. Best of all you can control the flavors.

You can use either Moroccan or Israeli couscous. Moroccan couscous is a smaller grain than Israeli. This picture is the salad using larger Israeli couscous.

This couscous salad recipe features toasted pine nuts, sweet dates, parsley, mint, lemon and a zesty red wine vinaigrette. It's a perfect accompaniment to any meal.
If you don't know how to toast pine nuts, don't worry. We supply the how to in our "cooks tips" that follow the recipe.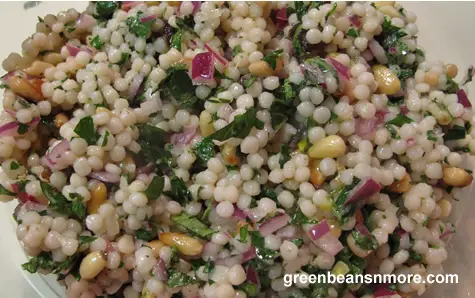 Couscous Salad
1/2 medium red onion, finely chopped
1/4 cup roughly chopped mint
1/4 cup roughly chopped flat leaf parsley
8 dates, pit removed, finely chopped
5 tablespoons pine nuts, toasted
Zest and juice 2 lemons
Vinaigrette:
4 tablespoons red wine vinegar
5 tablespoons olive oil
1 - 1 1/2 teaspoons salt - to taste

1 1/2 cups Moroccan or Israeli couscous - cooked according to package directions.

Cook the couscous according to package directions. Spread couscous on baking sheet that has a lip around it or in a large bowl to allow it to cool. Mix the red wine vinegar, olive oil and salt together well. Pour half of vinaigrette over the couscous and stir to help prevent sticking. The couscous will also absorb the flavors as it cools.

Once the couscous cools add the remaining vinaigrette, red onion, mint, parsley, dates and pine nuts and lemon zest. Mix together. Add lemon juice to taste.
Cook's Tips: You will use more or less vinaigrette depending on the couscous you use. You want the couscous moist but you don't want this salad swimming in vinaigrette. The flavors are best if it's served room temperature of slightly warmed in the microwave.
How to toast pine nuts: Place the pine nuts in a dry heavy skillet making sure they are in a single layer and have room to move around. If not, cook in several batches. The following batches may cook more quickly as the pan will be hotter. Cook over medium heat, constantly moving them around the pan to prevent them burning. Allow some time for them to toast, you'll see them brown and smell them. DON'T WALK AWAY because once they start to toast it goes quickly. As soon as they are toasted you want to get them out of the hot pan - put them on a plate to cool.

Click here to print this recipe


---
Moroccan Recipes

Mashed Eggplant & Tomato Salad (zaalouk)
Mint Chutney Recipe
Moroccan BBQ Sauce
Moroccan Chicken B'stila
Moroccan Couscous Salad
Moroccan Garlic Beef with Cracked Green Olives
Moroccan Honey Spiced Eggplant Dip
Moroccan Tomato & Green Pepper Salad (taktouka)
Moroccan Yogurt Dip (spiced labneh)
Sweet Moroccan Couscous (raisins, almonds, argan oil)
Tomatoes Stuffed with Roast Peppers, Tuna, Caper & Olives Chef Claudia Roden
Tasty & Easy Green Bean Recipes


Armenian Green Beans with Ground Meat and Tomatoes (Fassoulia)
Blanched Green Beans
Cream of Green Bean Soup (Company's Coming)
Fried Green Beans
Dilly Green Beans Recipe - Canning Recipe
Ginger Garlic Green Beans
Greek Green Beans
Greek Potatoes and Green Beans
Green Bean Soup (Company's Coming)
Green Beans a'la Waterman's
Green Beans Almondine
Green Beans Almondine (with a hint of lemon)
Green Beans Almondine (with an Asian flair)
Green Beans Almondine (with mushrooms)
Green Beans and Prosciutto Pasta Salad
Green Bean Casserole (Campbell's)
Green Bean Casserole (Cook's Illustrated)
Green Beans, Endive & Boston Lettuce Salad
Green Beans in Sour Cream & Tomato Sauce
Green Beans Provençal, Chef Simone Beck
Green Beans Provençal, Cooking Light
Green Bean Salad, Dill, Parsley & Savory
Green Bean Salad, Feta & Pecans
Green Bean Salad, Soy Glazed Almonds, Cilantro
Green Beans with Coconut
Green Beans with Ginger Butter
Green Beans with Onion Paste (Madhur Jaffrey)
Green Beans with Roman Mustard
Green Beans with Shallots
Italian Green Beans (St. Anna Beans)
Lemon Green Bean & Celery Salad
Oven Roasted Green Beans
Pears with Green Beans & Bacon
Persian Green Beans & Rice (Lubia Polo)
Sautéed Green Beans with Hazelnut Crumbs
Sesame & Portobello Green Beans
Sicilian Green Bean & Fennel Salad (Cooking Light)
Stir-Fried Green Beans with Pork & Chilies
Sweet & Sour Green Beans
Thai Green Beans (Cooking Light)
Three Bean Salad Recipe
White Bean, Green Bean & Red Bell Pepper Salad