This is a delicious and tasty Moroccan recipe that's easy to prepare. This recipe doesn't call for any "exotic" spices, but it delivers an exotic flavor. The base of this recipe is cooked tomatoes and roasted green peppers. If you haven't roasted peppers before you're in for a treat. Roasting a pepper is a very simple thing to do and we have included "how to roast a pepper" below. This is another perfect make-ahead appetizer. It's best the next day, served room temperature with lots of crusty bread for dipping. Make is part of a Middle Eastern Meze.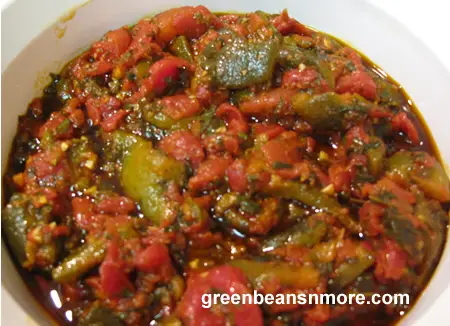 Taktouka Moroccan Salad

6 ripe fresh tomatoes (peeled, seeded and chopped)
2 or 3 large fresh green peppers (roasted, peeled, seeded and chopped)
3 large cloves of garlic, finely chopped or pressed
3 tablespoons chopped fresh parsley
3 tablespoons chopped fresh cilantro
1 teaspoon salt (or to taste)
1/4 teaspoon black pepper
1 tablespoon paprika
2 teaspoons cumin
1/3 cup olive oil
Pinch of cayenne or red peppers (optional)
Mix all the ingredients in a large frying pan and cook over medium to medium-high heat, stirring occasionally, until the tomatoes are very soft. Turn the heat down, if necessary, to allow the tomatoes and peppers to simmer. Allow the mixture to simmer, stirring occasionally, until the liquids are reduced to oil.

Serve this Taktouka salad warm or cold with crusty bread for dipping.

Serves 4.

Cooks Tips: Unless it's summertime it's impossible to find a decent tomato. Several years ago I started using canned whole tomatoes in my recipes. This guarantees you better flavor, an overall better outcome and saves you money. Drain the tomatoes, remove the seeds and prepare them as you would the fresh.
How to roast a pepper: Preheat the oven to 375 degrees. Place the green pepper(s) on a cookie sheet that has been covered with aluminum foil. Place the peppers in the oven and check every 15 or so minutes. Using tongs rotate the peppers so they cook evenly. The skin will blister and turn brown. This process will take approximately one hour. Let the peppers cool 15-20 minutes before removing the skin. Hold one end of the pepper and gently peel the skin off the pepper. The skin should slide off fairly easily. Slit open the side of the pepper and spread it out (ribbed side up) on your work surface. Remove any seeds. Scrape off any of the ribs or membrane that remains in the pepper.

Click here to print this recipe


---
Moroccan Recipes

Mashed Eggplant & Tomato Salad (zaalouk)
Mint Chutney Recipe
Moroccan BBQ Sauce
Moroccan Chicken B'stila
Moroccan Couscous Salad
Moroccan Garlic Beef with Cracked Green Olives
Moroccan Honey Spiced Eggplant Dip
Moroccan Tomato & Green Pepper Salad (taktouka)
Moroccan Yogurt Dip (spiced labneh)
Sweet Moroccan Couscous (raisins, almonds, argan oil)
Tomatoes Stuffed with Roast Peppers, Tuna, Caper & Olives Chef Claudia Roden
Tasty & Easy Green Bean Recipes


Armenian Green Beans with Ground Meat and Tomatoes (Fassoulia)
Blanched Green Beans
Cream of Green Bean Soup (Company's Coming)
Fried Green Beans
Dilly Green Beans Recipe - Canning Recipe
Ginger Garlic Green Beans
Greek Green Beans
Greek Potatoes and Green Beans
Green Bean Soup (Company's Coming)
Green Beans a'la Waterman's
Green Beans Almondine
Green Beans Almondine (with a hint of lemon)
Green Beans Almondine (with an Asian flair)
Green Beans Almondine (with mushrooms)
Green Beans and Prosciutto Pasta Salad
Green Bean Casserole (Campbell's)
Green Bean Casserole (Cook's Illustrated)
Green Beans, Endive & Boston Lettuce Salad
Green Beans in Sour Cream & Tomato Sauce
Green Beans Provençal, Chef Simone Beck
Green Beans Provençal, Cooking Light
Green Bean Salad, Dill, Parsley & Savory
Green Bean Salad, Feta & Pecans
Green Bean Salad, Soy Glazed Almonds, Cilantro
Green Beans with Coconut
Green Beans with Ginger Butter
Green Beans with Onion Paste (Madhur Jaffrey)
Green Beans with Roman Mustard
Green Beans with Shallots
Italian Green Beans (St. Anna Beans)
Lemon Green Bean & Celery Salad
Oven Roasted Green Beans
Pears with Green Beans & Bacon
Persian Green Beans & Rice (Lubia Polo)
Sautéed Green Beans with Hazelnut Crumbs
Sesame & Portobello Green Beans
Sicilian Green Bean & Fennel Salad (Cooking Light)
Stir-Fried Green Beans with Pork & Chilies
Sweet & Sour Green Beans
Thai Green Beans (Cooking Light)
Three Bean Salad Recipe
White Bean, Green Bean & Red Bell Pepper Salad