This is a very popular Middle Eastern spread and one of the most popular of Greek appetizers.

In Greek it's melitzanosalata or eggplant salad. In Lebanese it's baba ghanouj. In our household we just call it delicious.

It's one of our favorite summer appetizer recipes. We have added this to our list of favorite make ahead appetizers. It's a great cold appetizer recipe for parties and it will definitely please your vegetarian friends.

This Mediterranean inspired dish doesn't require any exotic or hard to find ingredients. I served it along with an Afghan Barbary bread from Bakhtar Bakery that I found at our local international food store. Pita bread would also be a perfect with this dip.

Please read my "cook's notes" following the recipe.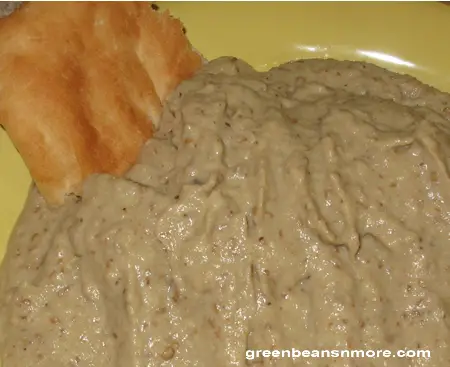 Baba Ghanouj (baba ghanoush)

1 large eggplant
3 - 4 large garlic cloves, unpeeled
1 teaspoon ground cumin
1 teaspoon ground coriander
1 tablespoon sesame seed paste (tahini)
2-3 tablespoons extra virgin olive oil
One lemon - start with juice from 1/2
salt & pepper to taste
Preheat oven to 400 degrees

Prick the eggplant all over with a fork. Place on a sheet tray in the oven for 25 minutes.

After 25 minutes place the unpeeled garlic cloves on the sheet tray with the eggplant and cook another 15-20 minutes, until the eggplant and garlic cloves are soft. Allow the eggplant and garlic to cool.
Cut the eggplant in half and scoop out the flesh into a food processor. Squeeze the cooked garlic cloves out of their peels and add to the food processor. Add the spices, sesame seed paste, olive oil and juice of 1/2 of the lemon. Pulse until smooth. Season to taste. Serve room temperature.

Serve with flatbread of your choice.

Cook's Notes: I have had baba ghanoush, so I knew how it should taste before I started this recipe. If it's your first time making it you'll need to do some experimentation. You really need to taste this dish to find what balance of flavors you prefer. I followed the recipe exactly. After tasting it I found I needed to add more spices, lemon juice and olive oil than is called for. I'd also suggest you add 3 cloves of garlic and taste it before adding the 4th clove. I ended up using 1/2 teaspoon of salt and 8 grinds of pepper. "Large eggplant" is a subjective term and the amount of spices you'll need is based on the size of the eggplant. Make sure you stir the tahini and incorporate the oil and paste well before you add it. We liked this best served room temperature.

Click here to print this recipe


---
Mediterranean & Middle Eastern Recipes
Greek Recipes
Baba Ghanouj (baba ghanoush)
Baked Cod with Orange, Caper & Olive Sauce
Greek Lemon & Egg Sauce (avgolemono)
Greek Shrimp with Feta Cheese (garides saganaki)
Shrimp and Caper Salad from Chef Cat Cora
Lebanese Recipes
Lamb Meatballs with Pine Nuts in Tomato Sauce, Chef Claudia Roden
Sephardic Recipes
Salata (cucumber salad)

Sicilian Recipes

Sicilian Green Bean & Fennel Salad
Sicilian Swordfish (swordish a la siciliana)
Syrian Recipes
Tasty & Easy Green Bean Recipes


Armenian Green Beans with Ground Meat and Tomatoes (Fassoulia)
Blanched Green Beans
Cream of Green Bean Soup (Company's Coming)
Fried Green Beans
Dilly Green Beans Recipe - Canning Recipe
Ginger Garlic Green Beans
Greek Green Beans
Greek Potatoes and Green Beans
Green Bean Soup (Company's Coming)
Green Beans a'la Waterman's
Green Beans Almondine
Green Beans Almondine (with a hint of lemon)
Green Beans Almondine (with an Asian flair)
Green Beans Almondine (with mushrooms)
Green Beans and Prosciutto Pasta Salad
Green Bean Casserole (Campbell's)
Green Bean Casserole (Cook's Illustrated)
Green Beans, Endive & Boston Lettuce Salad
Green Beans in Sour Cream & Tomato Sauce
Green Beans Provençal, Chef Simone Beck
Green Beans Provençal, Cooking Light
Green Bean Salad, Dill, Parsley & Savory
Green Bean Salad, Feta & Pecans
Green Bean Salad, Soy Glazed Almonds, Cilantro
Green Beans with Coconut
Green Beans with Ginger Butter
Green Beans with Onion Paste (Madhur Jaffrey)
Green Beans with Roman Mustard
Green Beans with Shallots
Italian Green Beans (St. Anna Beans)
Lemon Green Bean & Celery Salad
Oven Roasted Green Beans
Pears with Green Beans & Bacon
Persian Green Beans & Rice (Lubia Polo)
Sautéed Green Beans with Hazelnut Crumbs
Sesame & Portobello Green Beans
Sicilian Green Bean & Fennel Salad (Cooking Light)
Stir-Fried Green Beans with Pork & Chilies
Sweet & Sour Green Beans
Thai Green Beans (Cooking Light)
Three Bean Salad Recipe
White Bean, Green Bean & Red Bell Pepper Salad