Swordfish a la Siciliana

I found this flavorful swordfish recipe on Allrecipes. Since I've been cooking more Mediterranean based dishes I have olives and capers in my refrigerator on a regular basis. I always have olive oil, onion and garlic and I had raisins from the broccoli salad I made. We have a local farm stand with fresh tomatoes, so the rest was easy! My husband, who insisted he doesn't like raisins enjoyed them in this dish. As you can see, I served it with asparagus, another of our favorite vegetables.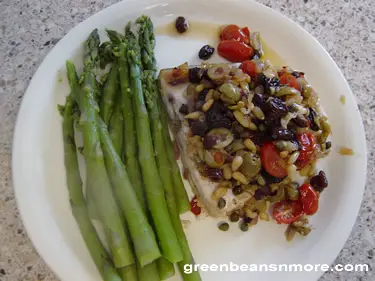 Swordfish a la Siciliana

2 ounces raisins
3 tablespoons plus 1 teaspoon olive oil
2/3 small onion, minced
2/3 clove garlic, minced
5 ounces ripe tomatoes, diced (slightly more than 1/2 cup)
6-7 green olives, pitted and minced (I used Spanish olives)
1 1/2 ounces pine nuts
2 tablespoons and 2 teaspoons capers
1 1/4 lbs. Swordfish steaks
Salt and pepper to taste

Soak the raisins in lukewarm water for thirty minutes. Drain. Preheat oven to 400 degrees

Heat the olive oil in a saucepan over high heat and saute onion and garlic until soft. Stir in the raisins. tomatoes, olives, pine nuts and capers. Cover, reduce heat to medium and cook 15 minutes.
Season the swordfish with salt and pepper. Place in lightly oiled baking dish and cover with cooked sauce. Bake for 15 - 20 minutes or until steaks are firm.

Serves 4

Click here to print this recipe


---
Mediterranean & Middle Eastern Recipes
Greek Recipes
Baba Ghanouj (baba ghanoush)
Baked Cod with Orange, Caper & Olive Sauce
Greek Lemon & Egg Sauce (avgolemono)
Greek Shrimp with Feta Cheese (garides saganaki)
Shrimp and Caper Salad from Chef Cat Cora
Lebanese Recipes
Lamb Meatballs with Pine Nuts in Tomato Sauce, Chef Claudia Roden
Sephardic Recipes
Salata (cucumber salad)

Sicilian Recipes

Sicilian Green Bean & Fennel Salad
Sicilian Swordfish (swordish a la siciliana)
Syrian Recipes
Tasty & Easy Green Bean Recipes


Armenian Green Beans with Ground Meat and Tomatoes (Fassoulia)
Blanched Green Beans
Cream of Green Bean Soup (Company's Coming)
Fried Green Beans
Dilly Green Beans Recipe - Canning Recipe
Ginger Garlic Green Beans
Greek Green Beans
Greek Potatoes and Green Beans
Green Bean Soup (Company's Coming)
Green Beans a'la Waterman's
Green Beans Almondine
Green Beans Almondine (with a hint of lemon)
Green Beans Almondine (with an Asian flair)
Green Beans Almondine (with mushrooms)
Green Beans and Prosciutto Pasta Salad
Green Bean Casserole (Campbell's)
Green Bean Casserole (Cook's Illustrated)
Green Beans, Endive & Boston Lettuce Salad
Green Beans in Sour Cream & Tomato Sauce
Green Beans Provençal, Chef Simone Beck
Green Beans Provençal, Cooking Light
Green Bean Salad, Dill, Parsley & Savory
Green Bean Salad, Feta & Pecans
Green Bean Salad, Soy Glazed Almonds, Cilantro
Green Beans with Coconut
Green Beans with Ginger Butter
Green Beans with Onion Paste (Madhur Jaffrey)
Green Beans with Roman Mustard
Green Beans with Shallots
Italian Green Beans (St. Anna Beans)
Lemon Green Bean & Celery Salad
Oven Roasted Green Beans
Pears with Green Beans & Bacon
Persian Green Beans & Rice (Lubia Polo)
Sautéed Green Beans with Hazelnut Crumbs
Sesame & Portobello Green Beans
Sicilian Green Bean & Fennel Salad (Cooking Light)
Stir-Fried Green Beans with Pork & Chilies
Sweet & Sour Green Beans
Thai Green Beans (Cooking Light)
Three Bean Salad Recipe
White Bean, Green Bean & Red Bell Pepper Salad