Persian Chicken Kebabs

These chicken kababs or Kebab Digi couldn't be easier to make. One thing is necessary - you MUST let them marinate overnight or they won't taste as they should. No, a six hour or eight hour marinade won't do, they MUST marinate overnight - or longer. They have a fabulous subtle flavor that'll be unlike anything you've ever tasted before. It's my favorite way to cook chicken kebabs.

This recipe can be found in the cookbook Sephardic Cooking by Copeland Marks.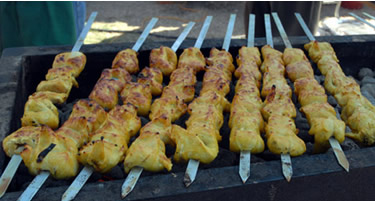 Kebab Digi
(Pan Kebabs)

2 pounds boneless chicken or turkey, cut into 2 inch cubes
1 teaspoon salt
1/4 teaspoon pepper
1/4 teaspoon whole saffron, crushed with 1/4 teaspoon sugar, dissolved in 1 teaspoon warm water
2 tablespoons lemon juice
1 medium onion, grated and then squeezed out to make liquid for the marinade

Put the saffron and sugar in a small bowl. Using the back of a spoon rub them together to break up and blend the saffron into the sugar. Add one teaspoon warm water and dissolve.
Mix everything together and marinate overnight.
Skewer the chicken and cook until done.

Serves 6 (with other dishes)
These kebabs are best, and authentic, when cooked over a coal fire. However, they can be cooked under the broiler, in a frying pan, stove top grill or gas grill.

Click here to print this recipe


---
Persian/Iranian Recipes

Cheese and Walnut Dip
Fesenjan (Chicken in Walnut Pomegranate Sauce)
Lamb with Persian Rhubarb Sauce
Orange & Saffron Butter Cookies
Persian Carrots (glazed carrots)
Persian Chicken Kebabs with Saffron
Persian Green Beans & Rice (Lubia Polo)
Persian Love Cake
Persian Sweet Rice, Shirin Polo
Sumac Chicken with Bread Salad
Tasty & Easy Green Bean Recipes


Armenian Green Beans with Ground Meat and Tomatoes (Fassoulia)
Blanched Green Beans
Cream of Green Bean Soup (Company's Coming)
Fried Green Beans
Dilly Green Beans Recipe - Canning Recipe
Ginger Garlic Green Beans
Greek Green Beans
Greek Potatoes and Green Beans
Green Bean Soup (Company's Coming)
Green Beans a'la Waterman's
Green Beans Almondine
Green Beans Almondine (with a hint of lemon)
Green Beans Almondine (with an Asian flair)
Green Beans Almondine (with mushrooms)
Green Beans and Prosciutto Pasta Salad
Green Bean Casserole (Campbell's)
Green Bean Casserole (Cook's Illustrated)
Green Beans, Endive & Boston Lettuce Salad
Green Beans in Sour Cream & Tomato Sauce
Green Beans Provençal, Chef Simone Beck
Green Beans Provençal, Cooking Light
Green Bean Salad, Dill, Parsley & Savory
Green Bean Salad, Feta & Pecans
Green Bean Salad, Soy Glazed Almonds, Cilantro
Green Beans with Coconut
Green Beans with Ginger Butter
Green Beans with Onion Paste (Madhur Jaffrey)
Green Beans with Roman Mustard
Green Beans with Shallots
Italian Green Beans (St. Anna Beans)
Lemon Green Bean & Celery Salad
Oven Roasted Green Beans
Pears with Green Beans & Bacon
Persian Green Beans & Rice (Lubia Polo)
Sautéed Green Beans with Hazelnut Crumbs
Sesame & Portobello Green Beans
Sicilian Green Bean & Fennel Salad (Cooking Light)
Stir-Fried Green Beans with Pork & Chilies
Sweet & Sour Green Beans
Thai Green Beans (Cooking Light)
Three Bean Salad Recipe
White Bean, Green Bean & Red Bell Pepper Salad