I first had this Persian rice dish at the Orchard Market and Cafe in Towson Maryland about 14 years ago and I've had it many times since. They describe their Shirin Polo this way; "a colorful presentation of bone-in poached chicken in an orange-mango-saffron sauce. Basmati rice with carrots, currants, raisins, and nuts." So, naturally when I was looking to recreate this sweet rice dish at home I wanted a very similar recipe.
I have to give a nod to several different sources for this recipe. First is worldwidegourmet.com for the recipe (which I used almost verbatim except for a change or two), second is Najmieh Batmanglij, third is Nesta Ramazini. Batmanglij and Ramazini are both Persian cookbook authors whose techniques I incorporated in the preparation of the recipe, the preparation of the rice, and for the cooking the dish.
This is a time consuming dish to prepare from start to finish, but I was very pleased with the overall results.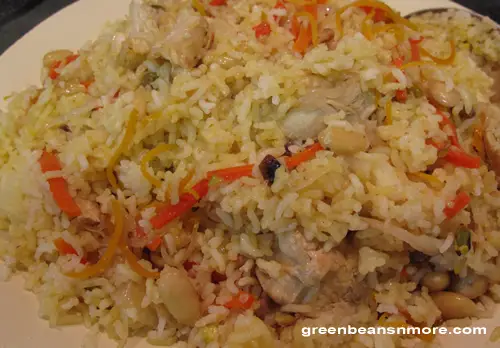 Shirin Polo

Serves 4-6

Ingredients
Skin from one orange (preferably organic), cut into thin strips
1/2 cup butter
3 carrots, cut into thin sticks
1 cup whole blanched almonds
3/4 cup sugar
1 teaspoon saffron threads
1/4 cup chopped unsalted pistachios
1/4 cup vegetable oil
2 onions, thinly sliced
3 lb. chicken breasts, cut into 6-8 pieces
5 cups water
Salt & pepper
2 cups uncooked rice

Preparation

Peel the orange skin in long strips, do not include the pith. Slice into thin strips. Place the orange zest in a small saucepan. Cover with water and bring to a boil. Remove from the heat, rinse under cold water and drain.
Melt the butter in a saucepan. Add the carrots and cook for 10 minutes or until the carrots are tender.
Place 1 or 2 tablespoons of the sugar and the saffron in a mortal and pestle. Crush together into an orange powder. Dissolve the saffron powder in a glass with 2 tablespoons very hot water.
Add the orange zest, almonds, sugar and saffron to the carrots. Cover and cook over low heat for 20 minutes.
Add the pistachios and cook 5 minutes longer.
Meanwhile:
Peel and thinly slice onions. Fry in oil until slightly golden. Remove onions and drain on paper towel. Add chicken to the same pan and brown on both sides. Remove the chicken and pour off the fat and return the chicken to the pan.
Season the chicken with salt; arrange the onions on top; pour the water over and bring to a boil over high heat. Cover and reduce the heat and simmer for 20 - 30 minutes or until the chicken is cooked and tender. Remove the chicken and onions to a dish. Save 1/2 cup of cooking liquid.
Let chicken cool.
While the chicken is cooking, cook the rice according to the traditional Iranian method - see below.
Add a small amount of oil and hot water to 1/3 of rice, then spread the rice evenly over the bottom of a heavy pot.
As you add the remaining ingredients pile them into a pyramid shape to allow the rice to expand.
Layer 1/2 chicken pieces over the bottom layer of rice, then layer 1/2 of the orange carrot mix. Add another layer of 1/3 rice, then layer rest of chicken and orange carrot mix. Cover with remaining rice. Pour the reserved chicken juice over the rice. Place a kitchen towel over the top of pot to prevent steam from escaping. Place pot in a 350 degree oven for 30-40 minutes.
Serve hot.

To prepare rice:
Rinse the rice 4-6 times, swirling rice with fingers until the water becomes clear. Then soak rice in fresh warm water for 3-4 hours. Drain.
Place 6-8 cups of water in a large pot and bring to boil. Add the rice slowly, stirring so you don't break the boil. Boil rice briskly for 6 minutes stirring occasionally. Rinse the rice under cold water and drain well.


Click here to print this recipe


---
Persian/Iranian Recipes

Cheese and Walnut Dip
Fesenjan (Chicken in Walnut Pomegranate Sauce)
Lamb with Persian Rhubarb Sauce
Orange & Saffron Butter Cookies
Persian Carrots (glazed carrots)
Persian Chicken Kebabs with Saffron
Persian Green Beans & Rice (Lubia Polo)
Persian Love Cake
Persian Sweet Rice, Shirin Polo
Sumac Chicken with Bread Salad
Tasty & Easy Green Bean Recipes


Armenian Green Beans with Ground Meat and Tomatoes (Fassoulia)
Blanched Green Beans
Cream of Green Bean Soup (Company's Coming)
Fried Green Beans
Dilly Green Beans Recipe - Canning Recipe
Ginger Garlic Green Beans
Greek Green Beans
Greek Potatoes and Green Beans
Green Bean Soup (Company's Coming)
Green Beans a'la Waterman's
Green Beans Almondine
Green Beans Almondine (with a hint of lemon)
Green Beans Almondine (with an Asian flair)
Green Beans Almondine (with mushrooms)
Green Beans and Prosciutto Pasta Salad
Green Bean Casserole (Campbell's)
Green Bean Casserole (Cook's Illustrated)
Green Beans, Endive & Boston Lettuce Salad
Green Beans in Sour Cream & Tomato Sauce
Green Beans Provençal, Chef Simone Beck
Green Beans Provençal, Cooking Light
Green Bean Salad, Dill, Parsley & Savory
Green Bean Salad, Feta & Pecans
Green Bean Salad, Soy Glazed Almonds, Cilantro
Green Beans with Coconut
Green Beans with Ginger Butter
Green Beans with Onion Paste (Madhur Jaffrey)
Green Beans with Roman Mustard
Green Beans with Shallots
Italian Green Beans (St. Anna Beans)
Lemon Green Bean & Celery Salad
Oven Roasted Green Beans
Pears with Green Beans & Bacon
Persian Green Beans & Rice (Lubia Polo)
Sautéed Green Beans with Hazelnut Crumbs
Sesame & Portobello Green Beans
Sicilian Green Bean & Fennel Salad (Cooking Light)
Stir-Fried Green Beans with Pork & Chilies
Sweet & Sour Green Beans
Thai Green Beans (Cooking Light)
Three Bean Salad Recipe
White Bean, Green Bean & Red Bell Pepper Salad