I am always looking for new and interesting ways to cook carrots. I am also always looking for a reason to cook Persian. I found this glazed carrot recipe on the blog karenfood.blogspot.com. Actually it's only one of many tasty recipes that I want to try from this blog.

Don't be afraid of this dish. It's candied carrots glazed in brown sugar and ginger. What makes it "Persian" is the addition of almonds, raisins and dates.
I had everything I needed, except for the dates, but didn't think it would affect the final outcome too much, and it didn't. We really enjoyed them. The almonds added a wonderful nutty flavor, the raisins (I used currants) add sweetness and the grated fresh ginger just a bit of warmth.

This glazed carrot side dish would be a tasty compliment to any meal.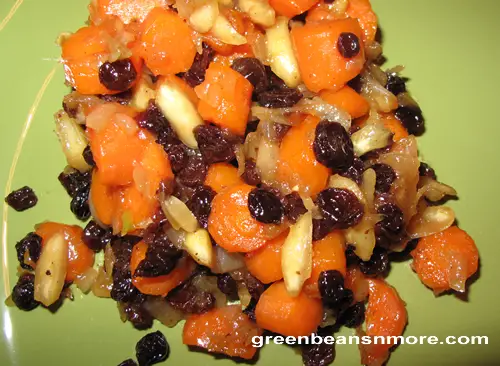 Persian Carrots

4-5 medium carrots, sliced on the diagonal
1 medium onion, chopped
2 tbs butter
1/4 cup raisins
1/4 cup sliced almonds
1/2 cup chopped dates
1 inch grated fresh ginger
salt and pepper to taste
1 tbs brown sugar
In a sauté pan on medium high heat, sauté onions in butter until beginning to soften. Add sliced carrots and stir. After a few minutes, add the raisins, almonds, dates, ginger and salt and pepper. Continue cooking for several minutes until the carrots begin to soften. Add brown sugar and reduce heat until ready to serve.

Click here to print this recipe


---
Persian/Iranian Recipes

Cheese and Walnut Dip
Fesenjan (Chicken in Walnut Pomegranate Sauce)
Lamb with Persian Rhubarb Sauce
Orange & Saffron Butter Cookies
Persian Carrots (glazed carrots)
Persian Chicken Kebabs with Saffron
Persian Green Beans & Rice (Lubia Polo)
Persian Love Cake
Persian Sweet Rice, Shirin Polo
Sumac Chicken with Bread Salad
Tasty & Easy Green Bean Recipes


Armenian Green Beans with Ground Meat and Tomatoes (Fassoulia)
Blanched Green Beans
Cream of Green Bean Soup (Company's Coming)
Fried Green Beans
Dilly Green Beans Recipe - Canning Recipe
Ginger Garlic Green Beans
Greek Green Beans
Greek Potatoes and Green Beans
Green Bean Soup (Company's Coming)
Green Beans a'la Waterman's
Green Beans Almondine
Green Beans Almondine (with a hint of lemon)
Green Beans Almondine (with an Asian flair)
Green Beans Almondine (with mushrooms)
Green Beans and Prosciutto Pasta Salad
Green Bean Casserole (Campbell's)
Green Bean Casserole (Cook's Illustrated)
Green Beans, Endive & Boston Lettuce Salad
Green Beans in Sour Cream & Tomato Sauce
Green Beans Provençal, Chef Simone Beck
Green Beans Provençal, Cooking Light
Green Bean Salad, Dill, Parsley & Savory
Green Bean Salad, Feta & Pecans
Green Bean Salad, Soy Glazed Almonds, Cilantro
Green Beans with Coconut
Green Beans with Ginger Butter
Green Beans with Onion Paste (Madhur Jaffrey)
Green Beans with Roman Mustard
Green Beans with Shallots
Italian Green Beans (St. Anna Beans)
Lemon Green Bean & Celery Salad
Oven Roasted Green Beans
Pears with Green Beans & Bacon
Persian Green Beans & Rice (Lubia Polo)
Sautéed Green Beans with Hazelnut Crumbs
Sesame & Portobello Green Beans
Sicilian Green Bean & Fennel Salad (Cooking Light)
Stir-Fried Green Beans with Pork & Chilies
Sweet & Sour Green Beans
Thai Green Beans (Cooking Light)
Three Bean Salad Recipe
White Bean, Green Bean & Red Bell Pepper Salad