One of my favorite cookbooks in my collection is Persian Cooking: A Table of Exotic Delights, by Nesta Ramazani. I know that anything I choose to cook out of this book is going to be delicious. I hadn't had Fesenjan in quite a few years when I made this recipe, and found it a bit daunting the first time to get the sweet-sour ratio to my liking, but once I did, it was wonderful. As you can see from the picture the sauce was, as Nesta Ramazani describes it, "rich, dark, sweet-sour and thick". I served this with couscous, but this is a perfect time to make a wonderful Persian rice dish - make sure you use basmati rice!

Khoresht e Fesenjan

2 large onions, chopped or sliced
5 Tbsp butter
1 large fryer chicken or 5 whole chicken breasts
1 can beef bouillon or consommé
1 cup water
2 1/2 cups finely ground walnuts
4-5 Tbsp pomegranate syrup (substitute sour cranberry juice)
2-3 Tbsp sugar
2-3 tsp salt
1/2 tsp saffron (or turmeric)
1/4 tsp cinnamon
1/4 tsp nutmeg
1/4 tsp pepper
2 Tbsp lemon juice
Sauté the onions in two tablespoons of the butter until golden brown. Remove from the pan. Add the remaining three tablespoons of butter and sauté the chicken pieces until light brown. Add the bouillon and sautéed onions. Cover and simmer gently for 30 minutes. Remove the chicken from the cooking liquid. Discard the liquid. Cool and bone the chicken..
In a separate pan prepare the sauce by stirring the water into the ground walnuts. Stir in the pomegranate syrup and sugar, and simmer gently over a low heat for 10-15 minutes.
Combine the cooked, boned chicken and most of its drippings with the walnut sauce; add the seasonings and the lemon juice; cover and simmer gently for another hour. Adjust the seasonings by adding a little sugar if too sour, or more pomegranate syrup if too sweet. The chicken pieces should be coated with a rich, dark, sweet-sour sauce; there should be plenty of thick sauce. Serve with rice.

Cook's Tips: As stated in the recipe you can use one large fryer chicken or five chicken breasts. The fryer chicken is a better choice as the dark meat help add richness to the dish. You should simmer this dish until the oil separates from the sauce and swims on top. The flavor of this dish is best after it sits overnight.

Click here to print this recipe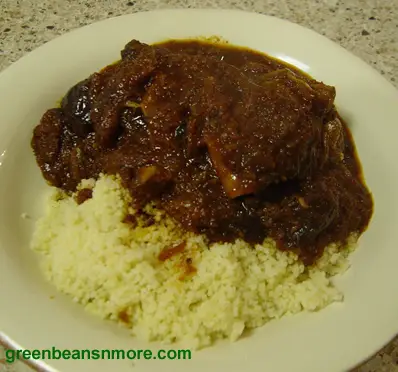 ---
Persian/Iranian Recipes

Cheese and Walnut Dip
Fesenjan (Chicken in Walnut Pomegranate Sauce)
Lamb with Persian Rhubarb Sauce
Orange & Saffron Butter Cookies
Persian Carrots (glazed carrots)
Persian Chicken Kebabs with Saffron
Persian Green Beans & Rice (Lubia Polo)
Persian Love Cake
Persian Sweet Rice, Shirin Polo
Sumac Chicken with Bread Salad
Tasty & Easy Green Bean Recipes


Armenian Green Beans with Ground Meat and Tomatoes (Fassoulia)
Blanched Green Beans
Cream of Green Bean Soup (Company's Coming)
Fried Green Beans
Dilly Green Beans Recipe - Canning Recipe
Ginger Garlic Green Beans
Greek Green Beans
Greek Potatoes and Green Beans
Green Bean Soup (Company's Coming)
Green Beans a'la Waterman's
Green Beans Almondine
Green Beans Almondine (with a hint of lemon)
Green Beans Almondine (with an Asian flair)
Green Beans Almondine (with mushrooms)
Green Beans and Prosciutto Pasta Salad
Green Bean Casserole (Campbell's)
Green Bean Casserole (Cook's Illustrated)
Green Beans, Endive & Boston Lettuce Salad
Green Beans in Sour Cream & Tomato Sauce
Green Beans Provençal, Chef Simone Beck
Green Beans Provençal, Cooking Light
Green Bean Salad, Dill, Parsley & Savory
Green Bean Salad, Feta & Pecans
Green Bean Salad, Soy Glazed Almonds, Cilantro
Green Beans with Coconut
Green Beans with Ginger Butter
Green Beans with Onion Paste (Madhur Jaffrey)
Green Beans with Roman Mustard
Green Beans with Shallots
Italian Green Beans (St. Anna Beans)
Lemon Green Bean & Celery Salad
Oven Roasted Green Beans
Pears with Green Beans & Bacon
Persian Green Beans & Rice (Lubia Polo)
Sautéed Green Beans with Hazelnut Crumbs
Sesame & Portobello Green Beans
Sicilian Green Bean & Fennel Salad (Cooking Light)
Stir-Fried Green Beans with Pork & Chilies
Sweet & Sour Green Beans
Thai Green Beans (Cooking Light)
Three Bean Salad Recipe
White Bean, Green Bean & Red Bell Pepper Salad