I am enchanted by Persian and Moroccan cuisine. I had an opportunity to make friends a Persian and Moroccan feast a while back. I'm lucky to have a Persian grocer within a half hour of my home where I can buy all the special ingredients I need.
I prepared four appetizers for our dinner, Eggplant Slices (from the cookbook Arabesque) , Yogurt and Cucumber with Persian spices, Zucchini Fritters (Arabesque) and this Cheese and Walnut Dip from the cookbook New Food of Life by Najmieh Batmanglij.
This was a most delicious dip with a most unusual flavor from the paneer and walnuts. As with most foods, it's best after it sits a few days and the flavors have a chance to develop. This is a very thick dip best served at room temperature. Please read my "cook's tip" following the recipe.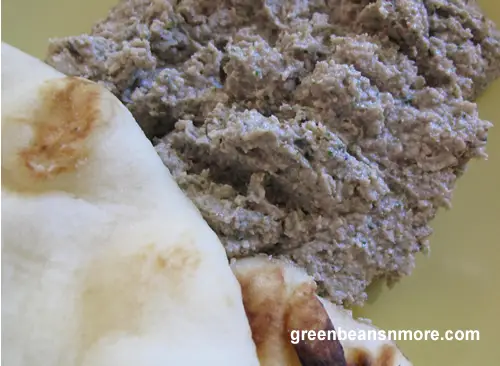 Cheese & Walnut Dip

1/2 lb. white cheese, chopped
2 cups shelled walnuts, chopped
2 tablespoons chopped fresh scallions
2 tablespoons chopped fresh basil
2 tablespoons chopped fresh tarragon
2 tablespoons chopped fresh mint
1 clove garlic, peeled and crushed
1/2 teaspoon salt
1/4 teaspoon freshly ground black pepper
Juice of one lime
1/4 cup olive oil
In a food processor or in a bowl, mix the cheese, chopped walnuts, scallions, fresh herbs and garlic.
Add salt, pepper, lime juice and olive oil, mix well
Transfer the mixture to a serving bowl.

Cook's tip: This is a simple recipe that comes together quickly, however, you need a food processor in order to get the proper consistency of the cheese and walnuts. I would NOT recommend trying this recipe if you don't own a food processor.


Click here to print this recipe


---
Persian/Iranian Recipes

Cheese and Walnut Dip
Fesenjan (Chicken in Walnut Pomegranate Sauce)
Lamb with Persian Rhubarb Sauce
Orange & Saffron Butter Cookies
Persian Carrots (glazed carrots)
Persian Chicken Kebabs with Saffron
Persian Green Beans & Rice (Lubia Polo)
Persian Love Cake
Persian Sweet Rice, Shirin Polo
Sumac Chicken with Bread Salad
Tasty & Easy Green Bean Recipes


Armenian Green Beans with Ground Meat and Tomatoes (Fassoulia)
Blanched Green Beans
Cream of Green Bean Soup (Company's Coming)
Fried Green Beans
Dilly Green Beans Recipe - Canning Recipe
Ginger Garlic Green Beans
Greek Green Beans
Greek Potatoes and Green Beans
Green Bean Soup (Company's Coming)
Green Beans a'la Waterman's
Green Beans Almondine
Green Beans Almondine (with a hint of lemon)
Green Beans Almondine (with an Asian flair)
Green Beans Almondine (with mushrooms)
Green Beans and Prosciutto Pasta Salad
Green Bean Casserole (Campbell's)
Green Bean Casserole (Cook's Illustrated)
Green Beans, Endive & Boston Lettuce Salad
Green Beans in Sour Cream & Tomato Sauce
Green Beans Provençal, Chef Simone Beck
Green Beans Provençal, Cooking Light
Green Bean Salad, Dill, Parsley & Savory
Green Bean Salad, Feta & Pecans
Green Bean Salad, Soy Glazed Almonds, Cilantro
Green Beans with Coconut
Green Beans with Ginger Butter
Green Beans with Onion Paste (Madhur Jaffrey)
Green Beans with Roman Mustard
Green Beans with Shallots
Italian Green Beans (St. Anna Beans)
Lemon Green Bean & Celery Salad
Oven Roasted Green Beans
Pears with Green Beans & Bacon
Persian Green Beans & Rice (Lubia Polo)
Sautéed Green Beans with Hazelnut Crumbs
Sesame & Portobello Green Beans
Sicilian Green Bean & Fennel Salad (Cooking Light)
Stir-Fried Green Beans with Pork & Chilies
Sweet & Sour Green Beans
Thai Green Beans (Cooking Light)
Three Bean Salad Recipe
White Bean, Green Bean & Red Bell Pepper Salad