When I saw this recipe for Sumac Chicken and Bread Salad on Chowhound I knew I had to try it. Sumac spice is found in Persian recipes. Most people aren't familiar with it. Ground sumac is sometimes called "powdered culinary sumac". It has a tart sour lemon flavor and a dark burgundy color.
This is a perfect summertime dish and excellent for entertaining family and friends. It's flavorful and light.

The chicken is flattened and marinated in a sumac paste. It is then baked over the bread. The skin of the chicken becomes crisp and the chicken wonderfully flavored with the sumac. Some of the bread becomes soft from the juices of the chicken, some remain hard. The bread becomes what my friend called the "ultimate croutons" when fresh tomatoes and cucumber are added.
Please read my "cook's notes" following the recipe.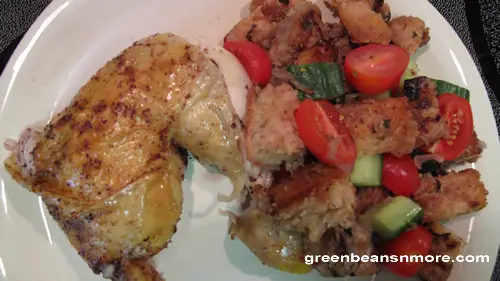 Sumac Chicken & Bread Salad
INGREDIENTS
1 (3- to 3-1/2-pound) chicken
Coarse salt and freshly ground black pepper
2 tablespoons ground sumac or
5 tablespoons olive oil, divided
2 large red onions (about 1 pound), sliced thinly
2 large garlic cloves, minced
2 tablespoons chopped fresh flat-leaf parsley
3/4 pounds dense bread (such as farm bread or pane de casa), cut into 1-inch cubes
3 Kirby cucumbers, quartered lengthwise, cut into 1/4-inch slices, and tossed with a big pinch of salt
1 large ripe summer tomato, cored and cut into chunks
Juice of 1/2 lemon, or to taste

INSTRUCTIONS

Cut the back bone out of the chicken with kitchen shears and flatten the chicken. Season it generously with salt and pepper on both sides. Make a paste with the sumac and 2 tablespoons of olive oil, and rub the paste into both sides of the chicken. Refrigerate on a plate—no need to cover—for about 8 hours. Or, if you haven't planned ahead, just leave the seasoned chicken on the counter while you prepare the onions and bread.

Heat the oven to 375°F.

Put the onions and the remaining 3 tablespoons of olive oil in a large skillet over medium-high heat. Salt the onions and cook, stirring once in a while, until they are limp and turning gold at the edges, around 9 minutes. Add the garlic and parsley, and cook until fragrant, about 30 seconds. Scrape the onions into a large mixing bowl and add the cubed bread. Toss.

Oil a casserole dish large enough to hold the bread in a single layer (I use a 12-inch round terra-cotta dish). Scrape in the bread and onions, and spread them out. Set the chicken on top of the bread and roast for 1 hour.

Set the chicken on a cutting board and let it rest for 10 minutes.

Scrape the bread out into a big mixing bowl and let it cool for about 5 minutes. Add the cucumbers and tomato, squeeze in the lemon juice, and toss. Check for salt and pepper, and add more lemon juice if you want.
Pile the salad onto a platter. Cut the chicken into quarters and arrange it around the salad. It's ready to serve.


Cook's notes: I did not rub the sumac paste under the chicken skin. I will do it next time. I did marinate the chicken for 8 hours. This may be why it was so successful for me. I don't think you'd get the same flavor from a short marinade time. I stopped into two local bakeries and could not find farm bread or pane de casa so I used a combination of ciabatta and bakery made whole wheat, it worked well. Do NOT salt the onions while they are cooking! This will make them release their juices and they will never brown. Salt them AFTER they have turned golden brown. Make sure you buy LARGE onions. You'll want a lot as they really add to the dish. I used grape tomatoes and halved them. I baked this in a 4 qt. (9x13x2) roasting pan.
Click here to print this recipe
---
Persian/Iranian Recipes

Cheese and Walnut Dip
Fesenjan (Chicken in Walnut Pomegranate Sauce)
Lamb with Persian Rhubarb Sauce
Orange & Saffron Butter Cookies
Persian Carrots (glazed carrots)
Persian Chicken Kebabs with Saffron
Persian Green Beans & Rice (Lubia Polo)
Persian Love Cake
Persian Sweet Rice, Shirin Polo
Sumac Chicken with Bread Salad
Tasty & Easy Green Bean Recipes


Armenian Green Beans with Ground Meat and Tomatoes (Fassoulia)
Blanched Green Beans
Cream of Green Bean Soup (Company's Coming)
Fried Green Beans
Dilly Green Beans Recipe - Canning Recipe
Ginger Garlic Green Beans
Greek Green Beans
Greek Potatoes and Green Beans
Green Bean Soup (Company's Coming)
Green Beans a'la Waterman's
Green Beans Almondine
Green Beans Almondine (with a hint of lemon)
Green Beans Almondine (with an Asian flair)
Green Beans Almondine (with mushrooms)
Green Beans and Prosciutto Pasta Salad
Green Bean Casserole (Campbell's)
Green Bean Casserole (Cook's Illustrated)
Green Beans, Endive & Boston Lettuce Salad
Green Beans in Sour Cream & Tomato Sauce
Green Beans Provençal, Chef Simone Beck
Green Beans Provençal, Cooking Light
Green Bean Salad, Dill, Parsley & Savory
Green Bean Salad, Feta & Pecans
Green Bean Salad, Soy Glazed Almonds, Cilantro
Green Beans with Coconut
Green Beans with Ginger Butter
Green Beans with Onion Paste (Madhur Jaffrey)
Green Beans with Roman Mustard
Green Beans with Shallots
Italian Green Beans (St. Anna Beans)
Lemon Green Bean & Celery Salad
Oven Roasted Green Beans
Pears with Green Beans & Bacon
Persian Green Beans & Rice (Lubia Polo)
Sautéed Green Beans with Hazelnut Crumbs
Sesame & Portobello Green Beans
Sicilian Green Bean & Fennel Salad (Cooking Light)
Stir-Fried Green Beans with Pork & Chilies
Sweet & Sour Green Beans
Thai Green Beans (Cooking Light)
Three Bean Salad Recipe
White Bean, Green Bean & Red Bell Pepper Salad