I promise you that this is the most amazing cake you'll ever make. Even if you only make it one time, promise me you'll make it.

It's such a change from the typical white and chocolate cake recipes you usually make. Don't be put off by the fact that it's called Persian Love Cake. What it contains are the very best of Persian flavors.

The cake itself has a hint of cardamom and lemon. The light icing contains saffron and rosewater. Sprinkled across the top are rose petals and pistachios. It's a magical combination.

Everyone in my family, and my friends absolutely loved it. This cake is a combination of sweet and spicy, floral and citrus. This is an easy homemade cake recipe. The cake itself is a meringue cake, very light. It would make a fabulous birthday cake, or cake for a special romantic evening. My mother-in-law said I could go into the wedding cake business with it, now that's a compliment!


I found this recipe on Epicurious. It's attributed to Bon Appetit Magazine. I have added some hopefully helpful comments.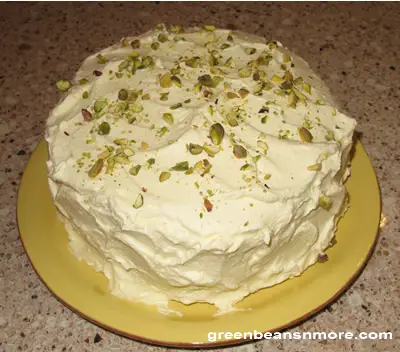 Persian Love Cake

Candied Rose Petals
You will need to prepare these the night before you make the cake. Make sure that you buy organically grown roses. The cake does not need these as there is rosewater in the icing, nor does it need the addition of pistachios, but it makes it much more special.
*2 large egg whites
* 1/2 cup sugar (you do not need superfine sugar for this)
* Petals from 2 organic roses

Whisk egg whites in small bowl until foamy. Using pastry brush, brush rose petals on both sides with egg whites; sprinkle on both sides with sugar. Dry on nonstick rack at least 6 hours or overnight.

Cake

Preheat oven to 325°F. Butter two 8-inch-diameter cake pans with 1 1/2-inch-high sides. Line pan bottoms with parchment paper; butter parchment
* 1 cup cake flour
* 14 tablespoons baker's sugar or superfine sugar, divided
* 1 1/2 teaspoons baking powder
* 1/4 teaspoon coarse kosher salt
* 3 large eggs, separated
* 6 tablespoons water
* 1/4 cup canola oil
* 1 teaspoon grated lemon peel
* 1/4 teaspoon whole cardamom seeds (removed from about 5 green cardamom pods). Grind the seeds or use a mortar and pestle. I'd definitely suggest you use the seeds from the pods. They're much more pungent than jarred ground cardamom.

Sift flour, 7 tablespoons baker's sugar, baking powder, and salt into large bowl. Whisk yolks, water, canola oil and grated lemon peel and cardamom in small bowl until smooth. Add yolk mixture to dry ingredients; whisk until smooth. Beat egg whites in medium bowl until soft peaks form. Gradually add 7 tablespoons baker's sugar; beat until whites resemble thick marshmallow fluff. Fold whites into batter in 3 additions. Divide batter between prepared pans. Bake until cakes are golden and tester inserted into center comes out clean, about 25 minutes.

Cool in pans on racks 15 minutes. Turn out onto racks, peel off parchment, and cool completely. (Can be prepared 1 day ahead. Wrap and store at room temperature.)

Frosting

This icing recipe makes a lot so you can be generous with it.
* 2 1/2 cups chilled heavy whipping cream, divided
* Pinch of saffron threads - I have read online some people say they made the icing without the saffron. It's a very important flavor component. If you don't have saffron, don't make it.
* 2/3 cup powdered sugar
* 1 teaspoon rose water

Combine 1/2 cup cream and saffron in small saucepan. Bring to simmer. Remove from heat; let steep 20 minutes. Chill until cold.

Beat remaining 2 cups cream, powdered sugar, and rose water in large bowl until soft peaks form; strain in saffron cream. Straining the saffron removes any lumps that occurred while simmering the cream and the saffron threads. I recommend you strain it but you don't have to. Either way the flavor/outcome is the same.

Beat until peaks form.

Decorate the iced cake with rose petals and pistachios.

* 2 tablespoons natural unsalted pistachios -slightly chopped
Natural unsalted pistachios can be difficult to find. Whatever you do DO NOT USE roasted salted pistachios. You may find natural unsalted pistachios in stores like Whole Foods or a local ethnic market. If you are lucky you may be able to find Persian Slivered Pistachios. They can be ordered online.

Let the cake chill for one hour. It's best eaten same day, or next day to retain it's best flavor and freshness.

Click here to print this recipe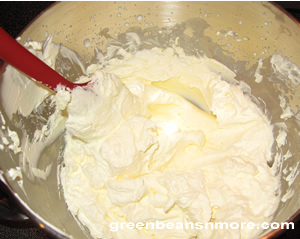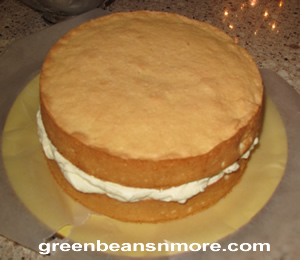 ---
Dessert Recipes


Cake & Frosting Recipes
Chocolate Buttercream Frosting Recipe
Chocolate Pound Cake
Crumb Cake
Persian Love Cake
Pound Cake Recipe (Cold Oven)
Red Velvet Cake & Butter Cream Icing
Ultra Lemon Bundt Cake
Yellow Cake Recipe from Eve's Restaurant


Cookie Recipes
Greek Almond Cookies (Kourabiethes)
Mrs. Field's Chocolate Chip Cookies
Orange Saffron Butter Cookies
Pumpkin Whoopie Pies with Cream Cheese Filling


Cupcake Recipes
Miscellaneous Dessert Recipes

Chocolate Truffle Loaf with Raspberry Sauce
Sweet Moroccan Couscous
Sweet Stuffed Dates


Pie Recipes
Persian/Iranian Recipes

Cheese and Walnut Dip
Fesenjan (Chicken in Walnut Pomegranate Sauce)
Lamb with Persian Rhubarb Sauce
Orange & Saffron Butter Cookies
Persian Carrots (glazed carrots)
Persian Chicken Kebabs with Saffron
Persian Green Beans & Rice (Lubia Polo)
Persian Love Cake
Persian Sweet Rice, Shirin Polo
Sumac Chicken with Bread Salad
Tasty & Easy Green Bean Recipes


Armenian Green Beans with Ground Meat and Tomatoes (Fassoulia)
Blanched Green Beans
Cream of Green Bean Soup (Company's Coming)
Fried Green Beans
Dilly Green Beans Recipe - Canning Recipe
Ginger Garlic Green Beans
Greek Green Beans
Greek Potatoes and Green Beans
Green Bean Soup (Company's Coming)
Green Beans a'la Waterman's
Green Beans Almondine
Green Beans Almondine (with a hint of lemon)
Green Beans Almondine (with an Asian flair)
Green Beans Almondine (with mushrooms)
Green Beans and Prosciutto Pasta Salad
Green Bean Casserole (Campbell's)
Green Bean Casserole (Cook's Illustrated)
Green Beans, Endive & Boston Lettuce Salad
Green Beans in Sour Cream & Tomato Sauce
Green Beans Provençal, Chef Simone Beck
Green Beans Provençal, Cooking Light
Green Bean Salad, Dill, Parsley & Savory
Green Bean Salad, Feta & Pecans
Green Bean Salad, Soy Glazed Almonds, Cilantro
Green Beans with Coconut
Green Beans with Ginger Butter
Green Beans with Onion Paste (Madhur Jaffrey)
Green Beans with Roman Mustard
Green Beans with Shallots
Italian Green Beans (St. Anna Beans)
Lemon Green Bean & Celery Salad
Oven Roasted Green Beans
Pears with Green Beans & Bacon
Persian Green Beans & Rice (Lubia Polo)
Sautéed Green Beans with Hazelnut Crumbs
Sesame & Portobello Green Beans
Sicilian Green Bean & Fennel Salad (Cooking Light)
Stir-Fried Green Beans with Pork & Chilies
Sweet & Sour Green Beans
Thai Green Beans (Cooking Light)
Three Bean Salad Recipe
White Bean, Green Bean & Red Bell Pepper Salad