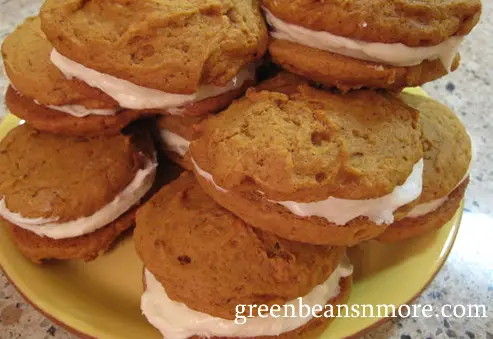 Pumpkin Whoopie Pies with Cream Cheese Filling
Ingredients:

For the pies:

1 cup brown sugar
1 cup sugar
1 cup vegetable oil
1 15 oz can pumpkin
2 whole eggs
1 teaspoon vanilla extract
3 cups all purpose flour
1 teaspoon baking soda
1 teaspoon baking powder
1 tablespoon cinnamon
1 teaspoon ground ginger
1/2 teaspoon salt
1/2 teaspoon ground nutmeg
1/4 teaspoon ground cloves
Parchment paper
For the filling:

1 8 oz package cream cheese at room temperature
1 stick unsalted butter at room temperature
16 oz powdered sugar
3 drops vanilla extract
2 dashes cinnamon

Preheat oven to 350 degrees
Cut the parchment paper into 3 inch squares - 24 of them.

Beat together the brown sugar, sugar, oil and pumpkin. Add eggs one at a time, mixing well. Add vanilla.

In a separate bowl mix together the dry ingredients.

Slowly incorporate the dry ingredients into the wet until just combined.
Using a pastry bag with a round tip, or a zip lock bag with one corner snipped, squeeze out concentric circles of batter, starting from the middle and working outward until the circles are about two inches in diameter.
The parchment squares allow you to move the square while keeping the bag in the same spot.

Transfer the squares to a baking sheet and bake for 11 minutes, or until firm. Cool on a rack.
Beat together the cream cheese and butter. Add the powdered sugar, vanilla and cinnamon. Frost the flat sides of the pies and top with another piece.


Cooks tips: I found this whoopie pumpkin pie batter to be extremely thick. As the size of the eggs for the recipe were not specified I used large eggs. Next time I will use extra large eggs to make the batter a bit looser. The filling recipe makes more than enough for all the Whoopie pies. My recipe made 14 pies.
Click here to print this recipe


---
Dessert Recipes


Cake & Frosting Recipes
Chocolate Buttercream Frosting Recipe
Chocolate Pound Cake
Crumb Cake
Persian Love Cake
Pound Cake Recipe (Cold Oven)
Red Velvet Cake & Butter Cream Icing
Ultra Lemon Bundt Cake
Yellow Cake Recipe from Eve's Restaurant


Cookie Recipes
Greek Almond Cookies (Kourabiethes)
Mrs. Field's Chocolate Chip Cookies
Orange Saffron Butter Cookies
Pumpkin Whoopie Pies with Cream Cheese Filling


Cupcake Recipes
Miscellaneous Dessert Recipes

Chocolate Truffle Loaf with Raspberry Sauce
Sweet Moroccan Couscous
Sweet Stuffed Dates


Pie Recipes
Tasty & Easy Green Bean Recipes


Armenian Green Beans with Ground Meat and Tomatoes (Fassoulia)
Blanched Green Beans
Cream of Green Bean Soup (Company's Coming)
Fried Green Beans
Dilly Green Beans Recipe - Canning Recipe
Ginger Garlic Green Beans
Greek Green Beans
Greek Potatoes and Green Beans
Green Bean Soup (Company's Coming)
Green Beans a'la Waterman's
Green Beans Almondine
Green Beans Almondine (with a hint of lemon)
Green Beans Almondine (with an Asian flair)
Green Beans Almondine (with mushrooms)
Green Beans and Prosciutto Pasta Salad
Green Bean Casserole (Campbell's)
Green Bean Casserole (Cook's Illustrated)
Green Beans, Endive & Boston Lettuce Salad
Green Beans in Sour Cream & Tomato Sauce
Green Beans Provençal, Chef Simone Beck
Green Beans Provençal, Cooking Light
Green Bean Salad, Dill, Parsley & Savory
Green Bean Salad, Feta & Pecans
Green Bean Salad, Soy Glazed Almonds, Cilantro
Green Beans with Coconut
Green Beans with Ginger Butter
Green Beans with Onion Paste (Madhur Jaffrey)
Green Beans with Roman Mustard
Green Beans with Shallots
Italian Green Beans (St. Anna Beans)
Lemon Green Bean & Celery Salad
Oven Roasted Green Beans
Pears with Green Beans & Bacon
Persian Green Beans & Rice (Lubia Polo)
Sautéed Green Beans with Hazelnut Crumbs
Sesame & Portobello Green Beans
Sicilian Green Bean & Fennel Salad (Cooking Light)
Stir-Fried Green Beans with Pork & Chilies
Sweet & Sour Green Beans
Thai Green Beans (Cooking Light)
Three Bean Salad Recipe
White Bean, Green Bean & Red Bell Pepper Salad