This fabulous butter cream icing recipe is attributed to Cook's Illustrated. The best part, besides the fact that it's easy to make, is that you can make it milk chocolate, dark chocolate, or use a combination of both. I like to use either Ghiardelli chocolate or E. Guittard chocolate and mix half bittersweet and half semi sweet.

This original recipe makes a whole lotta icing, more than enough to cover three 9" layers. I have included ingredient measurements to cover two 9" layers below.

This chocolate frosting is a perfect pairing with this yellow cake recipe from Eve's Restaurant.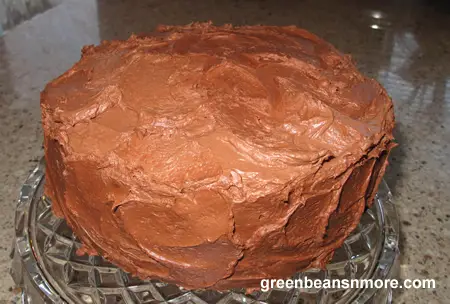 Chocolate Buttercream Recipe

1 cup cream
2 tablespoons corn syrup
Pinch salt
1 teaspoon vanilla (optional)
20 ounces milk or bittersweet chocolate or a combo
1 cup powdered sugar
2 sticks butter, cut into one tablespoon pieces
Heat the cream, corn syrup and salt on the stove until simmering. Meanwhile, chop the chocolate in a food processor. With the processor running add simmering cream slowly and process for one minute, until the chocolate is melted. Add powdered sugar and vanilla and process again. Then, with the processor running, add butter one piece at a time, waiting until each piece is incorporated before adding another. Cool until thick and spreadable. For a lighter, more buttercream frosting beat with an electric mixer before spreading.

Cook's Tips: The most important thing to remember is that this chocolate icing will only be as good as the chocolate you use. Use a good chocolate, such as E. Guittard or Ghiardelli.

In your searches you may see others say they made this icing using a stand mixer and had no trouble. Not me. The first time I made this recipe I used the stand mixer. The stand mixer cooled the chocolate way too fast and the butter didn't want to incorporate. It was MUCH EASIER the second time around using the food process. Use a stand mixer for this recipe at your own risk.

Icing for two 9" layers use the following measurements:
2/3 cup cream
4 teaspoons corn syrup
"smidge" salt
2/3 teaspoon vanilla (optional)
13.4 ounces milk or bittersweet chocolate or a combo
2/3 cup powdered sugar
11 tablespoons butter, cut into one tablespoon pieces

Follow directions as above.
Also, if you put this icing in the refrigerator it will get very hard. It's best served at room temperature.

Click here to print this recipe


---
Dessert Recipes


Cake & Frosting Recipes
Chocolate Buttercream Frosting Recipe
Chocolate Pound Cake
Crumb Cake
Persian Love Cake
Pound Cake Recipe (Cold Oven)
Red Velvet Cake & Butter Cream Icing
Ultra Lemon Bundt Cake
Yellow Cake Recipe from Eve's Restaurant


Cookie Recipes
Greek Almond Cookies (Kourabiethes)
Mrs. Field's Chocolate Chip Cookies
Orange Saffron Butter Cookies
Pumpkin Whoopie Pies with Cream Cheese Filling


Cupcake Recipes
Miscellaneous Dessert Recipes

Chocolate Truffle Loaf with Raspberry Sauce
Sweet Moroccan Couscous
Sweet Stuffed Dates


Pie Recipes
Tasty & Easy Green Bean Recipes


Armenian Green Beans with Ground Meat and Tomatoes (Fassoulia)
Blanched Green Beans
Cream of Green Bean Soup (Company's Coming)
Fried Green Beans
Dilly Green Beans Recipe - Canning Recipe
Ginger Garlic Green Beans
Greek Green Beans
Greek Potatoes and Green Beans
Green Bean Soup (Company's Coming)
Green Beans a'la Waterman's
Green Beans Almondine
Green Beans Almondine (with a hint of lemon)
Green Beans Almondine (with an Asian flair)
Green Beans Almondine (with mushrooms)
Green Beans and Prosciutto Pasta Salad
Green Bean Casserole (Campbell's)
Green Bean Casserole (Cook's Illustrated)
Green Beans, Endive & Boston Lettuce Salad
Green Beans in Sour Cream & Tomato Sauce
Green Beans Provençal, Chef Simone Beck
Green Beans Provençal, Cooking Light
Green Bean Salad, Dill, Parsley & Savory
Green Bean Salad, Feta & Pecans
Green Bean Salad, Soy Glazed Almonds, Cilantro
Green Beans with Coconut
Green Beans with Ginger Butter
Green Beans with Onion Paste (Madhur Jaffrey)
Green Beans with Roman Mustard
Green Beans with Shallots
Italian Green Beans (St. Anna Beans)
Lemon Green Bean & Celery Salad
Oven Roasted Green Beans
Pears with Green Beans & Bacon
Persian Green Beans & Rice (Lubia Polo)
Sautéed Green Beans with Hazelnut Crumbs
Sesame & Portobello Green Beans
Sicilian Green Bean & Fennel Salad (Cooking Light)
Stir-Fried Green Beans with Pork & Chilies
Sweet & Sour Green Beans
Thai Green Beans (Cooking Light)
Three Bean Salad Recipe
White Bean, Green Bean & Red Bell Pepper Salad