Louisiana Pecan Pie

This recipe is sure to become one of your family's favorite holiday pies. It's perfect for a Thanksgiving dessert or a Christmas dessert. When I first had this pecan pie I couldn't stop eating it. It's the recipe from a real Louisiana Grandmother. Thanks to Carno for sharing.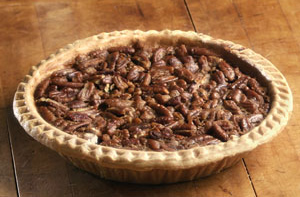 Louisiana Pecan Pie
1 cup dark Karo syrup
4 eggs
1 cup sugar
1/4 cup flour
4 tablespoons softened butter
1/4 cup vanilla flavoring
1/2 teaspoon salt
1 1/2 cups pecans - roasted

2 - 9 inch unbaked pie crusts
To roast pecans - pre heat oven to 350 degrees. Spread pecans evenly on baking sheet. Place into oven for 4 minutes. Remove from oven, stir and return to oven for additional 4-5 minutes. Let cool. You can chop them or leave them whole, or do a combination of both.
Mix all ingredients well. Pour half each into pie pans. Spread pecans evenly over mixture.
Cook pies at 350 degrees for 45-55 minutes.


Click here to print this recipe


---
Dessert Recipes


Cake & Frosting Recipes
Chocolate Buttercream Frosting Recipe
Chocolate Pound Cake
Crumb Cake
Persian Love Cake
Pound Cake Recipe (Cold Oven)
Red Velvet Cake & Butter Cream Icing
Ultra Lemon Bundt Cake
Yellow Cake Recipe from Eve's Restaurant


Cookie Recipes
Greek Almond Cookies (Kourabiethes)
Mrs. Field's Chocolate Chip Cookies
Orange Saffron Butter Cookies
Pumpkin Whoopie Pies with Cream Cheese Filling


Cupcake Recipes
Miscellaneous Dessert Recipes

Chocolate Truffle Loaf with Raspberry Sauce
Sweet Moroccan Couscous
Sweet Stuffed Dates


Pie Recipes
Christmas Recipes


Christmas Brunch Recipes
Baked French Toast Casserole (Paula Deen)
Egg & Sausage Scramble
Grand Marnier French Toast
Potato Pancakes, Rosti

Christmas Dessert Recipes

Cake Recipes, Cookie Recipes, Pie Recipes

Christmas Dinner Recipes

Apricot & Bourbon Pork Tenderloin
Garlic Mashed Potatoes
Italiano Meat Pie
Leg of Lamb, Creme de menthe
Pineapple Glazed Ham
Tasty & Easy Green Bean Recipes


Armenian Green Beans with Ground Meat and Tomatoes (Fassoulia)
Blanched Green Beans
Cream of Green Bean Soup (Company's Coming)
Fried Green Beans
Dilly Green Beans Recipe - Canning Recipe
Ginger Garlic Green Beans
Greek Green Beans
Greek Potatoes and Green Beans
Green Bean Soup (Company's Coming)
Green Beans a'la Waterman's
Green Beans Almondine
Green Beans Almondine (with a hint of lemon)
Green Beans Almondine (with an Asian flair)
Green Beans Almondine (with mushrooms)
Green Beans and Prosciutto Pasta Salad
Green Bean Casserole (Campbell's)
Green Bean Casserole (Cook's Illustrated)
Green Beans, Endive & Boston Lettuce Salad
Green Beans in Sour Cream & Tomato Sauce
Green Beans Provençal, Chef Simone Beck
Green Beans Provençal, Cooking Light
Green Bean Salad, Dill, Parsley & Savory
Green Bean Salad, Feta & Pecans
Green Bean Salad, Soy Glazed Almonds, Cilantro
Green Beans with Coconut
Green Beans with Ginger Butter
Green Beans with Onion Paste (Madhur Jaffrey)
Green Beans with Roman Mustard
Green Beans with Shallots
Italian Green Beans (St. Anna Beans)
Lemon Green Bean & Celery Salad
Oven Roasted Green Beans
Pears with Green Beans & Bacon
Persian Green Beans & Rice (Lubia Polo)
Sautéed Green Beans with Hazelnut Crumbs
Sesame & Portobello Green Beans
Sicilian Green Bean & Fennel Salad (Cooking Light)
Stir-Fried Green Beans with Pork & Chilies
Sweet & Sour Green Beans
Thai Green Beans (Cooking Light)
Three Bean Salad Recipe
White Bean, Green Bean & Red Bell Pepper Salad