This beautiful potato Rösti is a perfect accompaniment to our Sausage and Egg Scramble. I really liked this recipe because it calls for the potatoes to be cooked the night before, so prep for the dish is easy, and the cooking quick.
You don't need any special rosti utensils. I used the biggest blade on my box grater for the potatoes, which came out wonderfully fluffy. I used Yukon Gold potatoes which seemed to have the perfect amount of starch for the dish. I used approximately 2 pounds of potatoes and made one Rösti, which was more than enough for 4 people as a side dish.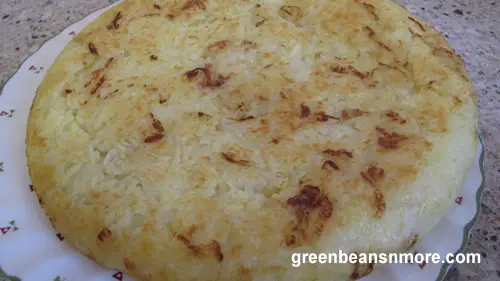 Potato Rösti

2 lbs of Yukon Gold potatoes, boiled in their jackets the day before - placed in refrigerator overnight
2 to 3 tablespoons of butter
1 medium onion
salt and pepper to taste
Peel the cooked potatoes and grate them through a coarse grater. Dice the onion. Melt the butter in a non-stick frying pan and add the onions and sweat them until they are transparent. Add the grated potatoes and the salt and pepper and stir through (see Cook's Tips below). Fry while stirring them around in the pan for about 3 to 5 minutes. Press together to form a flat cake and fry over medium heat until there is a golden crust on the bottom. Place a serving platter on the pan and turn the pan upside down, so the Roesti falls on the platter with the crust on top. Serve immediately.
This recipe will make one large roesti which easily serves 4.
Cook's Tips: To ensure the salt and pepper was evenly distributed I mixed the potatoes, salt and pepper GENTLY in a large bowl before I put them into the frying pan with the butter and onions.
As you can see from the picture my Rosti could have had a darker crust (My fault, I'll cook it a bit longer next time - but as the potatoes are already cooked it was fine).

This is a large amount of potatoes, so I'd suggest you use at least 3/4 teaspoon of salt and 1/4 teaspoon of pepper. Next time I will add some chopped parsley. Other additions could be bacon, cheese and/or fresh herbs.
.Click here to print this recipe

This recipe is paraphrased from rostirecipe.com. They also have a very helpful video on the site
---
Christmas Recipes


Christmas Brunch Recipes
Baked French Toast Casserole (Paula Deen)
Egg & Sausage Scramble
Grand Marnier French Toast
Potato Pancakes, Rosti

Christmas Dessert Recipes

Cake Recipes, Cookie Recipes, Pie Recipes

Christmas Dinner Recipes

Apricot & Bourbon Pork Tenderloin
Garlic Mashed Potatoes
Italiano Meat Pie
Leg of Lamb, Creme de menthe
Pineapple Glazed Ham
Tasty & Easy Green Bean Recipes


Armenian Green Beans with Ground Meat and Tomatoes (Fassoulia)
Blanched Green Beans
Cream of Green Bean Soup (Company's Coming)
Fried Green Beans
Dilly Green Beans Recipe - Canning Recipe
Ginger Garlic Green Beans
Greek Green Beans
Greek Potatoes and Green Beans
Green Bean Soup (Company's Coming)
Green Beans a'la Waterman's
Green Beans Almondine
Green Beans Almondine (with a hint of lemon)
Green Beans Almondine (with an Asian flair)
Green Beans Almondine (with mushrooms)
Green Beans and Prosciutto Pasta Salad
Green Bean Casserole (Campbell's)
Green Bean Casserole (Cook's Illustrated)
Green Beans, Endive & Boston Lettuce Salad
Green Beans in Sour Cream & Tomato Sauce
Green Beans Provençal, Chef Simone Beck
Green Beans Provençal, Cooking Light
Green Bean Salad, Dill, Parsley & Savory
Green Bean Salad, Feta & Pecans
Green Bean Salad, Soy Glazed Almonds, Cilantro
Green Beans with Coconut
Green Beans with Ginger Butter
Green Beans with Onion Paste (Madhur Jaffrey)
Green Beans with Roman Mustard
Green Beans with Shallots
Italian Green Beans (St. Anna Beans)
Lemon Green Bean & Celery Salad
Oven Roasted Green Beans
Pears with Green Beans & Bacon
Persian Green Beans & Rice (Lubia Polo)
Sautéed Green Beans with Hazelnut Crumbs
Sesame & Portobello Green Beans
Sicilian Green Bean & Fennel Salad (Cooking Light)
Stir-Fried Green Beans with Pork & Chilies
Sweet & Sour Green Beans
Thai Green Beans (Cooking Light)
Three Bean Salad Recipe
White Bean, Green Bean & Red Bell Pepper Salad