Paula Deen's Baked French Toast Casserole with Maple Syrup

The more I make "refrigerate overnight" breakfast casseroles the more I appreciate them. They give me time to relax and enjoy the company of my family and friends instead of being tied to the kitchen cooking. All I had to do was put the casserole in the oven in the morning, no muss, no fuss. I made this casserole for our Christmas brunch and everyone loved it.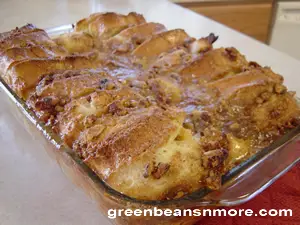 This is the Baked French Toast Casserole I made for our Christmas brunch. Some in my family can't eat nuts, so I only made 1/2 of the Praline topping. Next year I will make the full amount of the Praline topping and just add nuts to 1/2 of it. This dish was so moist that some didn't use Maple syrup with it.


Paula Deen's Baked French Toast Casserole with Maple Syrup

1 loaf French bread (13 to 16 ounces)
8 large eggs
2 cups half-and-half
1 cup milk
2 tablespoons granulated sugar
1 teaspoon vanilla extract
1/4 teaspoon ground cinnamon
1/4 teaspoon ground nutmeg
Dash salt

Slice French bread into 20 1-inch slices. Arrange slices in a generously buttered 9 x 13 inch flat baking dish in two rows, overlapping the slices. In a large bowl combine the eggs, half-and-half, milk, sugar, vanilla, cinnamon, nutmeg and salt and beat with rotary beater or whisk until well blended. Pour the egg mixture over the bread covering all the slices evenly. Spoon some of the mixture in between the slices. Cover and place in refrigerator overnight.

Praline Topping
1/2 pound butter (2 sticks) room temperature
1 cup packed light brown sugar
1 cup chopped pecans
2 tablespoons light corn syrup
1/2 teaspoon ground cinnamon
1/2 teaspoon ground nutmeg
Preheat oven to 350 degrees.
Combine all ingredients and blend well. Spread Praline topping evenly over the casserole.
Bake 40 minutes, until puffed and lightly golden.
Serve with Maple syrup.

Click here to print this recipe


---
Christmas Recipes


Christmas Brunch Recipes
Baked French Toast Casserole (Paula Deen)
Egg & Sausage Scramble
Grand Marnier French Toast
Potato Pancakes, Rosti

Christmas Dessert Recipes

Cake Recipes, Cookie Recipes, Pie Recipes

Christmas Dinner Recipes

Apricot & Bourbon Pork Tenderloin
Garlic Mashed Potatoes
Italiano Meat Pie
Leg of Lamb, Creme de menthe
Pineapple Glazed Ham
Tasty & Easy Green Bean Recipes


Armenian Green Beans with Ground Meat and Tomatoes (Fassoulia)
Blanched Green Beans
Cream of Green Bean Soup (Company's Coming)
Fried Green Beans
Dilly Green Beans Recipe - Canning Recipe
Ginger Garlic Green Beans
Greek Green Beans
Greek Potatoes and Green Beans
Green Bean Soup (Company's Coming)
Green Beans a'la Waterman's
Green Beans Almondine
Green Beans Almondine (with a hint of lemon)
Green Beans Almondine (with an Asian flair)
Green Beans Almondine (with mushrooms)
Green Beans and Prosciutto Pasta Salad
Green Bean Casserole (Campbell's)
Green Bean Casserole (Cook's Illustrated)
Green Beans, Endive & Boston Lettuce Salad
Green Beans in Sour Cream & Tomato Sauce
Green Beans Provençal, Chef Simone Beck
Green Beans Provençal, Cooking Light
Green Bean Salad, Dill, Parsley & Savory
Green Bean Salad, Feta & Pecans
Green Bean Salad, Soy Glazed Almonds, Cilantro
Green Beans with Coconut
Green Beans with Ginger Butter
Green Beans with Onion Paste (Madhur Jaffrey)
Green Beans with Roman Mustard
Green Beans with Shallots
Italian Green Beans (St. Anna Beans)
Lemon Green Bean & Celery Salad
Oven Roasted Green Beans
Pears with Green Beans & Bacon
Persian Green Beans & Rice (Lubia Polo)
Sautéed Green Beans with Hazelnut Crumbs
Sesame & Portobello Green Beans
Sicilian Green Bean & Fennel Salad (Cooking Light)
Stir-Fried Green Beans with Pork & Chilies
Sweet & Sour Green Beans
Thai Green Beans (Cooking Light)
Three Bean Salad Recipe
White Bean, Green Bean & Red Bell Pepper Salad