Turkey Tips!

Here's a picture of our beautiful browned moist and flavorful turkey. Cooking a turkey like this isn't as hard as it seems. After you've done it just one time you'll feel like an expert.
These tips on how to cook a turkey will help you do it like a pro the first time!
Check out this Thanksgiving cooking timeline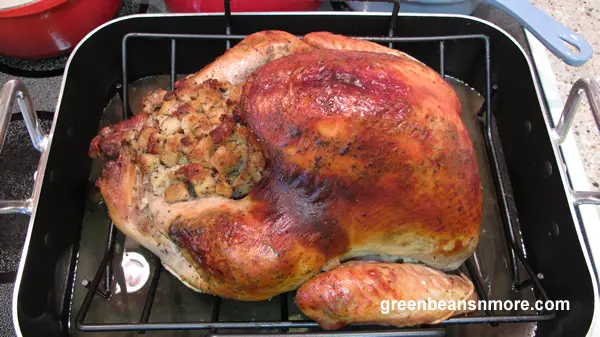 Tips for cooking Thanksgiving turkey

Click here to print these valuable tips

What size turkey should I buy?
Experts suggest allowing 1 to 1 1/2 pounds per person.

How long will my frozen turkey need to defrost?
A frozen turkey will need to be defrosted in the refrigerator. The rule of thumb is 24 hours for each 5 pounds. This means a 20 pound turkey will need 4 days in the refrigerator to defrost.

Don't forget to.....
Remove the giblet's from the cavity of the turkey. Giblets are the turkey's neck, gizzard, heart and liver. You'll want to add these giblets while making your turkey stock . Once they're cooked you can chop them and add them to the gravy and stuffing for extra flavor.
Rinse off the turkey. Rinse it under cold running water, also washing out the cavity. Pat it dry outside and inside with paper towels. Also rinse the giblets. Wash any surface that comes into contact with the raw juices very carefully to help prevent cross-contamination.

How do I choose a roasting pan for the turkey?
A metal roasting pan is much safer than a disposable aluminum one. If you must use a disposable aluminum roasting pan be very careful moving it in and out of the oven as it could possibly collapse. Don't crowd the turkey into the roasting pan. Make sure the roasting pan allows for at least 2 - 3 inches of air space all around the turkey which helps to insure even cooking and browning.

How much stuffing will I need to stuff the turkey based on it's weight?
You'll need 1/2 cup to 3/4 cup per pound of turkey. Don't overstuff the cavity with the stuffing as it needs to expand as it cooks. If you have extra stuffing cook it on the side in a baking dish.

How can I be assured of a beautiful browned and flavorful turkey?
You'll need butter. Add some light olive oil to some very softened butter. Add to that salt, pepper, sage and just a bit of rosemary. Mix together well. Make sure the skin of the turkey is very dry, if not, pat it off with some paper towels. Carefully work your hands under the turkey skin (don't tear it) and work
butter mixture directly onto the meat. Also, slather it all over the turkey skin before you put it in the oven.

How often should I baste the turkey?
This is often debated. Some "experts" say that basting makes no difference in regards to moisture of the turkey. Today a lot of frozen turkeys are "self-basting" which means they don't need basting. Also, every time the oven is opened the temperature goes down, which can add a few minutes to the cooking time. I baste every 20 or so minutes once the foils comes off and do it quickly to help prevent too much heat loss.
Should I cover the turkey with aluminum foil while it's baking?
Yes, keep the turkey covered with aluminum foil for 2/3 of the cooking time.

What temperature should the turkey be when it's done?
Temperature is important in determining if turkey is properly cooked. The thigh temperature should be 175 degrees and the stuffing 160-165 degrees. Make sure the thermometer you're using is not touching bone when you take the reading. If it's a degree or two under that's OK. As the turkey rests tented with aluminum it will rise a degree or two.

How long should I let the turkey rest after I take it out of the oven?
When you remove the turkey from the oven place it on a platter and tent it with aluminum foil. Let the turkey rest between 20 and 30 minutes before carving.

This is the perfect time to start your Madeira gravy using the dripping from the turkey.
Timetables for Turkey Roasting - courtesy of USDA.gov
Roast the turkey at 325 °F oven temperature

Use the timetables below to determine how long to cook your turkey. These times are approximate. Always use a food thermometer to check the internal temperature of your turkey and stuffing. The thigh temperature should be 175 degrees and the stuffing 160-165 degrees.


Unstuffed
4 to 8 pounds (breast)
1½ to 3¼ hours
8 to 12 pounds
2¾ to 3 hours
12 to 14 pounds
3 to 3¾ hours
14 to 18 pounds
3¾ to 4¼ hours
18 to 20 pounds
4¼ to 4½ hours
20 to 24 pounds
4½ to 5 hours
Stuffed
4 to 6 pounds (breast)
Not usually applicable
6 to 8 pounds (breast)
2½ to 3½ hours
8 to 12 pounds
3 to 3½ hours
12 to 14 pounds
3½ to 4 hours
14 to 18 pounds
4 to 4¼ hours
18 to 20 pounds
4¼ to 4¾ hours
20 to 24 pounds
4¾ to 5¼ hours

Take a look at our Thanksgiving Dinner Menu ideas


---
Thanksgiving Recipes


Bourbon Cranberry Sauce
Campbell's Green Bean Casserole
Chestnut Stuffing
Fresh Cranberry Orange Compote
Homemade Turkey Broth
Madeira Gravy
Pearl Onions au Gratin
Sage Sausage and Apple Stuffing
Tangy Cranberry Apple Chutney
Tips on Cooking a Turkey
Christmas Recipes


Christmas Brunch Recipes
Baked French Toast Casserole (Paula Deen)
Egg & Sausage Scramble
Grand Marnier French Toast
Potato Pancakes, Rosti

Christmas Dessert Recipes

Cake Recipes, Cookie Recipes, Pie Recipes

Christmas Dinner Recipes

Apricot & Bourbon Pork Tenderloin
Garlic Mashed Potatoes
Italiano Meat Pie
Leg of Lamb, Creme de menthe
Pineapple Glazed Ham
Tasty & Easy Green Bean Recipes


Armenian Green Beans with Ground Meat and Tomatoes (Fassoulia)
Blanched Green Beans
Cream of Green Bean Soup (Company's Coming)
Fried Green Beans
Dilly Green Beans Recipe - Canning Recipe
Ginger Garlic Green Beans
Greek Green Beans
Greek Potatoes and Green Beans
Green Bean Soup (Company's Coming)
Green Beans a'la Waterman's
Green Beans Almondine
Green Beans Almondine (with a hint of lemon)
Green Beans Almondine (with an Asian flair)
Green Beans Almondine (with mushrooms)
Green Beans and Prosciutto Pasta Salad
Green Bean Casserole (Campbell's)
Green Bean Casserole (Cook's Illustrated)
Green Beans, Endive & Boston Lettuce Salad
Green Beans in Sour Cream & Tomato Sauce
Green Beans Provençal, Chef Simone Beck
Green Beans Provençal, Cooking Light
Green Bean Salad, Dill, Parsley & Savory
Green Bean Salad, Feta & Pecans
Green Bean Salad, Soy Glazed Almonds, Cilantro
Green Beans with Coconut
Green Beans with Ginger Butter
Green Beans with Onion Paste (Madhur Jaffrey)
Green Beans with Roman Mustard
Green Beans with Shallots
Italian Green Beans (St. Anna Beans)
Lemon Green Bean & Celery Salad
Oven Roasted Green Beans
Pears with Green Beans & Bacon
Persian Green Beans & Rice (Lubia Polo)
Sautéed Green Beans with Hazelnut Crumbs
Sesame & Portobello Green Beans
Sicilian Green Bean & Fennel Salad (Cooking Light)
Stir-Fried Green Beans with Pork & Chilies
Sweet & Sour Green Beans
Thai Green Beans (Cooking Light)
Three Bean Salad Recipe
White Bean, Green Bean & Red Bell Pepper Salad