PLANNING A ROMANTIC STEAK DINNER

In American culture there is no meat more revered than steak. We're going to help you plan the perfect romantic Valentine's Day dinner with the perfect piece of steak. We're going to give you no fail cooking guidelines whether you're grilling or broiling your steaks. We also have recipes for steak sauces sure to please.
Choosing a Cut of Steak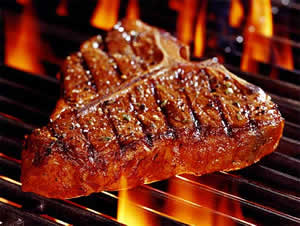 When you're shopping for steak in your local supermarket always look for Prime or Choice grades. Prime is better. However, keep in mind that steaks get their flavor from the marbling of fat within them. A steak that is very lean will not have as much flavor as a steak that is marbled. You want to look for even thin strands of fat throughout the steak.

Everyone has heard of a Filet Mignon. Filet Mignon tend to be the most tender of steaks, but they're the leanest cut too. Due to the fact that they're extremely lean they are generally not the most flavorful.



Most steak aficionados will say that Porterhouse steaks are the best. A Porterhouse steak is a combination of the top loin, which is very flavorful, and the tenderloin, which is very soft.
The butcher should be able to answer any questions you have.

How to Grill a Perfect Steak Every Time:

Let's say you've chosen every man's favorite steak, the Porterhouse, for your romantic Valentine's Day dinner, now you need to cook it perfectly. I've used this guideline for years every time we've cooked a steak (of any kind) and they turn out perfectly. Divide the time in half for each side.
1" THICK STEAK COOK ON HIGH HEAT
MINUTES: 8-10 RARE
12-14 MEDIUM
16-20 WELL
1 1/2" THICK STEAK COOK ON HIGH HEAT
MINUTES: 10-14 RARE
16-20 MEDIUM
22-26 WELL
2" THICK STEAK COOK ON MEDIUM HEAT
MINUTES: 12-16 RARE
18-22 MEDIUM
24-28 WELL

How to Broil a Perfect Steak Every Time:
Certainly there are times when you cannot grill and you must broil your steak. Broiling is like grilling, except the heat source comes from the top instead of the bottom. Please check out these tips for broiling and time guidelines for broiling steaks from the Iowa Steak Industry.

Try out this amazing Balsamic Steak Sauce courtesy of Giada DeLaurentiis. It ss truly one of the best sauces I have ever had on a steak. It's rich, and super simple to make.
Check out a Bernaise Sauce recipe courtesy of Fine Cooking Magazine. This Bernaise Sauce has got to be one of the best loved steak sauces. Once you've had a Bernaise Sauce you'll never forget it. It can be challenging to cook, as you have to avoid curdling and separation. It's a very special sauce and your Valentine is sure to be appreciative of your efforts!

Here is the best steak sauce recipe you'll find anywhere - Original Henry Bain Sauce. Simple to make and delicious, the perfect blend of sweet and spicy to enhance the flavor of your steak.


---
Easy BBQ & Cookout Recipes


Grill Recipes

Grilled Corn on the Cob
Grilled Potatoes
Grilled Lamb Shoulder with Honey
Grilled Swordfish Steaks with Soy Sauce
How to Season and Grill the Perfect Hamburger
How to Grill the Perfect Steak

Marinade & Meat Sauce Recipes

Balsamic Steak Sauce
Barbecue Beef Marinade & Tenderizer
Caribbean Marinade Recipes
Henry Bain Steak Sauce (original recipe)
Indian and Asian Marinade Recipes
Moroccan BBQ Sauce and Mint Chutney


Salad & Side Dish Recipes

Angel Hair Pasta with Sun Dried Tomatoes
Baked Beans with Maple Syrup
Broccoli Salad, Sweet & Sour
Green Beans and Prosciutto Pasta Salad
Green Beans and Summer Squash Sauté
Green Bean, Endive & Boston Lettuce Salad
Greek Shrimp & Caper Pasta Salad
Lemon Green Bean & Celery Salad
New Potatoes with Peas & Mint
Patriotic Potato Salad
Strawberry Spinach Salad
White Bean, Green Bean & Red Bell Pepper Salad
Valentine's Day & Romantic Dinner Ideas & Recipes


Asparagus with Orange, Ginger and Sesame Oil
Bernaise Sauce
Chicken Divan from Gourmet Magazine
Chino Carrot and Ginger Soup
Fresh Fruit with Honey Vanilla Mascarpone
Orange Salmon with Fennel
Oyster in the Patty Shell
Red Velvet Cake/Buttercream Frosting
Shrimp, Mussel and Scallop Orechiette Pasta
Steak,The Perfect Romantic Steak Dinner

Tasty & Easy Green Bean Recipes


Armenian Green Beans with Ground Meat and Tomatoes (Fassoulia)
Blanched Green Beans
Cream of Green Bean Soup (Company's Coming)
Fried Green Beans
Dilly Green Beans Recipe - Canning Recipe
Ginger Garlic Green Beans
Greek Green Beans
Greek Potatoes and Green Beans
Green Bean Soup (Company's Coming)
Green Beans a'la Waterman's
Green Beans Almondine
Green Beans Almondine (with a hint of lemon)
Green Beans Almondine (with an Asian flair)
Green Beans Almondine (with mushrooms)
Green Beans and Prosciutto Pasta Salad
Green Bean Casserole (Campbell's)
Green Bean Casserole (Cook's Illustrated)
Green Beans, Endive & Boston Lettuce Salad
Green Beans in Sour Cream & Tomato Sauce
Green Beans Provençal, Chef Simone Beck
Green Beans Provençal, Cooking Light
Green Bean Salad, Dill, Parsley & Savory
Green Bean Salad, Feta & Pecans
Green Bean Salad, Soy Glazed Almonds, Cilantro
Green Beans with Coconut
Green Beans with Ginger Butter
Green Beans with Onion Paste (Madhur Jaffrey)
Green Beans with Roman Mustard
Green Beans with Shallots
Italian Green Beans (St. Anna Beans)
Lemon Green Bean & Celery Salad
Oven Roasted Green Beans
Pears with Green Beans & Bacon
Persian Green Beans & Rice (Lubia Polo)
Sautéed Green Beans with Hazelnut Crumbs
Sesame & Portobello Green Beans
Sicilian Green Bean & Fennel Salad (Cooking Light)
Stir-Fried Green Beans with Pork & Chilies
Sweet & Sour Green Beans
Thai Green Beans (Cooking Light)
Three Bean Salad Recipe
White Bean, Green Bean & Red Bell Pepper Salad