Orange Salmon with Fennel

This is one of my husband's favorite meals and I consider it the ultimate poached salmon recipe. I was inspired by watching Ina Garten bake a whole 10 lb. salmon using fennel and orange on one of her episodes and was intrigued by the flavor combination. This is a recipe that I've been "perfecting" since. This recipe uses salmon filets, not whole salmon. Poaching the salmon in the tasty orange marinade assures it stays moist. Like Ina's original recipe, this left over salmon (if there is any) makes a fantastic salad for lunch the next day.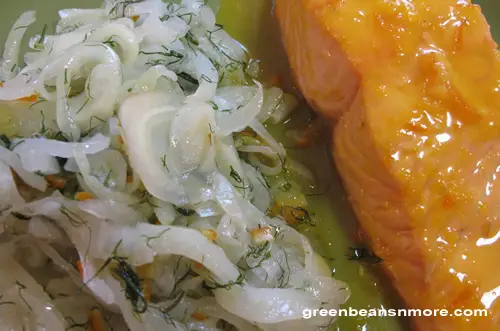 Orange Salmon with Fennel
1 lb salmon fillets
2 tablespoons vegetable oil
zest two large oranges
juice two large oranges
1/4 - 1/2 cup orange juice (carton/prepared frozen)
3 - 4 tablespoons sweet orange marmalade
1 medium sweet white onion
1 fennel bulb
vegetable oil to cook
salt
Place salmon fillets in a Pyrex dish skin side down.
Whisk together vegetable oil, orange zest, fresh and carton/prepared frozen orange juice and marmalade. Pour over salmon to cover.
Let marinade in the refrigerator one to two hours the turning fish once.
Due to cooking time start the fennel dish first.

Slice onion thinly in rounds.
Prepare fennel bulb (remove hard outer layer and remove core). Slice thinly.
Retain some of the fennel fronds to add later.
Heat vegetable oil in pan over medium heat.
Add onion and fennel. Cook until soft.
Add a pinch or two of salt.
Stir in a tablespoon or two of the orange marmalade.
Add fronds.

In a deep large skillet place all the marinade and the salmon (skin side down first) .
Bring to a simmer and poach at medium-high heat 4 to 6 minutes.
Turn salmon over, remove skin and cook another 4 to 6 minutes, or to desired doneness. |
Cooking time is dependent on thickness of the fillets.

Place salmon on plates. Cover or put in warm oven to keep warm.
Continue cooking sauce until it thickens.
Pour sauce over fish and fennel.

Serves 2.

Click here to print this recipe


---
Valentine's Day & Romantic Dinner Ideas & Recipes


Asparagus with Orange, Ginger and Sesame Oil
Bernaise Sauce
Chicken Divan from Gourmet Magazine
Chino Carrot and Ginger Soup
Fresh Fruit with Honey Vanilla Mascarpone
Orange Salmon with Fennel
Oyster in the Patty Shell
Red Velvet Cake/Buttercream Frosting
Shrimp, Mussel and Scallop Orechiette Pasta
Steak,The Perfect Romantic Steak Dinner

Tasty & Easy Green Bean Recipes


Armenian Green Beans with Ground Meat and Tomatoes (Fassoulia)
Blanched Green Beans
Cream of Green Bean Soup (Company's Coming)
Fried Green Beans
Dilly Green Beans Recipe - Canning Recipe
Ginger Garlic Green Beans
Greek Green Beans
Greek Potatoes and Green Beans
Green Bean Soup (Company's Coming)
Green Beans a'la Waterman's
Green Beans Almondine
Green Beans Almondine (with a hint of lemon)
Green Beans Almondine (with an Asian flair)
Green Beans Almondine (with mushrooms)
Green Beans and Prosciutto Pasta Salad
Green Bean Casserole (Campbell's)
Green Bean Casserole (Cook's Illustrated)
Green Beans, Endive & Boston Lettuce Salad
Green Beans in Sour Cream & Tomato Sauce
Green Beans Provençal, Chef Simone Beck
Green Beans Provençal, Cooking Light
Green Bean Salad, Dill, Parsley & Savory
Green Bean Salad, Feta & Pecans
Green Bean Salad, Soy Glazed Almonds, Cilantro
Green Beans with Coconut
Green Beans with Ginger Butter
Green Beans with Onion Paste (Madhur Jaffrey)
Green Beans with Roman Mustard
Green Beans with Shallots
Italian Green Beans (St. Anna Beans)
Lemon Green Bean & Celery Salad
Oven Roasted Green Beans
Pears with Green Beans & Bacon
Persian Green Beans & Rice (Lubia Polo)
Sautéed Green Beans with Hazelnut Crumbs
Sesame & Portobello Green Beans
Sicilian Green Bean & Fennel Salad (Cooking Light)
Stir-Fried Green Beans with Pork & Chilies
Sweet & Sour Green Beans
Thai Green Beans (Cooking Light)
Three Bean Salad Recipe
White Bean, Green Bean & Red Bell Pepper Salad