Patriotic Potato Salad

This recipe is from The Silver Palate Good Times Cookbook published in 1984. We like this recipe for potato salad with the addition of fresh dill, scallions, carrots and parsley.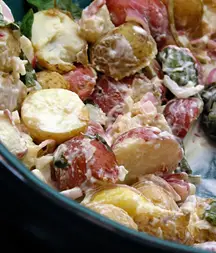 Patriotic Potato Salad

14 small new red potatoes, scrubbed clean
6 hard cooked eggs , peeled and halved
1 medium size carrot, peeled and grated
2 medium size scallions (if using green onions use white part and 2 inches of the green) thinly sliced
3 tablespoons chopped fresh dill
2 tablespoons chopped fresh parsley
1 tablespoon caraway seeds
1/2 teaspoon salt
1/2 teaspoon freshly ground black pepper
3/4 cup sour cream
3/4 cup Hellmann's Mayonnaise
Heat a medium saucepan and bring it to a boil. Cook the potatoes 20-25 minutes until tender. Drain, cool and cut in half.

Combine the eggs, potatoes, carrot and scallions in a large bowl. Add the dill, parsley, caraway seeds, salt and pepper. Toss gently to combine.

Mix the sour cream and mayonnaise and gently fold into potato mixture.
Refrigerate for several hours or overnight before serving.

Cooking tip: When my friend makes this potato salad she adds the seasonings into the sour cream and mayonnaise. She says it takes less tossing so she is less apt to break up the potatoes and she says it distributes the flavors better throughout the salad.

Click here to print this recipe


Cook's Illustrated recommendation for the perfect potato for potato salad


---
Easy BBQ & Cookout Recipes


Grill Recipes

Grilled Corn on the Cob
Grilled Potatoes
Grilled Lamb Shoulder with Honey
Grilled Swordfish Steaks with Soy Sauce
How to Season and Grill the Perfect Hamburger
How to Grill the Perfect Steak

Marinade & Meat Sauce Recipes

Balsamic Steak Sauce
Barbecue Beef Marinade & Tenderizer
Caribbean Marinade Recipes
Henry Bain Steak Sauce (original recipe)
Indian and Asian Marinade Recipes
Moroccan BBQ Sauce and Mint Chutney


Salad & Side Dish Recipes

Angel Hair Pasta with Sun Dried Tomatoes
Baked Beans with Maple Syrup
Broccoli Salad, Sweet & Sour
Green Beans and Prosciutto Pasta Salad
Green Beans and Summer Squash Sauté
Green Bean, Endive & Boston Lettuce Salad
Greek Shrimp & Caper Pasta Salad
Lemon Green Bean & Celery Salad
New Potatoes with Peas & Mint
Patriotic Potato Salad
Strawberry Spinach Salad
White Bean, Green Bean & Red Bell Pepper Salad
Tasty & Easy Green Bean Recipes


Armenian Green Beans with Ground Meat and Tomatoes (Fassoulia)
Blanched Green Beans
Cream of Green Bean Soup (Company's Coming)
Fried Green Beans
Dilly Green Beans Recipe - Canning Recipe
Ginger Garlic Green Beans
Greek Green Beans
Greek Potatoes and Green Beans
Green Bean Soup (Company's Coming)
Green Beans a'la Waterman's
Green Beans Almondine
Green Beans Almondine (with a hint of lemon)
Green Beans Almondine (with an Asian flair)
Green Beans Almondine (with mushrooms)
Green Beans and Prosciutto Pasta Salad
Green Bean Casserole (Campbell's)
Green Bean Casserole (Cook's Illustrated)
Green Beans, Endive & Boston Lettuce Salad
Green Beans in Sour Cream & Tomato Sauce
Green Beans Provençal, Chef Simone Beck
Green Beans Provençal, Cooking Light
Green Bean Salad, Dill, Parsley & Savory
Green Bean Salad, Feta & Pecans
Green Bean Salad, Soy Glazed Almonds, Cilantro
Green Beans with Coconut
Green Beans with Ginger Butter
Green Beans with Onion Paste (Madhur Jaffrey)
Green Beans with Roman Mustard
Green Beans with Shallots
Italian Green Beans (St. Anna Beans)
Lemon Green Bean & Celery Salad
Oven Roasted Green Beans
Pears with Green Beans & Bacon
Persian Green Beans & Rice (Lubia Polo)
Sautéed Green Beans with Hazelnut Crumbs
Sesame & Portobello Green Beans
Sicilian Green Bean & Fennel Salad (Cooking Light)
Stir-Fried Green Beans with Pork & Chilies
Sweet & Sour Green Beans
Thai Green Beans (Cooking Light)
Three Bean Salad Recipe
White Bean, Green Bean & Red Bell Pepper Salad