Honey Grilled Shoulder of Lamb

Lamb is one of our very favorite meats. While we cook it all year round we love the flavor of lamb cooked on the grill. This grilled lamb shoulder recipe comes from the folks at the American Lamb Council. I'd say if anyone knows how to cook a lamb, it's them.

My husband and I made this lamb roast for a cookout we had last year. It was moist and flavorful, and best of all our guests who'd never eaten lamb before enjoyed it. We always like a change from the routine lamb recipes that call for garlic and rosemary. We think the mildness of the flavor and the sweetness from the marinade is one of the reasons this recipe is so popular. It's perfect for a cookout.
You should be able to find a boned and rolled lamb shoulder at your local supermarket. If not, the supermarket butcher can bone and roll a shoulder for you.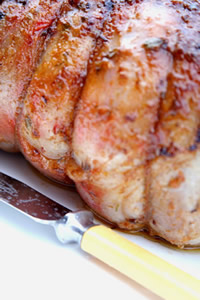 Honey Grilled Shoulder of Lamb

1 shoulder of lamb, boned, rolled and tied ( 3 1/2 - 4 pounds)
1/3 cup honey
1/2 cup dry white wine
1/2 cup finely chopped onion
1/2 cup finely chopped fresh mint or 1 tablespoon dried mint
2 tablespoons grated lemon peel
2 tablespoons lemon juice
1 teaspoon salt
1/4 teaspoon ground pepper

Place the lamb in a glass dish. Combine all ingredients and pour over the lamb. Cover and refrigerate for several hours or overnight.
Place the lamb on spit over hot coals. * Brush occasionally with marinade. Grill for 1 to 1 1/2 hours or until the meat thermometer registers 140 degrees (rare), 150-155 degrees (medium) or 160 (medium, well-done). Left over sauce can be heated and served over sliced lamb.


* Our grill does not have a spit. We roast this lamb on our gas grill over medium-high heat. We baste it approximately every 20 minutes and turn the roast during cooking. We judge the doneness using a meat thermometer.

Click here to print this recipe


---
Easy BBQ & Cookout Recipes


Grill Recipes

Grilled Corn on the Cob
Grilled Potatoes
Grilled Lamb Shoulder with Honey
Grilled Swordfish Steaks with Soy Sauce
How to Season and Grill the Perfect Hamburger
How to Grill the Perfect Steak

Marinade & Meat Sauce Recipes

Balsamic Steak Sauce
Barbecue Beef Marinade & Tenderizer
Caribbean Marinade Recipes
Henry Bain Steak Sauce (original recipe)
Indian and Asian Marinade Recipes
Moroccan BBQ Sauce and Mint Chutney


Salad & Side Dish Recipes

Angel Hair Pasta with Sun Dried Tomatoes
Baked Beans with Maple Syrup
Broccoli Salad, Sweet & Sour
Green Beans and Prosciutto Pasta Salad
Green Beans and Summer Squash Sauté
Green Bean, Endive & Boston Lettuce Salad
Greek Shrimp & Caper Pasta Salad
Lemon Green Bean & Celery Salad
New Potatoes with Peas & Mint
Patriotic Potato Salad
Strawberry Spinach Salad
White Bean, Green Bean & Red Bell Pepper Salad
Tasty & Easy Green Bean Recipes


Armenian Green Beans with Ground Meat and Tomatoes (Fassoulia)
Blanched Green Beans
Cream of Green Bean Soup (Company's Coming)
Fried Green Beans
Dilly Green Beans Recipe - Canning Recipe
Ginger Garlic Green Beans
Greek Green Beans
Greek Potatoes and Green Beans
Green Bean Soup (Company's Coming)
Green Beans a'la Waterman's
Green Beans Almondine
Green Beans Almondine (with a hint of lemon)
Green Beans Almondine (with an Asian flair)
Green Beans Almondine (with mushrooms)
Green Beans and Prosciutto Pasta Salad
Green Bean Casserole (Campbell's)
Green Bean Casserole (Cook's Illustrated)
Green Beans, Endive & Boston Lettuce Salad
Green Beans in Sour Cream & Tomato Sauce
Green Beans Provençal, Chef Simone Beck
Green Beans Provençal, Cooking Light
Green Bean Salad, Dill, Parsley & Savory
Green Bean Salad, Feta & Pecans
Green Bean Salad, Soy Glazed Almonds, Cilantro
Green Beans with Coconut
Green Beans with Ginger Butter
Green Beans with Onion Paste (Madhur Jaffrey)
Green Beans with Roman Mustard
Green Beans with Shallots
Italian Green Beans (St. Anna Beans)
Lemon Green Bean & Celery Salad
Oven Roasted Green Beans
Pears with Green Beans & Bacon
Persian Green Beans & Rice (Lubia Polo)
Sautéed Green Beans with Hazelnut Crumbs
Sesame & Portobello Green Beans
Sicilian Green Bean & Fennel Salad (Cooking Light)
Stir-Fried Green Beans with Pork & Chilies
Sweet & Sour Green Beans
Thai Green Beans (Cooking Light)
Three Bean Salad Recipe
White Bean, Green Bean & Red Bell Pepper Salad