Angel Hair Pasta & Sun Dried Tomatoes

This recipe came to me via a friend, Jeanne. It's easy and flavorful and is always a huge hit. It's a super-simple recipe as all you have to do is cook Angel Hair pasta, which takes about three minutes and add six simple ingredients. My friend noted on her recipe that this is "good for lunches" and it "freezes well". It's easy to make a double batch too. As much as we love potato salad it's always nice to mix things up a bit with this easy and tasty Italian pasta salad.

Please read my "cook's tip" following the recipe.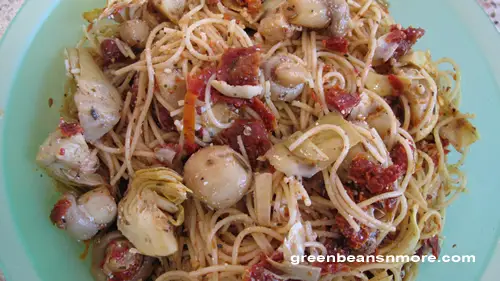 Angel Hair Pasta & Sun Dried Tomatoes

6 oz. Angel hair pasta
6 oz. jar marinated mushrooms - drained
6 oz. marinated artichoke hearts - drained
4-6 oz. jar marinated sun dried tomatoes (drained - reserve liquid)
Italian seasoning, ground pepper, parmesan cheese - all to taste.

Cook pasta as directed on package, drain. Mix all ingredients together adding a little of the reserved liquid from the sun dried tomatoes. Serve room temperature or warm in microwave.

Cook's Tip: The noodles seemed to suck up a lot of the reserved liquid, so you may want to add a bit more of the reserved liquid than you think you need. I'd suggest you make the salad, then put it to the side for 5 - 10 minutes then check it again. Then add more of the reserved liquid if needed.

Click here to print this recipe


---
Easy BBQ & Cookout Recipes


Grill Recipes

Grilled Corn on the Cob
Grilled Potatoes
Grilled Lamb Shoulder with Honey
Grilled Swordfish Steaks with Soy Sauce
How to Season and Grill the Perfect Hamburger
How to Grill the Perfect Steak

Marinade & Meat Sauce Recipes

Balsamic Steak Sauce
Barbecue Beef Marinade & Tenderizer
Caribbean Marinade Recipes
Henry Bain Steak Sauce (original recipe)
Indian and Asian Marinade Recipes
Moroccan BBQ Sauce and Mint Chutney


Salad & Side Dish Recipes

Angel Hair Pasta with Sun Dried Tomatoes
Baked Beans with Maple Syrup
Broccoli Salad, Sweet & Sour
Green Beans and Prosciutto Pasta Salad
Green Beans and Summer Squash Sauté
Green Bean, Endive & Boston Lettuce Salad
Greek Shrimp & Caper Pasta Salad
Lemon Green Bean & Celery Salad
New Potatoes with Peas & Mint
Patriotic Potato Salad
Strawberry Spinach Salad
White Bean, Green Bean & Red Bell Pepper Salad
Tasty & Easy Green Bean Recipes


Armenian Green Beans with Ground Meat and Tomatoes (Fassoulia)
Blanched Green Beans
Cream of Green Bean Soup (Company's Coming)
Fried Green Beans
Dilly Green Beans Recipe - Canning Recipe
Ginger Garlic Green Beans
Greek Green Beans
Greek Potatoes and Green Beans
Green Bean Soup (Company's Coming)
Green Beans a'la Waterman's
Green Beans Almondine
Green Beans Almondine (with a hint of lemon)
Green Beans Almondine (with an Asian flair)
Green Beans Almondine (with mushrooms)
Green Beans and Prosciutto Pasta Salad
Green Bean Casserole (Campbell's)
Green Bean Casserole (Cook's Illustrated)
Green Beans, Endive & Boston Lettuce Salad
Green Beans in Sour Cream & Tomato Sauce
Green Beans Provençal, Chef Simone Beck
Green Beans Provençal, Cooking Light
Green Bean Salad, Dill, Parsley & Savory
Green Bean Salad, Feta & Pecans
Green Bean Salad, Soy Glazed Almonds, Cilantro
Green Beans with Coconut
Green Beans with Ginger Butter
Green Beans with Onion Paste (Madhur Jaffrey)
Green Beans with Roman Mustard
Green Beans with Shallots
Italian Green Beans (St. Anna Beans)
Lemon Green Bean & Celery Salad
Oven Roasted Green Beans
Pears with Green Beans & Bacon
Persian Green Beans & Rice (Lubia Polo)
Sautéed Green Beans with Hazelnut Crumbs
Sesame & Portobello Green Beans
Sicilian Green Bean & Fennel Salad (Cooking Light)
Stir-Fried Green Beans with Pork & Chilies
Sweet & Sour Green Beans
Thai Green Beans (Cooking Light)
Three Bean Salad Recipe
White Bean, Green Bean & Red Bell Pepper Salad