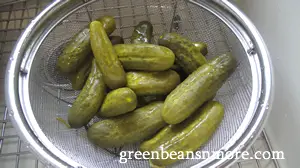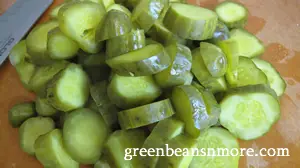 Homemade Sweet Dill Pickles


1 46 oz jar whole Mt Olive kosher dill pickles
3 cups sugar
3/4 cup white vinegar
Pour pickles and liquid into strainer. Discard liquid. Rinse the pickles and pat dry. Slice pickles crosswise into 1/4" - 1/2" slices.
Put sugar and vinegar into the jar. Stir. Put jar into microwave 30 seconds - stir. Microwave another 30 seconds, stir again. The liquid will be just slightly warm. (this step is to help the sugar dissolve).
Pack the pickle slices into the jar. You may have to pour off a bit of the liquid to fit all the pickles. Make sure the pickles are fully covered by the liquid. Wipe the rim of the jar. Tear off a piece of plastic wrap and place it over the rim of the jar (this allows you to turn the jar upside down to help make sure all the pickles are in the solution).

Wash the lid and replace on the jar.
Shake the jar several times over the next few hours, the sugar should be thoroughly dissolved.
Put the date on the jar. Refrigerate. Gently shake every few days. I let mine sit 4 - 6 weeks to develop the best flavor.

Click here to print this recipe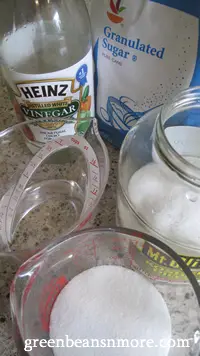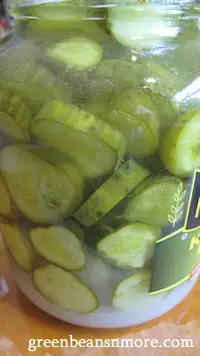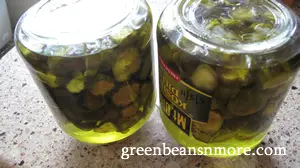 ---
Quick & Easy Recipes


Appetizers - Caper Dip, Hummus, Almond Dip, Sweet & Sour Curry Dip
Basic Meatloaf Recipe
Best Homemade Chili Recipe
Caramelized Roasted Brussels Sprouts
Homemade Turkey Vegetable and Noodle Soup
Maryland Lump Crab Cake
Roasted Asparagus
Roasted Tomatoes with Garlic and Balsamic Vinegar
Split Pea Soup, Magic Pan Restaurant
Sweet Dill Pickle Recipe
Three Cheese Baked Macaroni and Cheese
Tomato, Zucchini & Eggplant Bread Gratin
Vegetable Ribbons, Steamed, Sauteed
Whole Baked Chicken Recipe
Tasty & Easy Green Bean Recipes


Armenian Green Beans with Ground Meat and Tomatoes (Fassoulia)
Blanched Green Beans
Cream of Green Bean Soup (Company's Coming)
Fried Green Beans
Dilly Green Beans Recipe - Canning Recipe
Ginger Garlic Green Beans
Greek Green Beans
Greek Potatoes and Green Beans
Green Bean Soup (Company's Coming)
Green Beans a'la Waterman's
Green Beans Almondine
Green Beans Almondine (with a hint of lemon)
Green Beans Almondine (with an Asian flair)
Green Beans Almondine (with mushrooms)
Green Beans and Prosciutto Pasta Salad
Green Bean Casserole (Campbell's)
Green Bean Casserole (Cook's Illustrated)
Green Beans, Endive & Boston Lettuce Salad
Green Beans in Sour Cream & Tomato Sauce
Green Beans Provençal, Chef Simone Beck
Green Beans Provençal, Cooking Light
Green Bean Salad, Dill, Parsley & Savory
Green Bean Salad, Feta & Pecans
Green Bean Salad, Soy Glazed Almonds, Cilantro
Green Beans with Coconut
Green Beans with Ginger Butter
Green Beans with Onion Paste (Madhur Jaffrey)
Green Beans with Roman Mustard
Green Beans with Shallots
Italian Green Beans (St. Anna Beans)
Lemon Green Bean & Celery Salad
Oven Roasted Green Beans
Pears with Green Beans & Bacon
Persian Green Beans & Rice (Lubia Polo)
Sautéed Green Beans with Hazelnut Crumbs
Sesame & Portobello Green Beans
Sicilian Green Bean & Fennel Salad (Cooking Light)
Stir-Fried Green Beans with Pork & Chilies
Sweet & Sour Green Beans
Thai Green Beans (Cooking Light)
Three Bean Salad Recipe
White Bean, Green Bean & Red Bell Pepper Salad