This recipe for roasted tomatoes is from Ina Garten and appeared in House Beautiful. It's amazing how a few simple ingredients and high heat can turn a fresh tomato into such a sweet and savory treat.
I had planned to make Ina Garten's meat loaf for a dinner we were having with friends. While looking for her meat loaf recipe, I happened upon this recipe for roasted tomatoes. It looked good so I decided to try it. Our friends really enjoyed them. They were gone in no time and I had two requests for the recipe.
Just a few days later my husband and I visited our favorite farm stand Papa John's, and found beautiful roma (plum) tomatoes. I made a double batch for him and I to enjoy.
This would be a perfect vegetable side dish for any meal, and it went perfectly with the meat loaf. This dish would be perfect for a holiday buffet as it can be served at room temperature.

Please read my "cook's tips" following the recipe.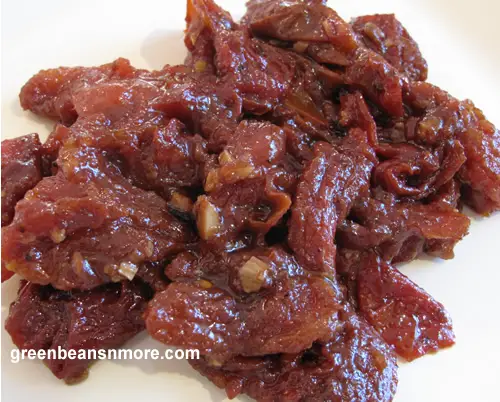 INA GARTEN'S ROASTED TOMATOES
Serves 4 to 6
12 plum tomatoes, halved lengthwise, cores and seeds removed
4 tablespoons good olive oil
1 1/2 tablespoons balsamic vinegar
2 large garlic cloves, minced
2 teaspoons sugar
Kosher salt and freshly ground black pepper
1. Preheat the oven to 450 degrees.
2. Arrange the tomatoes on a sheet pan, cut sides up, in a single layer. Drizzle with the olive oil and balsamic vinegar. Sprinkle with the garlic, sugar, 1 1/2 teaspoons salt, and 1/2 teaspoon pepper.
3. Roast for 25 to 30 minutes, until the tomatoes are beginning to caramelize. Serve warm or at room temperature.

Cook's tips: I think that "less is more" when it comes to the olive oil, as both times I've made this recipe I was left with quite a bit of liquid. Next time I make this dish I will use less olive oil. To reheat them I remove the tomatoes from the liquid and put them on a piece of aluminum foil on a sheet pan and return them to the oven at 375 degrees for 10 - 12 minutes until they're hot. They're even better the next day. The original recipe was barely enough for the 6 we had for dinner (I guess we have very hearty appetites!) and I wish I'd made a few more.

Click here to print this recipe


---
Quick & Easy Recipes


Appetizers - Caper Dip, Hummus, Almond Dip, Sweet & Sour Curry Dip
Basic Meatloaf Recipe
Best Homemade Chili Recipe
Caramelized Roasted Brussels Sprouts
Homemade Turkey Vegetable and Noodle Soup
Maryland Lump Crab Cake
Roasted Asparagus
Roasted Tomatoes with Garlic and Balsamic Vinegar
Split Pea Soup, Magic Pan Restaurant
Sweet Dill Pickle Recipe
Three Cheese Baked Macaroni and Cheese
Tomato, Zucchini & Eggplant Bread Gratin
Vegetable Ribbons, Steamed, Sauteed
Whole Baked Chicken Recipe
Tasty & Easy Green Bean Recipes


Armenian Green Beans with Ground Meat and Tomatoes (Fassoulia)
Blanched Green Beans
Cream of Green Bean Soup (Company's Coming)
Fried Green Beans
Dilly Green Beans Recipe - Canning Recipe
Ginger Garlic Green Beans
Greek Green Beans
Greek Potatoes and Green Beans
Green Bean Soup (Company's Coming)
Green Beans a'la Waterman's
Green Beans Almondine
Green Beans Almondine (with a hint of lemon)
Green Beans Almondine (with an Asian flair)
Green Beans Almondine (with mushrooms)
Green Beans and Prosciutto Pasta Salad
Green Bean Casserole (Campbell's)
Green Bean Casserole (Cook's Illustrated)
Green Beans, Endive & Boston Lettuce Salad
Green Beans in Sour Cream & Tomato Sauce
Green Beans Provençal, Chef Simone Beck
Green Beans Provençal, Cooking Light
Green Bean Salad, Dill, Parsley & Savory
Green Bean Salad, Feta & Pecans
Green Bean Salad, Soy Glazed Almonds, Cilantro
Green Beans with Coconut
Green Beans with Ginger Butter
Green Beans with Onion Paste (Madhur Jaffrey)
Green Beans with Roman Mustard
Green Beans with Shallots
Italian Green Beans (St. Anna Beans)
Lemon Green Bean & Celery Salad
Oven Roasted Green Beans
Pears with Green Beans & Bacon
Persian Green Beans & Rice (Lubia Polo)
Sautéed Green Beans with Hazelnut Crumbs
Sesame & Portobello Green Beans
Sicilian Green Bean & Fennel Salad (Cooking Light)
Stir-Fried Green Beans with Pork & Chilies
Sweet & Sour Green Beans
Thai Green Beans (Cooking Light)
Three Bean Salad Recipe
White Bean, Green Bean & Red Bell Pepper Salad