I never realized how much I liked brussels sprouts until I tried them roasted. I have to say the same for my entire family. Everybody loved the way they tasted. Somehow roasting the brussel sprouts brings out a hint of sweetness and really mellows the cabbagie taste that turns most people off of them.
The oven roasting brings out the natural sugars which creates healthy caramelized brussel sprouts. They are extremely easy to make requiring only four ingredients. The first time I made them I used this Roasted Brussels Sprouts recipe from Ina Garten, which I'm including here. Over time I've made a few changes, and learned some things, so please read my "cook's tips" following the recipe.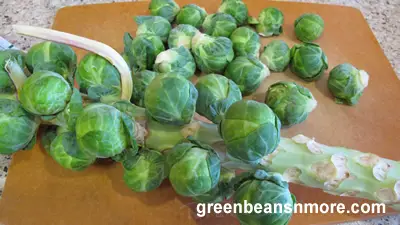 Brussels sprouts don't get much fresher than this. Here they're still on the stalk. I can't always use all of them at one time, so I trim the stalk (you'll need a very sharp knife to do this) and place it in water. I store it in the fridge. I do use them all within a week so that we can enjoy them at peak freshness.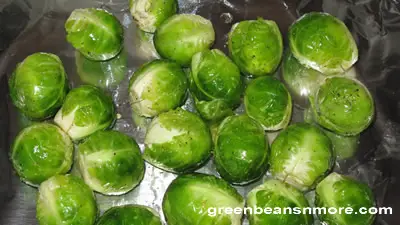 Above are brussels sprouts trimmed, with the outer leaves peeled off, oiled, salted and peppered and ready for the oven.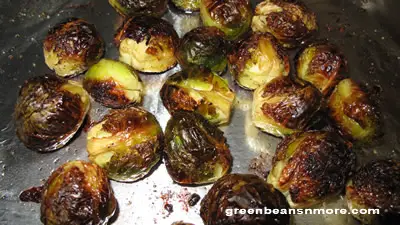 Flavorful roasted brussels sprouts!

Roasted Brussels Sprouts - Ina Garten

Ingredients

* 1 1/2 pounds Brussels sprouts
* 3 tablespoons good olive oil
* 3/4 teaspoon kosher salt
* 1/2 teaspoon freshly ground black pepper
Directions
Preheat oven to 400 degrees F.
Cut off the brown ends of the Brussels sprouts and pull off any yellow outer leaves. Mix them in a bowl with the olive oil, salt and pepper. Pour them on a sheet pan and roast for 35 to 40 minutes, until crisp on the outside and tender on the inside. Shake the pan from time to time to brown the sprouts evenly. Sprinkle with more kosher salt ( I like these salty like French fries), and serve immediately.

Serves 6

Cook's tips: Choose the smallest and freshest brussels sprouts you can find. Make sure they're all about the same size so they will all cook evenly. If you have very large brussels sprouts cut them in half. Don't wash them. If they're wet the olive oil won't stick to them.

Peel the entire outer layer of leaves off. Cut the stem very close and score the bottom with an "x", about 1/8" deep. I have found this helps the sprouts to cook more evenly. They cool off very quickly and they're best and most crunchy right out of the oven, so follow Ina's advice and serve them immediately!

Click here to print this recipe


---
Quick & Easy Recipes


Appetizers - Caper Dip, Hummus, Almond Dip, Sweet & Sour Curry Dip
Basic Meatloaf Recipe
Best Homemade Chili Recipe
Caramelized Roasted Brussels Sprouts
Homemade Turkey Vegetable and Noodle Soup
Maryland Lump Crab Cake
Roasted Asparagus
Roasted Tomatoes with Garlic and Balsamic Vinegar
Split Pea Soup, Magic Pan Restaurant
Sweet Dill Pickle Recipe
Three Cheese Baked Macaroni and Cheese
Tomato, Zucchini & Eggplant Bread Gratin
Vegetable Ribbons, Steamed, Sauteed
Whole Baked Chicken Recipe
Tasty & Easy Green Bean Recipes


Armenian Green Beans with Ground Meat and Tomatoes (Fassoulia)
Blanched Green Beans
Cream of Green Bean Soup (Company's Coming)
Fried Green Beans
Dilly Green Beans Recipe - Canning Recipe
Ginger Garlic Green Beans
Greek Green Beans
Greek Potatoes and Green Beans
Green Bean Soup (Company's Coming)
Green Beans a'la Waterman's
Green Beans Almondine
Green Beans Almondine (with a hint of lemon)
Green Beans Almondine (with an Asian flair)
Green Beans Almondine (with mushrooms)
Green Beans and Prosciutto Pasta Salad
Green Bean Casserole (Campbell's)
Green Bean Casserole (Cook's Illustrated)
Green Beans, Endive & Boston Lettuce Salad
Green Beans in Sour Cream & Tomato Sauce
Green Beans Provençal, Chef Simone Beck
Green Beans Provençal, Cooking Light
Green Bean Salad, Dill, Parsley & Savory
Green Bean Salad, Feta & Pecans
Green Bean Salad, Soy Glazed Almonds, Cilantro
Green Beans with Coconut
Green Beans with Ginger Butter
Green Beans with Onion Paste (Madhur Jaffrey)
Green Beans with Roman Mustard
Green Beans with Shallots
Italian Green Beans (St. Anna Beans)
Lemon Green Bean & Celery Salad
Oven Roasted Green Beans
Pears with Green Beans & Bacon
Persian Green Beans & Rice (Lubia Polo)
Sautéed Green Beans with Hazelnut Crumbs
Sesame & Portobello Green Beans
Sicilian Green Bean & Fennel Salad (Cooking Light)
Stir-Fried Green Beans with Pork & Chilies
Sweet & Sour Green Beans
Thai Green Beans (Cooking Light)
Three Bean Salad Recipe
White Bean, Green Bean & Red Bell Pepper Salad