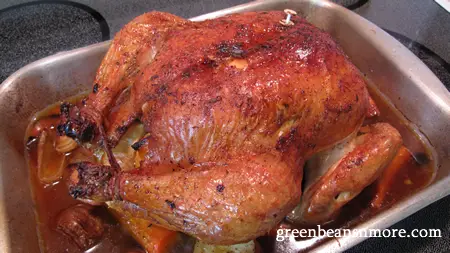 Perfect Roast Chicken -adapted from an Ina Garten recipe

One 5-6 lb. roasting chicken
Kosher salt
Freshly ground black pepper
1 large stem fresh thyme, plus 20 springs
1 lemon, halved or quartered
1 garlic head, cut in half crosswise
2 tablespoons (1/4 stick) butter, melted
1 large yellow onion, thickly sliced (or peeled and quartered)
4 carrots, peeled and cut into chunks
1 bulb fennel, tops removed cut into wedges
4- 6 red or white potatoes, rinsed and dried, cut into quarters (optional)
Olive oil

Preheat the oven to 425°F

Remove the chicken giblets, Rinse the chicken inside and out and remove any excess fat or pin feathers. Pat dry inside and out. Liberally salt and pepper the inside of the chicken. Stuff the cavity with the bunch of thyme and the lemons and all the garlic.
Brush the outside of the chicken with butter and sprinkle outside with salt and pepper. Tie the legs together with kitchen string and tuck the wings under the bird.

Place the onions, carrots, fennel, potatoes in the roasting pan. Toss with salt and pepper and olive oil. Add thyme sprigs. Place chicken on top.
Roast chicken for 1 1/2 hours (or until it reaches a minimum internal temperature of 165°F). The juices should run clear when you cut between the leg and the thigh. Remove the chicken and vegetables from the pan to a platter and cover with aluminum foil for 10 -15 minutes. Slice and serve with vegetables.

Cooks Tips: I add more or less vegetables. My husband really enjoys carrots and onions cooked this way, so I generally add more than called for the the original recipe. The original recipe doesn't call for potatoes but I add them and make this a one pan meal. I also add water or chicken stock so I can make a gravy.
My chicken weighed-in at a healthy 7 pounds and cooked for 1 hour 45 minutes. As you can see I had the added benefit of a pop up timer. See instructions for how to place a thermometer in poultry below.

In order to keep potential contamination down to a minimum I try to work with the chicken in a planned way. First I get all the veggies ready and in the pan. I get the lemon, garlic and herbs to be put in the cavity ready. I have the butter melted and ready to use. I cut the kitchen string to the desired length. I put about 2 tablespoons of kosher salt and 1 tablespoon of pepper plus any dry herbs I may be using on a paper plate (so I'm not dipping dirty hands back into the salt keeper, etc).

I then wash and dry the chicken and start prepping it.

How to place a thermometer in poultry

When cooking whole poultry, the food thermometer should be inserted into the thickest part of the thigh (avoiding the bone).


courtesy USDA

Click here to print this recipe


---
Quick & Easy Recipes


Appetizers - Caper Dip, Hummus, Almond Dip, Sweet & Sour Curry Dip
Basic Meatloaf Recipe
Best Homemade Chili Recipe
Caramelized Roasted Brussels Sprouts
Homemade Turkey Vegetable and Noodle Soup
Maryland Lump Crab Cake
Roasted Asparagus
Roasted Tomatoes with Garlic and Balsamic Vinegar
Split Pea Soup, Magic Pan Restaurant
Sweet Dill Pickle Recipe
Three Cheese Baked Macaroni and Cheese
Tomato, Zucchini & Eggplant Bread Gratin
Vegetable Ribbons, Steamed, Sauteed
Whole Baked Chicken Recipe
Tasty & Easy Green Bean Recipes


Armenian Green Beans with Ground Meat and Tomatoes (Fassoulia)
Blanched Green Beans
Cream of Green Bean Soup (Company's Coming)
Fried Green Beans
Dilly Green Beans Recipe - Canning Recipe
Ginger Garlic Green Beans
Greek Green Beans
Greek Potatoes and Green Beans
Green Bean Soup (Company's Coming)
Green Beans a'la Waterman's
Green Beans Almondine
Green Beans Almondine (with a hint of lemon)
Green Beans Almondine (with an Asian flair)
Green Beans Almondine (with mushrooms)
Green Beans and Prosciutto Pasta Salad
Green Bean Casserole (Campbell's)
Green Bean Casserole (Cook's Illustrated)
Green Beans, Endive & Boston Lettuce Salad
Green Beans in Sour Cream & Tomato Sauce
Green Beans Provençal, Chef Simone Beck
Green Beans Provençal, Cooking Light
Green Bean Salad, Dill, Parsley & Savory
Green Bean Salad, Feta & Pecans
Green Bean Salad, Soy Glazed Almonds, Cilantro
Green Beans with Coconut
Green Beans with Ginger Butter
Green Beans with Onion Paste (Madhur Jaffrey)
Green Beans with Roman Mustard
Green Beans with Shallots
Italian Green Beans (St. Anna Beans)
Lemon Green Bean & Celery Salad
Oven Roasted Green Beans
Pears with Green Beans & Bacon
Persian Green Beans & Rice (Lubia Polo)
Sautéed Green Beans with Hazelnut Crumbs
Sesame & Portobello Green Beans
Sicilian Green Bean & Fennel Salad (Cooking Light)
Stir-Fried Green Beans with Pork & Chilies
Sweet & Sour Green Beans
Thai Green Beans (Cooking Light)
Three Bean Salad Recipe
White Bean, Green Bean & Red Bell Pepper Salad