Emeril gives both recipes for turkey stock and for the turkey noodle soup. If you're like me and already have the stock simply follow the ingredient list and directions to make the soup.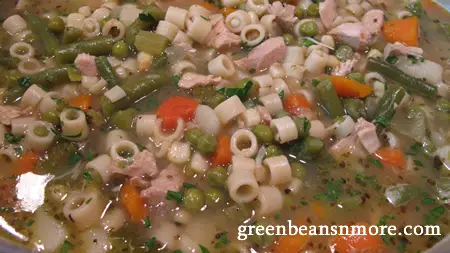 Turkey & Vegetable Soup from Emeril Lagasse

Ingredients for turkey stock:
1 leftover whole roasted turkey
2 medium onions, chopped
3 medium carrots, peeled and chopped
3 medium stalks celery, cleaned and chopped
2 bay leaves
Salt
Freshly ground black pepper
Water, to cover

Ingredients for soup:

Any leftover turkey meat, diced
2 cups cooked diced potatoes, rice or pasta
2 cups cooked sweet peas
2 cups cooked carrots, diced
2 cups any other cooked vegetables
2 cloves garlic, chopped
1 cup chopped green onions, green part only
1/4 cup chiffonade fresh basil leaves
1/4 cup finely chopped fresh parsley leaves
1 cup cooked macaroni

Directions for turkey stock:
Place whole turkey in a large stockpot. Add 1/2 of the onions, carrots, and celery. Add bay leaves, salt and pepper. Cover the turkey with 3 quarts of water. Place over medium heat and bring to a boil. Reduce heat to medium low and simmer for 1 hour.
Remove stock from heat and strain through a fine mesh sieve, saving the liquid (about 2 quarts) and turkey meat, discarding the vegetables.

Directions for soup:
Saute remaining onions, carrots, and celery until wilted, about 4 minutes. Add to strained stock. Add the remaining vegetables, and garlic to the stock. Season with salt and pepper. Simmer for 10 minutes. Remove the meat from the turkey carcass and dice. Add the meat, herbs, and cooked macaroni to stock. Heat through.

Cooks Tips: As always is the case with soup it tastes better the next day. The adorable little pasta I used in this soup recipe is Ditalini. It's a perfect size. As the recipe calls for one cup of macaroni (in my case Ditalini) to be added, where it calls for 2 cups of cooked diced potatoes, rice or pasta, I chose to add potatoes. Frozen peas and corn work great. I do cook fresh green beans. I added 2 cups of diced turkey meat. You'll see in the picture I used a dried herb. The store didn't have fresh basil so I used 2 tablespoons of dry.


Click here to print this recipe


---
Quick & Easy Recipes


Appetizers - Caper Dip, Hummus, Almond Dip, Sweet & Sour Curry Dip
Basic Meatloaf Recipe
Best Homemade Chili Recipe
Caramelized Roasted Brussels Sprouts
Homemade Turkey Vegetable and Noodle Soup
Maryland Lump Crab Cake
Roasted Asparagus
Roasted Tomatoes with Garlic and Balsamic Vinegar
Split Pea Soup, Magic Pan Restaurant
Sweet Dill Pickle Recipe
Three Cheese Baked Macaroni and Cheese
Tomato, Zucchini & Eggplant Bread Gratin
Vegetable Ribbons, Steamed, Sauteed
Whole Baked Chicken Recipe
Tasty & Easy Green Bean Recipes


Armenian Green Beans with Ground Meat and Tomatoes (Fassoulia)
Blanched Green Beans
Cream of Green Bean Soup (Company's Coming)
Fried Green Beans
Dilly Green Beans Recipe - Canning Recipe
Ginger Garlic Green Beans
Greek Green Beans
Greek Potatoes and Green Beans
Green Bean Soup (Company's Coming)
Green Beans a'la Waterman's
Green Beans Almondine
Green Beans Almondine (with a hint of lemon)
Green Beans Almondine (with an Asian flair)
Green Beans Almondine (with mushrooms)
Green Beans and Prosciutto Pasta Salad
Green Bean Casserole (Campbell's)
Green Bean Casserole (Cook's Illustrated)
Green Beans, Endive & Boston Lettuce Salad
Green Beans in Sour Cream & Tomato Sauce
Green Beans Provençal, Chef Simone Beck
Green Beans Provençal, Cooking Light
Green Bean Salad, Dill, Parsley & Savory
Green Bean Salad, Feta & Pecans
Green Bean Salad, Soy Glazed Almonds, Cilantro
Green Beans with Coconut
Green Beans with Ginger Butter
Green Beans with Onion Paste (Madhur Jaffrey)
Green Beans with Roman Mustard
Green Beans with Shallots
Italian Green Beans (St. Anna Beans)
Lemon Green Bean & Celery Salad
Oven Roasted Green Beans
Pears with Green Beans & Bacon
Persian Green Beans & Rice (Lubia Polo)
Sautéed Green Beans with Hazelnut Crumbs
Sesame & Portobello Green Beans
Sicilian Green Bean & Fennel Salad (Cooking Light)
Stir-Fried Green Beans with Pork & Chilies
Sweet & Sour Green Beans
Thai Green Beans (Cooking Light)
Three Bean Salad Recipe
White Bean, Green Bean & Red Bell Pepper Salad